Bachelor in
Bachelors in Graphic Design and/or Illustration
CANVAS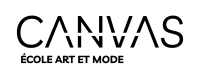 Introduction
Bachelors in Graphic Design and/or Illustration
The Bachelors in Graphic Design and/or Illustration is a 3-year program that prepares students for major professional work in the Visual Arts. The program offers a complete selection of courses that combine creativity, expertise and professionalism.
After completing the Bachelors in Graphic Design and/or Illustration, the student will master graphic design and illustration techniques and will be thoroughly familiar with creative design and illustration principles, particularly needed for logo and brand creation, advertising and marketing, illustration and animation.
The professional graphic design or illustrator is called upon to find graphic solutions, to imagine, plan and create illustrations and develop visual and graphic materials for marketing. The graduate in Graphic Design and/or Illustration will have acquired a professionalism, dynamism and versatility necessary in order to rigorously translate his/her ideas into shapes, colors and images.
The work of the graphic design consists among other things of creating and proposing different brand applications (such as logos, slogans, jingles etc.), marketing materials (flyers, brochures, press kits etc.), product presentations (book covers, packaging etc.) keeping in mind the evolution of aesthetic and artistic trends and movements. As for the illustrator, his/her work lies in creating characters for books, cartoons, children's books, specialist fiction etc. as well as creating illustrations for websites, video games and graphic novels.
Curriculum
First Year
The first year provides students with an introduction to the fundamentals of creative composition and allows them to discover the techniques necessary to creative expression. The classes will concentrate on mastering both manual and digital tools and techniques including: drawing, composition theory, the grid system, vectoral drawing, color theory, typography, Photoshop, Illustrator and InDesign.
The student will develop his/her artistic sensibility in order to translate his/her ideas into graphic designs and /or illustrations. He/she will learn and become familiar with different methods and techniques of visual expression.
Second Year
The second year consolidates the fundamentals learned in the first year and allows students to begin a more nuanced conceptual approach. The student will carry out research and learn different theoretical and practical methods in their chosen area of specialization in order to create an interaction between ideas, words, images and concepts.
The creative work is complimented by the professional and technical approach which will deal with essential elements such as a creative mandate, managing client relations and expectations, the relationship between a client and a designer/illustrator, project management, deadlines and costs.
Third Year
The final year allows for an individual creative and conceptual development of the graphic designer or illustrator and familiarizes them with collaborating with other visual artists and working on team projects.
The student and future graphic designer or illustrator will discover and understand the interaction between different visual arts over the life of a project: from clients to agents, to marketing professionals and 3D designers, the student will enhance his/her professional understanding and acquire a growing understanding of the creative and technical challenges of client mandates.
Thanks to a large selection of tools and techniques, the future graphic design or illustrator will possess a creative, critical and versatile understanding of the realities of working within the visual arts by the end of his/her training which will allow him/her to manage a creative project or a client mandate on his/her own by the end of the program.
Disciplines Studied
Principles of Graphic Design I – Typography and Posters -Brand Management – Editorial Design – Prepress – Video and Motion Design – WEB CMS Social Media – Photography – History of Art – History of Contemporary Art – Illustration – Digital Marketing – Concept Art – Adobe (Photoshop, Illustrator, InDesign), Pictorial Techniques – Animation – Aesthetics – Technical Drawing: Human Anatomy – Object Construction – History of Design - Principles of Graphic Design II, Typography II
Program Outcome
General Objectives
The Bachelors in Graphic Design and/or Illustration enables students to acquire the technical know-how, aesthetic sensibility and professional tools in a range of media to successfully bring to life a unique visual conception.
A thesis project at the end of the program will allow students to develop an individual project of professional quality, while respecting a clear set of specifications and quality standards
Career Opportunities
Future Careers
The graduate of the Bachelors in Graphic Design and/or Illustration will be a creator, a technician and a business person. The varied professional aspects of a complete training in Visual Arts will allow him / her to work in the following areas:
Graphic Design – Illustration – Animation – Book Cover Design - Storyboarding - CAD Design– Colorist – Press Publishing – Digital Marketing – Website Design - Advertising - Image/Photo Editing – Publicist Campaigns – Social Media Campaigns – Public Relations – Brand Management – Logo Design