BBA in
Bachelor in International Business (Breda)
Avans University of Applied Sciences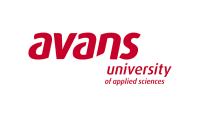 Introduction
Bachelor in International Business
You look beyond borders and are interested in economics, marketing and business. The International Business study programme will prepare you for a managerial role in an international organisation.
A large multinational wants to tap into a new market in Brazil. You give the management advice on marketing. Or a mobile phone manufacturer wants to relocate some of its production to Eastern Europe. You research the options and write a business plan.
As an international business manager, you can advise on all sorts of business matters. Like communication, marketing, trade, sales or finance. You approach international business issues from various perspectives and resolve them.
Curriculum
The programme International Business
You will acquire a broad knowledge of international management, marketing, trade and finance. And you will develop relevant professional skills, such as intercultural teamwork, planning, leadership and business communication. We maintain close contact with the professional world.
The entire study programme is taught in English. You will learn a second foreign language and spend at least one year abroad. You may also obtain a double degree. Upon completion of the course, you will be granted the degree of Bachelor of Business Administration (BBA).
Trial class
Curious? Experience what it is like to be an international business student at Avans. Join us for a trial class and meet real students and lecturers. The next trial class is scheduled to take place on March 30, 2021 from 10.00 to 11.30 hrs CET. Sign up now via this link https://fd10.formdesk.com/AM-Avans/trialday!
Features of this study programme
Our community is truly international. Both students and lecturers come from the Netherlands and abroad. Our approach is personal. You will work in small groups and have your own personal coach.
Ideal Students
You
You are open-minded about other cultures. You are independent, but a team player at the same time. And you are adventurous and self-motivated. You take an interest in international businesses, how they are organised and how they can improve.