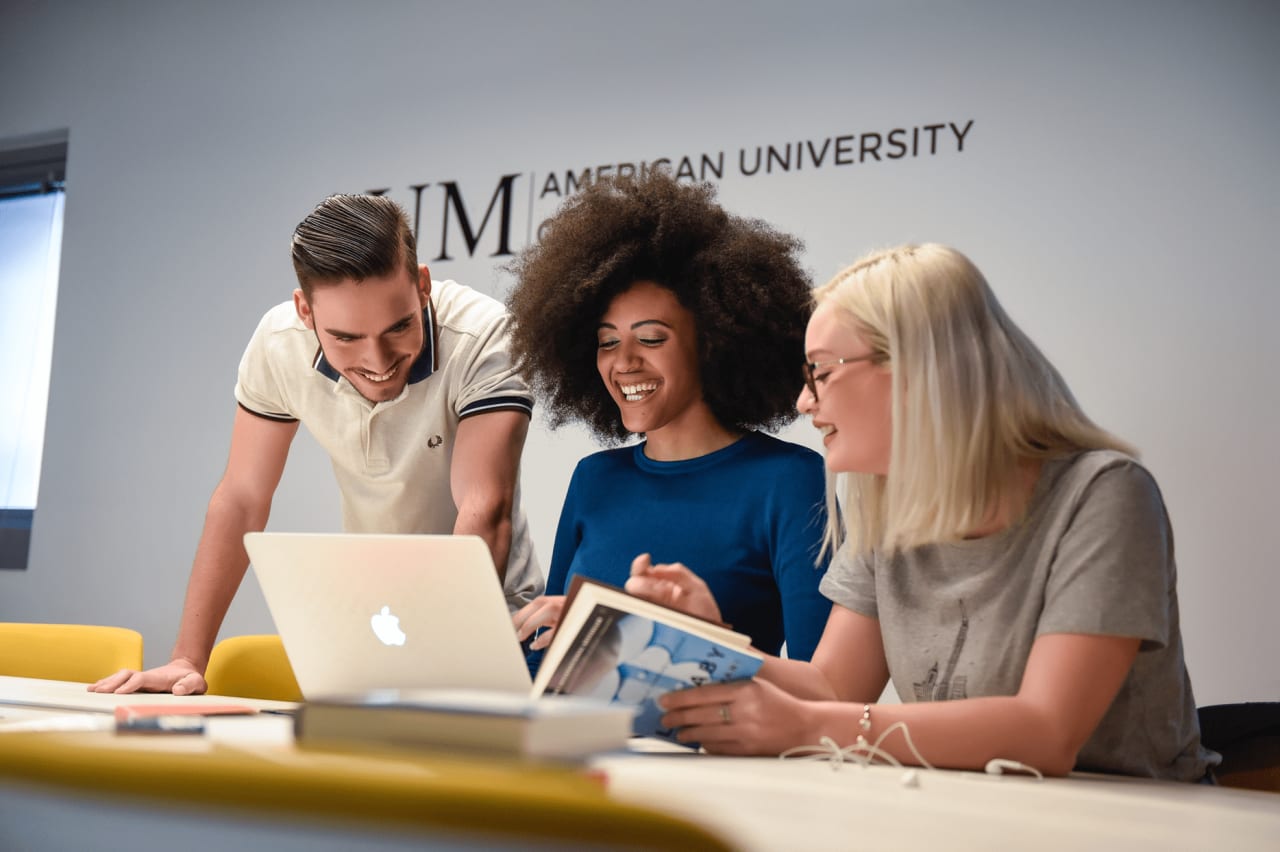 BA in
Bachelor of Arts in Graphic Design & Animation
AUM American University of Malta

Key Information
---
Campus location
Cospicua, Malta
Tuition fees
EUR 5,000 / per year *
Application deadline
Request info
Earliest start date
Sep 2023
* plus one-time admission fee: 1000 EUR + registration fee: 100 EUR/semester + activity fee: 100 EUR/semester
Introduction

The Graphic Design and Animation BA program is for students with an interest in practical applications of the visual arts. While studying graphic design and animation, you can express your imagination by solving visual problems. Students with strong skills in design and creative interests are excellent candidates for this program. Those who complete this degree will be well-prepared to take up a role of their choosing that tackles a broad range of industry-specific applications of design and/or animation.
Program Details
In the first two years, students will focus on completing the university's General Education Program (42 US credits / 84 ECTS), which introduces five thematic areas: communication, data and quantitative literature, scientific inquiry, arts and humanities, and social sciences. In the third and fourth years, students will focus on topics relevant to their major.
Program Outcome
The BA in Graphic Design and Animation is a professionally-oriented degree that provides students with a strong foundation in visual art and design for a broad range of media, including print, interactive media, film, and television. The program offers the student a chance to create an interdisciplinary program of study that will enrich the knowledge and skills the graduate takes into the constantly evolving industry. During the senior year Thesis Stage, students are able to explore their specific areas of interest in-depth in a self-directed project.
Knowledge Gained
Knowledge of media production, communication, and dissemination techniques and methods.
Knowledge of design techniques, tools, and principles involved in the production of precision technical plans, drawings, and models.
Knowledge of the theory and techniques required to compose, produce, and perform works of visual arts.
Knowledge of electronic equipment and computer hardware and software, including applications.
Skills Gained
Using logic and reasoning to identify the strengths and weaknesses of alternative solutions, conclusions, or approaches to problems.
Managing one's own time and the time of others.
Considering the relative costs and benefits of potential actions to choose the most appropriate one.
Understanding the implications of new information for both current and future problem-solving and decision-making.
Demonstrate the principles of graphic design communication, showcasing the creative and technical abilities that produce successful innovative graphic design projects in a variety of media.
Demonstrate a solid foundation in design and traditional studio art, and will be able to use these skills in order to communicate effectively through visual means.
Understand and utilize a broad range of digital design and animation tools.
Acquire animation skills necessary for careers in motion graphics, game development, 3d, and 2D animated films, television, or effects animation.
Utilize self-management skills to work with a high level of autonomy on self-directed creative projects.
Implement the use of pre-visualization, storyboarding, and essential pre-production techniques to develop complex inventive concepts.
Apply creative problem-solving skills to a variety of abstract problems.
Produce a professional and original design and animation portfolio and reel.
Competencies
Create unusual or clever ideas about a given topic or situation, or develop creative ways to solve a problem.
Create visual media using computer hardware and software.
Create innovative designs, concepts, and sample layouts, based on knowledge of layout principles and esthetic design concepts.
Create graphics and layouts for product illustrations, company logos, and Web sites.
Create complex graphics and animation, using independent judgment, creativity, and computer equipment.
Create objects or characters that appear lifelike by manipulating light, color, texture, shadow, and transparency, or manipulating static images to give the illusion of motion.
Be responsible to apply story development, directing, cinematography, and editing to animation to create storyboards that show the flow of the animation and map out key scenes and characters.
Be responsible to develop briefings, brochures, multimedia presentations, web pages, promotional products, technical illustrations, and computer artwork for use in products, technical manuals, literature, newsletters, and slide shows.
Collaborate in the design and production of multimedia campaigns, handling budgeting and scheduling, and assisting with such responsibilities as production coordination, background design, and progress tracking.

Career Opportunities
Film or Video Game Animator for a movie studio or video game creator.
Graphic Designer at an audiovisual company.
Visual Artist for a multi-faceted web developer.
Curriculum
Teaching & Assessment
In general, the Graphic Design and Animation modules are taught with a mixture of theory and applied practice. However, pedagogical approaches vary substantially from module to module.
Most modules in the course are taught using the traditional project-based learning critique method common to most art, film, and animation courses. Students work on projects that are limited by constraints and those address criteria designed around the module learning goals. The students engage in group critiques of the finished project, which builds their vocabulary in the subject and their ability to analyze and improve their own work.
The grading in the majority of the Graphic Design and Animation-specific modules will be assessed based on projects.

4-Year Degree Plan Outline
Year 1
Semester I
ENG 101 English Composition 1
MAT 120 Introduction to Data Analysis, Probability, and Statistics
HIS 101 History of the Mediterranean
GRD 101 Introduction to Visual Design
Free Elective
Semester II
ENG 102 English Composition 2
BIO 101 Unity of Life
REL 101 Religious Worlds in Comparative Perspective
GRD 111 Drawing and Visualization
Year 2
Semester I
COM 101 Introduction to Multicultural Communication
CHE 101 OR PHY 101 Scientific Inquiry GE
PSY 101 Introduction to Psychology
ATH 101 Arts of the Mediterranean
GRD 201 Figure Drawing and Anatomy
Semester II
PHI 101 Introduction to Philosophy
SOC 101 Introduction to Sociology
ATH 201 World Art History
GRD 211 Digital Art Tools
OPEN Elementary Surveying (with Lab)
Year 3
Semester I
GRD 301 Time, Image, Sound
GRD 311 Painting and Color
GRD 321 Design and Modeling
GRD 331 Animation I: Motion and Methods
PHI 102 Applied Ethics
Semester II
GRD 341 3D Character Animation
GRD 351 Animation II: Production
GRD 361 Graphic Design I: Typography
GRD 371 Storyboarding and Narrative
Year 4
Semester I
GRD 411 Graphic Design II: Visual Problem Solving
GRD 421 Motion Graphics
GRD 431 Visual Design for Games
GRD 461 Thesis Project I
Semester II
GRD 441 Graphic Design III: Web Design
GRD 451 Interdisciplinary Game Project
GRD 462 Thesis Project II
Scholarships and Funding
Scholarships based on three types: merit (high academic performance) or athlete or financial need.