BA in
Bachelor of Arts in English for Business Communication
Asian University Thailand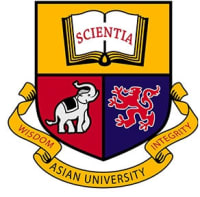 Introduction
Bachelor of Arts in English for Business Communication
These days, social thinkers agree that huge changes, particularly in the traditional concept of "the workplace", are imminent. Recent technological developments, particularly the computer and the Internet, allow the employer and the employee to work at opposite ends of the globe and yet coordinate their respective tasks precisely and efficiently. Crucial to this coordination of effort are highly developed communication skills and strategies, especially in English, which is rapidly emerging as the lingua franca of commerce and diplomacy. The B.A. programme in English for Business Communication aims to provide the student with a broad-based understanding of the art of communication for the corporate and international business arenas in the context of accelerated global change. The degree also serves as an excellent basis for careers and/or further study in business and professional communications.
Objectives
Over the four-year programme, a range of skills-based generic subjects will be covered in order to develop versatile graduates as 'life-long learners'. Communication Skills will develop the English language for business and personal use. The common business subjects include Principles of Business, Introduction to Management of Information Systems, Introduction to Computing, Research Methods for Business, and Professional Development. A range of English subjects is available as Concentration Electives.
The Independent Project in English for Business Communication in the final semester is an important feature of the programme. It allows students to apply their skills and knowledge in a certain area of business communications. Successful students will gain valuable experience and preparation from the project for entry into perspective careers in business.
A range of teaching and learning methods will be deployed across the programme, in accordance with the overall institutional Teaching and Learning Strategy. Lectures, tutorials, and practical classes will be evident throughout the program and this contact time will be delineated within each course syllabus. However, each subject will adopt a strategy designed to impart a sense of self and responsibility for learning on the part of the student. Directed and resource-based learning, including appropriate use of information technology, will be employed throughout and will contribute to the development of 'life-long learners.'

Entrance requirements
Students must satisfy the following general entrance requirements before being admitted to the Asian University of Science and Technology. At the time of admissions, the student must possess:
An M.6 Certificate (Grade 12) from an accredited institution or its equivalent (5 'O' level subjects with an average of C or better);
good physical and mental health and be without any communicable diseases;
a clear record of good behavior;
working knowledge of English.
Number of credits for each semester
As detailed above, regular-status students will normally register for eighteen (18) credits each semester, giving a total of one hundred and forty-four (144) credits over the full programme. Under normal circumstances, students with regular status must register for at least nine (9) credits. The maximum number of credits for which students may register in a single semester is twenty-two (21). Probationary students are allowed to register for a minimum of six (6) credits and a maximum of sixteen (15) credits per semester.
Page 5 of 18 B.A. English for Business Communication Information Pack Asian University
Programme structure
The programme comprises a number of separate but interrelated 'subjects', each carrying a designated Credit value. The full programme contains a proportion of 'General Education Subjects', 'Core Subjects', 'Concentration Subjects' and 'Free Elective Subjects', in accordance with recommendations from the Office of the Commission for Higher Education. The programme subjects are arranged in a progressive sequence through four years. Students must study a total of 36 credits in each year. Individual subjects are normally 3 credits and will run through one semester, with the exception of Practicum in English for Business Communication and the Independent Project in English for Business Communication.