BSc in
Bachelor of Science in Business Administration (BSBA) with Specialization in Sports Marketing
American Institute of Applied Sciences in Switzerland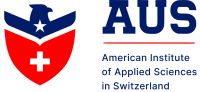 Introduction
The Bachelor of Science in Business Administration (BSBA) program at the American University in Switzerland (AUS) provides students with opportunities to build the necessary skills for the future with a deep understanding of business and technological trends on a global scale and with hands-on experience via close links to the industry. At this first level of study, AUS students earn a Bachelor of Science in Business Administration degree that qualifies them for a profession in business management and the opportunity to continue their studies further and earn a Master of International Business Administration degree.
At AUS, we focus on integrating traditional business knowledge with practical decision-making, problem-solving, creativity, and strategic thinking while engaging in real-world projects. We create a learning environment that emphasizes collaboration and team building alongside academic work.
We recognize that business leaders today must master the hard skills needed to make data-driven decisions and the soft skills necessary to make them better collaborators. The curriculum takes the approach of the full development of the individual, placing emphasis on personal as well as professional growth. It prepares students for both career and graduate studies.
All courses are taught in English by leading business visionaries in small dynamic cohorts. Our professors have experience in successful business ventures, providing our students with real-life lessons learned and best practices. This background allows our professors to share their challenges and successes with the students, giving them a front-line education focused on experiential and student-centred learning. Our faculty-student ratio is roughly 1-7, facilitating a deeper working relationship between students and professors coupled with feedback and coaching. Each course integrates a minimum of two experiential learning activities, such as simulations, case studies, individual and group presentations, and projects.
Sports are loved around the world, attracting millions of fans, attendees and buyers. For any sports-related organization, it's imperative to have an effective sports marketing strategy in place to build brand awareness, enhance customer loyalty, and generate revenue.
The Sports Marketing Specialization is designed to prepare students to develop the management, marketing, and business skills you'll need to create winning strategies and successful campaigns in the exciting, opportunity-filled sports marketing industry.
When a BSBA student successfully completes the Dual Degree program, the student will graduate, in their chosen specialty, with a Bachelor of Science in Business Administration (BSBA) from AUS and a Bachelor of Business Administration (BBA) from TU. Tiffin University has US Higher Learning Commission accreditation, which is recognized by most ministries of education.
Dual Degree Structure
In order to receive dual degrees, students must successfully complete the required AUS and TU courses. The curricula are mixtures of AUS and TU courses designed to provide students with the maximum exposure to the necessary knowledge and skills for the future workplace, emphasizing critical thinking, problem-solving, research technologies, and multimodal communication methods.
The TU programs are all online with videos, discussion rooms, readings, and other assignments. For the most part, the students will be in the same class as TU students, thus enabling interaction. Students will take both AUS and TU courses to complete their required coursework. Courses will be taught on campus and remotely, with the possibility of student exchanges to either university.
Duration: 3 years
Entry Dates: September / January / April
Study Mode: Full-time
Credits: 135 CH | 180 ECTS
Curriculum
A standard course of study to complete a BSBA program over three years requires the completion of thirty core courses, including the capstone, twelve specialization courses, and four elective courses.
The provision of these Elective courses in a particular term will depend on availability; the listing of courses offered may change from year to year.
| | | | |
| --- | --- | --- | --- |
| Courses | # | CH | ECTS |
| AUS Core | 27 | 81 | 108 |
| TU Core | 12 | 34 | 45 |
| AUS Specialization | 4 | 12 | 16 |
| Capstone: Business Plan | 3 | 9 | 12 |
Note: A set of three foundation courses is offered to students who need additional proficiency in English communication, Math, and applied IT.
The conferring of a degree follows only after completing all the following requirements:
Academic credit requirements - a minimum of 135 CH | 180 ECTS.
Academic performance requirements - a minimum cumulative GPA of 2.0.
Capstone project: a business plan delivered in the final year.
Attendance and residency requirements.
Students have the opportunity, when available, to work with professors on research initiatives and program activities surrounding their specialization for credit-earning opportunities.
Course Examples
Engage & Explore
Connect
Impact
Impact ePortfolio
Organizational Strategy
Marketing Communication
Event Marketing and Management
Sports Marketing and Promotions
Sports Media Technology
Business of Sports (waive SMG 160)
Sports Analytics
Revenue Generation and Sponsorship
Program Outcome
The successful BSBA participant will be able to describe and demonstrate an understanding of the major concepts in the functional areas of general management (such as accounting, economics, finance, and marketing).
The successful BSBA participant will be able to describe and explain theories, tools, and techniques (such as a cash flow statement, market segmentation, and sustainable competitive advantage) as used for the internal and external analysis of a particular company situation or industry environment.
The successful BSBA participant will be able to apply their acquired knowledge and tools and organize and interpret the results in a logically integrated and cross-functional manner to support basic business decision-making.
The successful BSBA participant will be able to create and present basic oral and written business communications in English.
The successful BSBA participant will be able to develop learning skills that support further studies with a high degree of autonomy.
Career Opportunities
Specialization in Sports Marketing allows you to progress into the following careers:
Sports Operations
Corporate Sports Marketing
Sports Journalists
Promotions Management