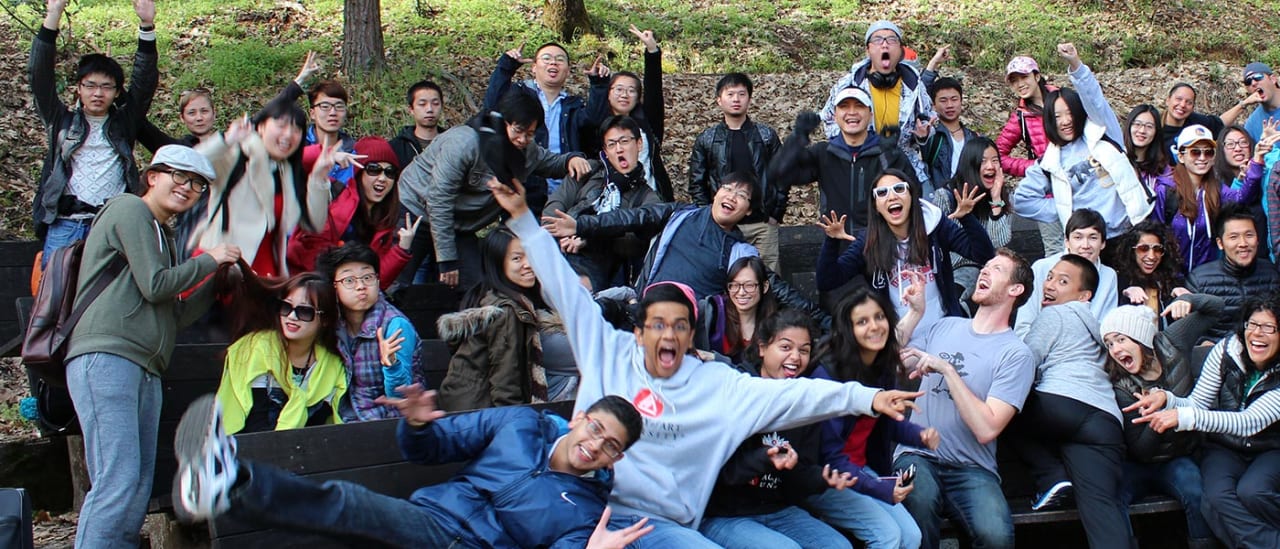 Bachelor in
Bachelor of Fine Arts (BFA) in Visual Development
Academy of Art University

Key Information
---
Campus location
San Francisco, USA
Study format
Distance Learning, On-Campus
Application deadline
Request info
Earliest start date
Feb 2024
* per unit for international students | $1,072 per unit for domestic students. Additional fees apply
Introduction
The School of Visual Development's BFA program provides a dynamic education in the art of scene-setting. The core curriculum emphasizes photography, figure modeling, form analysis, figure drawing, narrative principles, visual development for animation, character design, concept paintings, advanced exploration of perspective for video game design, and various other critical design disciplines.
Unit Requirements
| | |
| --- | --- |
| Major Coursework | Units |
| Major | 42 |
| Liberal Arts | 45 |
| Elective | 9 |
| Core | 36 |
| Total | 132 |
Degree Requirements
BFA Visual Development Degree Requirements
A minimum grade of C- in all core courses, major courses, and LA 107 Writing for the Multilingual Artist or 108 Composition for the Artist
Minimum 2.0 GPA and the following general education requirements:

1 Written Communication: Composition
1 Written Communication: Critical Thinking
1 Written Communication: Context & Style
2 Art Historical Awareness: Western Art
2 Art Historical Awareness: Surveys
1 Historical Awareness
1 Quantitative Literacy
1 Cultural Ideas & Influences
1 Employment Communications & Practices
After the above general education requirements are met, take Liberal Arts electives as needed to fulfill the Liberal Arts unit requirement.
Program Outcome
Undergraduate students will meet the following student performance criteria:
Visual Development
Generate functional designs for entertainment media (2D or 3D), following an industry-standard process from thumbnails through final render
Effectively communicate narrative, theme, and character through design choices
Maintain a consistent "language" or "signature style" in art directing a scene with the requisite continuity in visual storytelling
Demonstrate the ability to research for inspiration, reference, and accuracy
Demonstrate flexibility in illustrative style by showing both a unique personal style and the ability to accommodate style to project needs
Artistic Ability
Draw and paint convincing poses, expressions, character designs, thumbnails, storyboards, and production paintings
Demonstrate facility creating perspective and conveying anatomy and proportion in human and animal figures.
Master the use of a focal point, with value, color, detail, and composition.
Technical Skills
Demonstrate proficient skills with relevant animation technology and software.
Presentation Skills
Create visually compelling and cohesive presentations
Discuss work clearly and professionally
Collaboration
Collaborate effectively on creative projects
Professional Readiness
Produce a comprehensive portfolio (digital and print) that meets industry standards
Manage workload to meet deadlines
Academy of Art University Learning Outcomes
Graduates of the Academy of Art University will demonstrate the ability to:
Produce a body of work suitable for seeking professional opportunities in their chosen field of art and design.
Solve creative problems within their field of art and design, including research and synthesis of technical, aesthetic, and conceptual knowledge.
Communicate their ideas professionally and connect with their intended audience using visual, oral, and written presentation skills relevant to their field.
Execute technical, aesthetic, and conceptual decisions based on an understanding of art and design principles.
Evaluate work in their field, including their own work, using professional terminology.
Recognize the influence of major cultural and aesthetic trends, both historical and contemporary, on art and design products.
Learn the professional skills and behaviors necessary to compete in the global marketplace for art and design.
Curriculum
Semester 1
FND 110A: Analysis of Form A
FND 131: Figure Modeling
LA 137: History of Visual Development
VIS 103: Visual Development Imaging
Semester 2
FASCU 270: Ecorche
FND 110B: Analysis of Form B
FND 112: Figure Drawing
FND 125: Color and Design
LA 108: Composition for the Artist
VIS 150: Visual Development 1
Semester 3
FA 110: Still Life Painting 1
FND 116: Perspective
ILL 120: Clothed Figure Drawing 1
LA 120: Art History Through the 15th Century
LA 291: Designing Careers
Semester 4
FA 222: Heads & Hands
ILL 233: Digital Media 2: Illustrative Imaging
LA 121: Art History Through the 19th Century
LA 202: English Composition: Creative Persuasion & Argument
VIS 205: Visual Development Production
VIS 230: Digital Painting for Visual Development
VIS 250: Visual Development 2
Semester 5
ILL 220: Clothed Figure Drawing 2
LA 110: Writing the Short Story
LA 146: Anatomy of Automobiles
VIS 280: Color Scripting
VIS 300: Environment Design for Visual Development
Semester 6
ILL 243: Advanced Perspective for Illustration, Film & Games
LA 132: History of Animation
LA 157: The Genius of Appeal
LA 171: Western Civilization
VIS 235: Character Design for Visual Development (ZBrush)
VIS 350: Visual Development for Live-Action
VIS 364: Character Design 1: Bringing Characters to Life
Semester 7
LA 131: History of Gaming
VIS 315: UI for Visual Development
VIS 400: Visual Development Styles
VIS 498: Collaborative Project
Semester 8
ILL 267: Animal Anatomy
LA 292: Programming & Culture
LA 304: Crowdfunding & Social Media Marketing
LA 306: Creatively Speaking: Presentation for Designers
VIS 405: Senior Portfolio for Visual Development
VIS 500: Internship in Visual Development: for all VIS students
English Language Requirements
Certify your English proficiency with the Duolingo English Test! The DET is a convenient, fast, and affordable online English test accepted by over 4,000 universities (like this one) around the world.