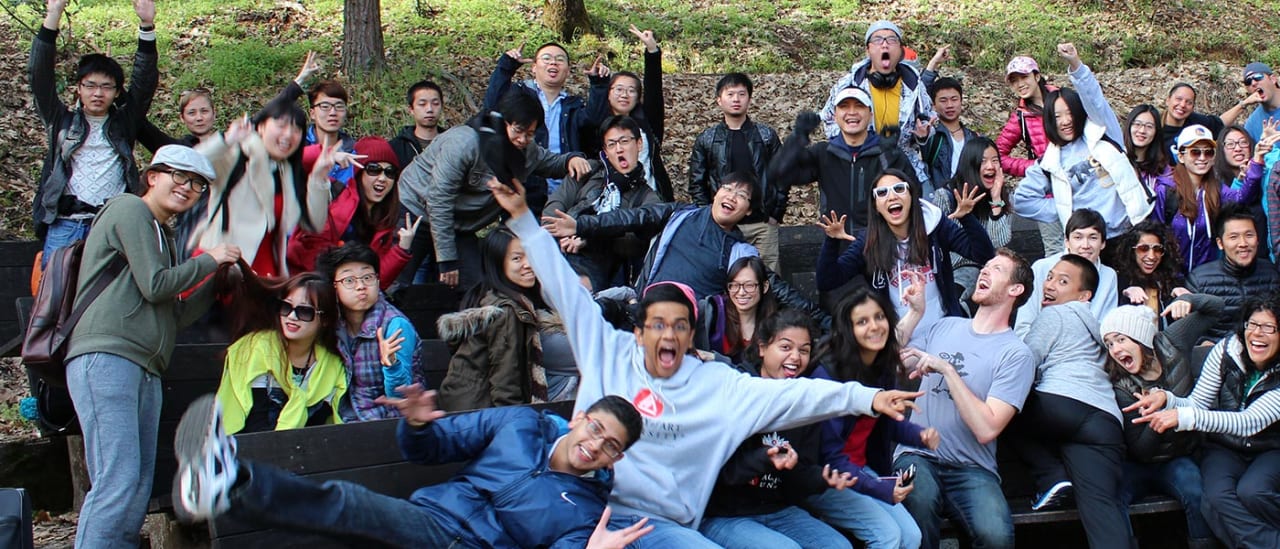 Bachelor in
Bachelor of Fine Arts (BFA) in Interaction & UI/UX Design
Academy of Art University
Key Information
---
Campus location
San Francisco, USA
Study format
Distance Learning, On-Campus
Application deadline
Request info
Earliest start date
Jun 2023
* per unit for international students | $1,072 per unit for domestic students. Additional fees apply
Introduction
The BFA program provides students with a comprehensive education in the principles of modern web design and new media. Taught by a faculty that works in the San Francisco Bay Area creative industry, our students are provided a unique opportunity to learn from teachers immersed in the field. The curriculum focuses on visual design, user experience, design strategies, web design, and motion graphics.
Unit Requirements
| | |
| --- | --- |
| Major Coursework | Units |
| Major | 42 |
| Liberal Arts | 45 |
| Elective | 9 |
| Core | 36 |
| Total | 132 |
Degree Requirements
BFA Web Design & New Media Degree Requirements
A minimum grade of C- in all core courses, major courses, and LA 107 Writing for the Multilingual Artist or 108 Composition for the Artist
Minimum 2.0 GPA and the following general education requirements:

1 Written Communication: Composition
1 Written Communication: Critical Thinking
1 Written Communication: Context & Style
2 Art Historical Awareness: Western Art
2 Art Historical Awareness: Surveys
1 Historical Awareness
1 Quantitative Literacy
1 Cultural Ideas & Influences
1 Employment Communications & Practices
After the above general education requirements are met, take Liberal Arts electives as needed to fulfill the Liberal Arts unit requirement.
Program Outcome
Undergraduate students will meet the following student performance criteria:
Visual Communication
Create grid-based visual compositions that demonstrate essential principles of design
Make typographic choices that effectively communicate information hierarchy and mood
Demonstrate effective use of color and imagery
Critical Thinking
Collect data appropriate for the given project
Use research findings to develop design ideas centered on real target users
Identify user demographics and diagram the user experience
Produce a consistent interactive experience in a medium appropriate to the user's needs
Technical Skills
Demonstrate an understanding of the current interactive technologies, tools, and apps by effectively using them to execute substantive projects
Demonstrate coding skills by building fully functional products and prototypes that simulate the intended interactive experience
Professional Readiness
Produce a cohesive portfolio tailored to reflect stated career goals
Academy of Art University Learning Outcomes
Graduates of the Academy of Art University will demonstrate the ability to:
Produce a body of work suitable for seeking professional opportunities in their chosen field of art and design.
Solve creative problems within their field of art and design, including research and synthesis of technical, aesthetic, and conceptual knowledge.
Communicate their ideas professionally and connect with their intended audience using visual, oral, and written presentation skills relevant to their field.
Execute technical, aesthetic, and conceptual decisions based on an understanding of art and design principles.
Evaluate work in their field, including their own work, using professional terminology.
Recognize the influence of major cultural and aesthetic trends, both historical and contemporary, on art and design products.
Learn the professional skills and behaviors necessary to compete in the global marketplace for art and design.
Curriculum
Semester 1
ADV 236: Digital Photography
GR 102: Design Technology: Digital Publishing Tools
GR 150: Visual Communication A
WNM 105: Design Technology: Visual Design Tools
Semester 2
ADV 241: Ideation Techniques
FND 122: Color Fundamentals
LA 108: Composition for the Artist
WNM 120: User Experience 1
WNM 210: Visual Design 1
WNM 249: Web Design 1
Semester 3
LA 291: Designing Careers
WNM 205: Motion Graphics 1
WNM 250: Web Design 2
WNM 310: Visual Design 2
WNM 330: Digital Imaging 2
Semester 4
LA 120: Art History Through the 15th Century
LA 121: Art History Through the 19th Century
LA 202: English Composition: Creative Persuasion & Argument
LA 254: Human-Centered Design
WNM 282: Midpoint Portfolio
WNM 305: Motion Graphics 2
WNM 349: Web Design 3
Semester 5
LA 131: History of Gaming
LA 242: History of Graphic Design
WNM 290: User Experience 2
WNM 300: Interactive Applications
WNM 355: Motion Graphics 3
Semester 6
COM 208: Dynamic Aerial Imagery
GAM 190: Mobile UI and UX
LA 110: Writing the Short Story
LA 141: Storytelling: From Telephone to Transmedia
LA 381: Marketing Essentials
WNM 369: Web Design 4
WNM 499: Special Topics: Advanced User Experience Design
Semester 7
LA 462: Power of Myth and Symbol
WNM 315: Visual Design 3
WNM 425: Introduction to Physical Computing
WNM 499: Special Topics: Virtual Reality Experiences & Prototyping
Semester 8
LA 359: Urban Sociology
LA 410: E-Commerce
LA 483: Interactive Media Production & Entrepreneurship
WNM 380: Senior Project
WNM 482: Portfolio 2
WNM 500: Internship in Web Design & New Media
English Language Requirements
Certify your English proficiency with the Duolingo English Test! The DET is a convenient, fast, and affordable online English test accepted by over 4,000 universities (like this one) around the world.