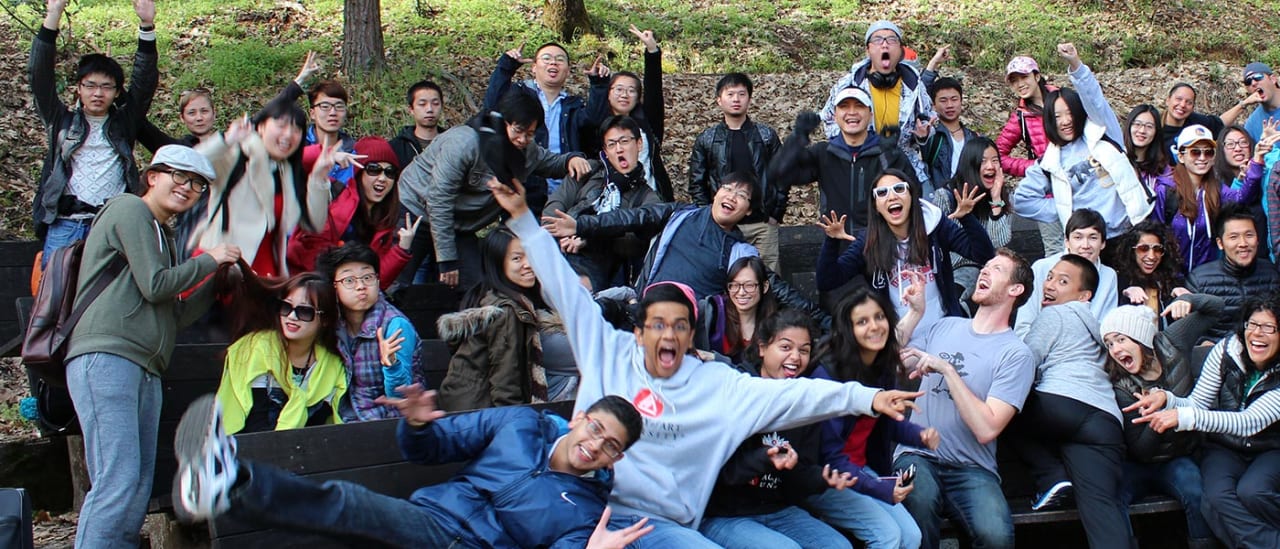 Bachelor in
Bachelor of Fine Arts (BFA) in Fashion Merchandising
Academy of Art University
Key Information
---
Campus location
San Francisco, USA
Study format
Distance Learning, On-Campus
Application deadline
Request info
Earliest start date
Jun 2023
* per unit for international students | $1,072 per unit for domestic students. Additional fees apply
Introduction
The Bachelors of Fine Art in Fashion Merchandising provides a foundation in fashion merchandising and fashion management. It includes major functions necessary to run a successful operation that plans, manages, and sells fashion products. Through hands-on Fashion Merchandising classes in buying, planning, product management, and retail management, students will develop the skills and knowledge required for a successful career in today's global retail operations.
Unit Requirements
| | |
| --- | --- |
| Major Coursework | Units |
| Major | 30 |
| Liberal Arts | 45 |
| Elective | 9 |
| Core | 36 |
| Total | 120 |
Degree Requirements
BFA Fashion Merchandising Degree Requirements
A minimum grade of C- in all core courses, major courses, and LA 107 Writing for the Multilingual Artist or 108 Composition for the Artist
Minimum 2.0 GPA and the following general education requirements:

1 Written Communication: Composition
1 Written Communication: Critical Thinking
1 Written Communication: Context & Style
2 Art Historical Awareness: Western Art
2 Art Historical Awareness: Surveys
1 Historical Awareness
1 Cultural Ideas & Influences
1 Employment Communications & Practices
1 Fundamental Math
After the above general education requirements are met, take Liberal Arts electives as needed to fulfill the Liberal Arts unit requirement.
Program Outcome
Undergraduate students will meet the following student performance criteria:
Research and Concept Development
Conduct thorough market and consumer research using industry-standard research tools and methods
Identify trends, consumer changes, and market opportunities in the global fashion marketplace
Analyze research to develop merchandising concepts and applications in contemporary fashion marketing and business marketplace
Produce creative and original merchandising concepts
Apply merchandising concepts to advance a point of view or concept appropriate for the market changes, target customer, and business types
Fashion Merchandising
Source, edit, and select the appropriate product for a target customer
Apply merchandising skills and develop product assortments for the selected channels
Conduct a fashion business analysis and create an effective business plan (sales assortment plan, finances plan, and marketing plan)
Technical Skills
Work effectively with industry-standard software to demonstrate and communicate concepts and plans professionally
Presentation Skills
Create professional visual and written presentations that reflect a point of view consistent with the product, target consumer, and brand
Communicate ideas and merchandising concepts professionally and effectively using fashion industry vocabulary
Communicate ideas and merchandising concepts professionally and effectively using audience-appropriate visual aids
Effectively pitch concepts and ideas
Apply the conventions of standard written English to all professional written communication
Collaboration Skills
Work effectively in a team
Professional Readiness
Create a relevant and original portfolio and collateral materials that can be used to market themselves to the industry
Academy of Art University Learning Outcomes
Graduates of the Academy of Art University will demonstrate the ability to:
Produce a body of work suitable for seeking professional opportunities in their chosen field of art and design.
Solve creative problems within their field of art and design, including research and synthesis of technical, aesthetic, and conceptual knowledge.
Communicate their ideas professionally and connect with their intended audience using visual, oral, and written presentation skills relevant to their field.
Execute technical, aesthetic, and conceptual decisions based on an understanding of art and design principles.
Evaluate work in their field, including their own work, using professional terminology.
Recognize the influence of major cultural and aesthetic trends, both historical and contemporary, on art and design products.
Learn the professional skills and behaviors necessary to compete in the global marketplace for art and design.
Curriculum
Semester 1
FSH 105: Introduction to the Fashion Business
FSH 107: Visual Communication Tools for Fashion
FSH 120: Color Science and Fabric Technology
FSH 145: Fashion Marketing 1
Semester 2
FSH 119: Fabric and Fiber Technology
FSH 161: Digital Techniques for the Fashion Business
FSH 252: Visual Merchandising 1
LA 108: Composition for the Artist
LA 120: Art History Through the 15th Century
LA 255: College Math
Semester 3
FSH 210: Fashion Manufacturing
FSH 250: Buying Fundamentals
LA 244: History of Fashion
LA 291: Designing Careers
Semester 4
FSH 213: Fashion Marketing 2
FSH 215: Retailing and Management
FSH 323: Fashion Trend Analysis
FSH 350: Private Label Product Design
FSH 368: Accessories Merchandising
LA 202: English Composition: Creative Persuasion & Argument
Semester 5
FSH 184: Styling
FSH 347: Inventory Management & Planning
LA 121: Art History Through the 19th Century
LA 410: E-Commerce
Semester 6
FSH 316: International Retailing/Global Marketing
FSH 369: Merchandising: Beauty Products
FSH 375: Fashion Merchandising Strategies
LA 110: Writing the Short Story
LA 245: History of Jewelry and Metal Arts from Around the World
LA 292: Programming & Culture
Semester 7
FSH 348: Digital Marketing and Social Media
FSH 450: Entrepreneurship in Fashion
FSH 464: Fashion Retail Management & Operations
LA 218: Blogging: Content Creation & Promotion
Semester 8
FSH 390: Professional Practices and Portfolio for Fashion Business
FSH 460: Merchandising: Industry Collaboration
LA 171: Western Civilization
LA 260: French 1: Basic Grammar & Speech
LA 315: Social Media Strategies
PRO 316: Social Media Data Analytics
English Language Requirements
Certify your English proficiency with the Duolingo English Test! The DET is a convenient, fast, and affordable online English test accepted by over 4,000 universities (like this one) around the world.