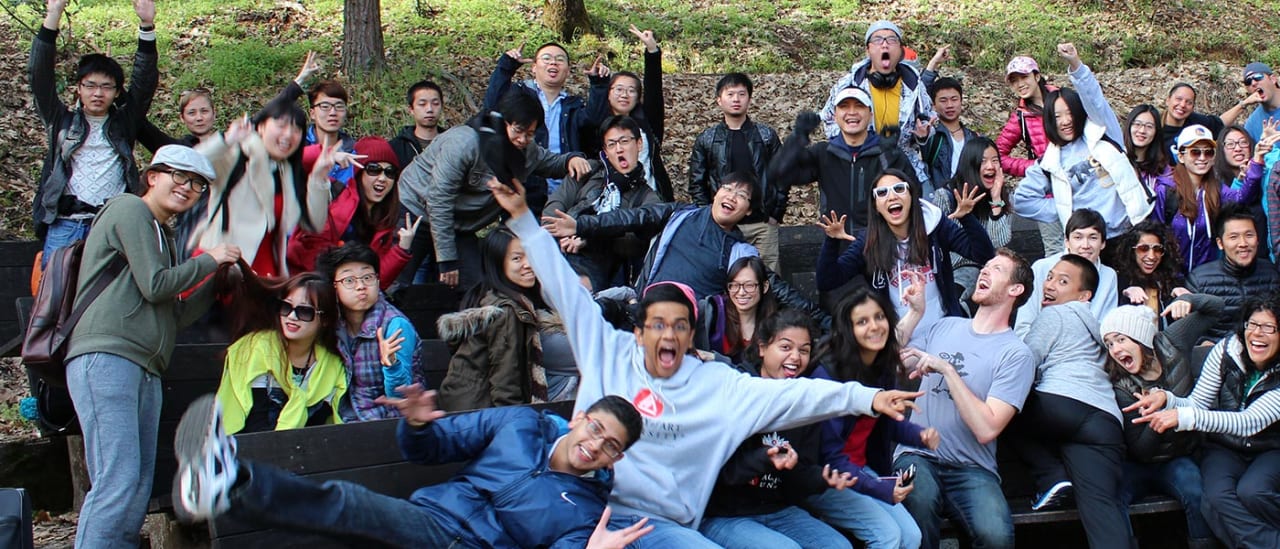 Bachelor of Fine Arts (BFA) in Advertising
Academy of Art University

Key Information
---
Campus location
San Francisco, USA
Study format
Distance Learning, On-Campus
Application deadline
Request info
Earliest start date
Feb 2024
* per unit for international students | $1,072 per unit for domestic students. Additional fees apply
Introduction
Award-winning art directors, copywriters, and creative strategists will show you how to create ideas that connect with people. Develop the thinking skills and tenacity it takes to create a competitive portfolio award-winning agencies look for as you earn your advertising degree.
Unit Requirements
| | |
| --- | --- |
| Major Coursework | Units |
| Major | 42 |
| Liberal Arts | 45 |
| Elective | 9 |
| Core | 36 |
| Total | 132 |
Degree requirements
BFA Advertising Degree Requirements
A minimum grade of C- in all core courses, major courses, and LA 107 Writing for the Multilingual Artist or 108 Composition for the Artist
Minimum 2.0 GPA and the following general education requirements:

1 Written Communication: Composition
1 Written Communication: Critical Thinking
1 Written Communication: Context & Style
2 Art Historical Awareness: Western Art
2 Art Historical Awareness: Surveys
1 Historical Awareness
1 Quantitative Literacy
1 Cultural Ideas & Influences
1 Employment Communications & Practices
After the above general education requirements are met, take Liberal Arts electives as needed to fulfill the Liberal Arts unit requirement.
Program Outcome
Undergraduate students will meet the following student performance criteria:
Design Skills
Effectively use visual media, including freehand drawing, to convey ideas and concepts throughout the creative process.
Apply basic design principles to creative work.
Communication Skills
Create engaging narratives that demonstrate an understanding of the elements of storytelling: idea, structure, conflict, character, and imagery.
Clearly and confidently present ideas in both formal and informal group settings.
Coherently explain complex ideas in short-form, simplified writing.
Problem-Solving
Apply strategic elements focused on the target customer, the product/ service, and the market.
Gather, assess, and apply relevant information, including historical research, as part of the conceptual and design process.
Conceptual Thinking
Communicate relevant objectives through the use of appropriate aesthetic choices.
Think conceptually and execute projects beyond traditional advertising media.
Develop ideas that can be articulated within project parameters.
Professional Readiness
Present an original portfolio to acquire a job within the industry.
Articulate career goals and plan to achieve them.
Submit work according to professional presentation standards.
Collaborate with other members of a creative team.
Academy of Art University Learning Outcomes
Graduates of the Academy of Art University will demonstrate the ability to:
Produce a body of work suitable for seeking professional opportunities in their chosen field of art and design.
Solve creative problems within their field of art and design, including research and synthesis of technical, aesthetic, and conceptual knowledge.
Communicate their ideas professionally and connect with their intended audience using visual, oral, and written presentation skills relevant to their field.
Execute technical, aesthetic, and conceptual decisions based on an understanding of art and design principles.
Evaluate work in their field, including their own work, using professional terminology.
Recognize the influence of major cultural and aesthetic trends, both historical and contemporary, on art and design products.
Learn the professional skills and behaviors necessary to compete in the global marketplace for art and design.
Curriculum
Semester 1
ADV 109: Advertising Methods & Trends
ADV 236: Digital Photography
GR 102: Design Technology: Digital Publishing Tools
GR 150: Visual Communication A
Semester 2
ADV 241: Ideation Techniques
ADV 258: Digital Video 1 (formerly WNM 358 Digital Video 1)
FND 113: Sketching for Communication
LA 108: Composition for the Artist
LA 133: Short-Form Writing
WNM 105: Design Technology: Visual Design Tools
WNM 210: Visual Design 1
Semester 3
ADV 207: Creative Strategy
ADV 215: Short Copy for Campaigns
ADV 244: Art Direction for Advertising
LA 291: Designing Careers
WNM 249: Web Design 1
Semester 4
ADV 341: Midpoint Portfolio
ADV 370: Brand and Branding
LA 120: Art History Through the 15th Century
LA 121: Art History Through the 19th Century
LA 202: English Composition: Creative Persuasion & Argument
WNM 205: Motion Graphics 1
Semester 5
ADV 348: Entertainment Advertising
ADV 367: Art of Presentation
LA 218: Blogging: Content Creation & Promotion
LA 242: History of Graphic Design
LA 368: Experiencing Culture: Anthropology for Today's Artist
Semester 6
ADV 343: Campaign
ADV 348: Entertainment Advertising
ADV 467: Television Commercial Production
ADV 498:
LA 124: Physics for Artists: Light, Sound, and Motion
LA 171: Western Civilization
LA 315: Social Media Strategies
Semester 7
ADV 346: Advanced Campaign
ADV 498: Collaborative Project: Branded Content
LA 222: 20th Century Art
Semester 8
ADV 446: Integrated Advertising 3
ADV 470: Final Portfolio
ADV 500: Internship in Advertising
LA 316: Social Media Data Analytics
LA 317: Social Media Management
WNM 305: Motion Graphics 2
English Language Requirements
Certify your English proficiency with the Duolingo English Test! The DET is a convenient, fast, and affordable online English test accepted by over 4,000 universities (like this one) around the world.