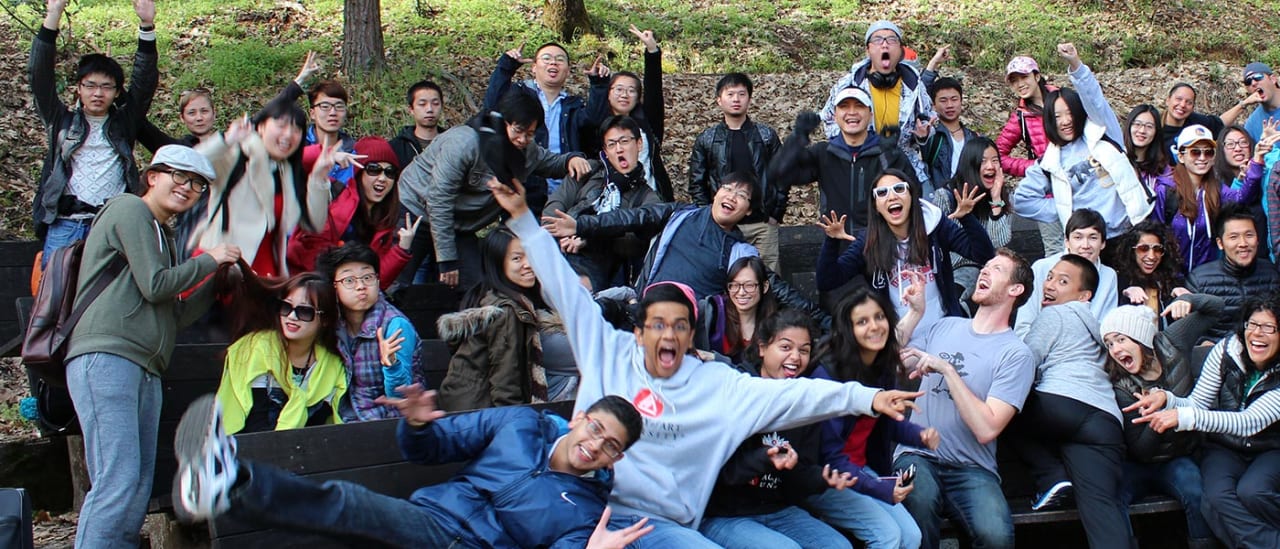 Bachelor in
Bachelor of Fine Arts (BFA) in Acting
Academy of Art University

Key Information
---
Campus location
San Francisco, USA
Application deadline
Request info
Earliest start date
Feb 2024
* per unit for international students | $1,072 per unit for domestic students. Additional fees apply
Introduction
Academy of Art University's BFA Acting program is a comprehensive and diverse curriculum that provides a strong foundation in performance fundamentals, including acting technique, acting for camera, improvisation, singing, and speech. Courses in audition technique, stage production, musical theatre, and stage combat help prepare our graduating students to enter the professional world.
Program Outcome
Undergraduate students will meet the following student performance criteria:
Acting
Behave truthfully under imagined circumstances, as defined by the script
Listen and respond to other actors reflexively and organically in the working environment
Play a variety of actions in pursuit of an objective
Movement
Make effective physical choices for each role.
Voice & Speech
Use language clearly in pursuit of an objective
Demonstrate basic command of vocal production for camera and stage
Professional Readiness
Assemble a resume, headshot, website, and reel suitable for seeking opportunities within the acting profession.
Academy of Art University Learning Outcomes
Graduates of the Academy of Art University will demonstrate the ability to:
Produce a body of work suitable for seeking professional opportunities in their chosen field of art and design.
Solve creative problems within their field of art and design, including research and synthesis of technical, aesthetic, and conceptual knowledge.
Communicate their ideas professionally and connect with their intended audience using visual, oral, and written presentation skills relevant to their field.
Execute technical, aesthetic, and conceptual decisions based on an understanding of art and design principles.
Evaluate work in their field, including their own work, using professional terminology.
Recognize the influence of major cultural and aesthetic trends, both historical and contemporary, on art and design products.
Learn the professional skills and behaviors necessary to compete in the global marketplace for art and design.
Career Opportunities
Academy of Art University's School of Acting is rooted in developing craft, individual processes, and truthful storytelling to prepare students for dynamic acting careers. By training well-rounded actors, we offer a unique learning environment in classes taught by working professionals. From stage to camera, voiceovers to commercials, the School of Acting is much more than a school—it's your opportunity to bring your passion to life.
Interactive Media Performer
As a performer for interactive media, you'll learn to use physicality and performance techniques to engage a digital audience across the globe. Acting in web series or commercials, you'll learn to bring characters to life in cutting-edge interactive media
Narrator/Host
As an on-camera narrator or spokesman, you give context and life to commercials and industrials. Bring your unique presence and ability to deliver impactful and engaging messages to the commercial world.
On-Camera Actor
As an on-camera actor for feature films, television, commercials, and industries, you'll bring characters to life through technique, emotion, and presence. Use physicality, reaction, reflex, and listening skills to engage audiences and fully embody any character.
Stunt Performer
As a stunt performer, you bring excitement and tension to the screen with combat and implausible physicality. Learn about safety, weapons training, and certification with our diverse and experienced faculty.
Stage Actor
Connect your craft to performance and become a stage actor, singer, or dancer. You will use technical proficiency, script analysis, and character research to deliver engaging and emotional performances for live audiences.
Voiceover Artist
As a voiceover artist, you'll apply your acting skills to animation, video games, commercials, narration, radio, TV, and character work. Find your vocal signature, learn accents, and bring characters to life.
Curriculum
Unit Requirements
| | |
| --- | --- |
| Major | 42 |
| Liberal Arts | 45 |
| Elective | 9 |
| Core | 36 |
| Total | 132 |
Degree Requirements
A minimum grade of C- in all core courses, major courses, and LA 107 Writing for the Multilingual Artist or 108 Composition for the Artist
Minimum 2.0 GPA and the following general education requirements:

1 Written Communication: Composition
1 Written Communication: Context & Style
1 Written Communication: Critical Thinking
2 Art Historical Awareness: Western Art
1 Historical Awareness
1 Quantitative Literacy
1 Cultural Ideas & Influences
1 Employment Communications & Practices
After the above general education requirements are met, take Liberal Arts electives as needed to fulfill the Liberal Arts unit requirement.
Curriculum
Semester 1
ACT 101: Respect for Acting (Core)
ACT 112: Voice and Speech 1 (Core)
ACT 141: Movement: Physical Acting (Core)
LA 101: Freshman Symposium: Artistic Resilience (Liberal Arts)
Semester 2
ACT 105: Acting 1 (Core)
ACT 123: Improvisation 1 (Core)
ACT 125: Acting in Action (Core)
ACT 212: Voice and Speech 2 (Core)
LA 108: Composition for the Artist (Liberal Arts)
Recommended for summer
WRI 188: Characters & Backstory (Core)
Recommended for summer
Semester 3
ACT 155: Acting 2 (Core)
ACT 181: Movement: The Alexander Technique in Action (Core)
ACT 223: Improvisation 2 (Major)
LA 291: Designing Careers (Liberal Arts)
Semester 4
ACT 223: Improvisation 2 (Major)
ACT 268: Audition Fundamentals (Major)
ACT 269: Script Analysis and Rehearsal Techniques (Major)
ACT 305: Making Creative Choices for Camera (Major)
LA 120: Art History Through the 15th Century (Liberal Arts)
LA 121: Art History Through the 19th Century (Liberal Arts)
Recommended for summer
LA 202: English Composition: Creative Persuasion & Argument (Liberal Arts)
Recommended for summer
Semester 5
ACT 223: Improvisation 2 (Major)
ACT 355: Reel Development 1 (Core)
ACT 469: Script Analysis (Major)
LA 110: Writing the Short Story (Liberal Arts)
LA 130: Broadway! The Evolution of the American Musical (Liberal Arts)
MPT 330: Directing Actors for Film & TV (Major)
Semester 6
ACT 312: Voiceover - Fall (Major)
ACT 323: Improvisation 3 (Elective)
ACT 405: Reel Development 2 (Major)
LA 124: Physics for Artists: Light, Sound, and Motion (Liberal Arts)
LA 171: Western Civilization (Liberal Arts)
Recommended for summer
LA 182: Genres in Film (Liberal Arts)
LA 204: Breaking through the Noise of Social Media (Liberal Arts)
Recommended for summer
Semester 7
ACT 455: Reel Development 3 (Major)
ACT 468: Audition Process: From Cold Readings to Callbacks (Core)
ACT 498A: Theatre Performance: The Play (Major)
LA 368: Experiencing Culture: Anthropology for Today's Artist (Liberal Arts)
Semester 8
ACT 375: Classical Performance 2 (Elective)
ACT 412: Voiceover - Spring (Elective)
ACT 485: Reel Development 4 (Major)
LA 382: Film History 3: Contemporary Cinema (Liberal Arts)
Recommended for summer
LA 462: Power of Myth and Symbol (Liberal Arts)
Recommended for summer
MPT 495: Into the Industry (Major)
English Language Requirements
Certify your English proficiency with the Duolingo English Test! The DET is a convenient, fast, and affordable online English test accepted by over 4,000 universities (like this one) around the world.