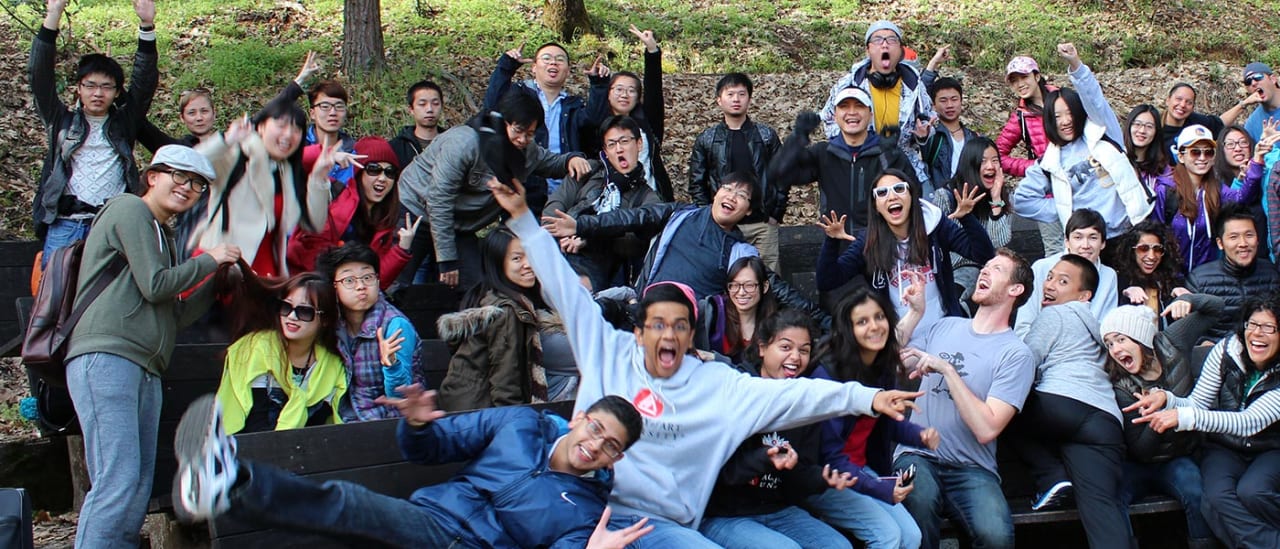 BA in
Bachelor of Arts (BA) in Jewelry & Metal Arts
Academy of Art University
Key Information
---
Campus location
San Francisco, USA
Study format
Distance Learning, On-Campus
Application deadline
Request info
Earliest start date
Jun 2023
* per unit for international students | $1,072 per unit for domestic students. Additional fees apply
Introduction
The School of Jewelry & Metal Arts BFA program exposes students to an array of metal design principles and techniques. Curriculum covers sketching, color theory, soldering, stone-setting, welding, casting, mixed-media, enameling, digital techniques, and more.
Program Outcome
Undergraduate students will meet the following student performance criteria:
Visual Communication
Effectively execute design concepts
Demonstrate evidence of trialing and self-editing designs, as evidenced in sketchbook/journal
Demonstrate facility and flexibility in fine art foundations and media-specific skills
Conceptual Development and Critical Analysis
Explore and articulate concepts, creative possibilities, and appropriate solutions within a given topic or subject
Analyze the strengths and weaknesses of the concept, execution, and refinement of a given project
Presentation Skills
Clearly express ideas verbally, visually, and in writing
Display work to professional presentation standards
Demonstrate craftsmanship and attention to detail
Professional Readiness
Manage workload to meet deadlines
Create a coherent, original portfolio and collateral materials, including website, postcards, and business cards, demonstrating personal vision and achievement of technical proficiency in the chosen medium
Academy of Art University Learning Outcomes
Graduates of the Academy of Art University will demonstrate the ability to:
Produce a body of work suitable for seeking professional opportunities in their chosen field of art and design.
Solve creative problems within their field of art and design, including research and synthesis of technical, aesthetic, and conceptual knowledge.
Communicate their ideas professionally and connect with their intended audience using visual, oral, and written presentation skills relevant to their field.
Execute technical, aesthetic, and conceptual decisions based on an understanding of art and design principles.
Evaluate work in their field, including their own work, using professional terminology.
Recognize the influence of major cultural and aesthetic trends, both historical and contemporary, on art and design products.
Learn the professional skills and behaviors necessary to compete in the global marketplace for art and design.
Career Opportunities
Academy of Art University offers some of the best training and hands-on experience to help you pursue jewelry careers. We pride ourselves in doing an exceptional job preparing you to excel in your future jewelry careers. Our degree programs are designed to equip aspiring professionals with a comprehensive toolbox of marketable skills that lead to success in the industry.
CAD Jewelry Designer
Create jewelry designs using software for 3D modeling and printing. Realize designs using printed wax and plastic models, CNC machines, milling, and laser cutting for use with modern jewelry production techniques. Work side by side with production teams to ensure manufacturing consistency in this dynamic career path.
Casting Specialist
Work with a variety of clients during the design, prototype, and final production stages. Utilize your expertise to provide solutions for intricate designs and challenging concepts. Stay updated on the newest metal alloys and technologies to ensure the best possible metal castings.
Gallery/Museum Curator
Apply your knowledge of the jewelry profession to curate exciting and thought-provoking exhibitions in a gallery or boutique-style space. Inspire and educate the general public about the jewelry and artwork you represent. Introduce collectors and connoisseurs to new and emerging artists from around the world.
Jewelry & Metal Arts Instructor
Teach students to apply traditional hand techniques and modern technology in the production of jewelry and metal arts while encouraging creativity and self-expression. Instruct the next generation of artists and designers in the latest fabrication methods, materials, and aesthetics used by leading jewelers and metalsmiths. Provide a historical context for the student's artistic exploration and practice.
Studio Jeweler/Gallery Artist
Focus on developing a conceptual and technically sound body of work for collectors and exhibitions within a museum or gallery setting. Explore historical, political, or personal narratives while creating one-of-a-kind and limited edition works in your studio. Engage in a dialog with viewers and collectors about the many techniques incorporated into your pieces and the underlying themes represented.
Technical Designer
As a technical jewelry designer, you are a part of the design team creating drawings and digital files for use in production. Plan, iterate, and create maquettes for rapid prototyping in this exciting career path.
Curriculum
Unit Requirements
| | |
| --- | --- |
| Major | 42 |
| Liberal Arts | 45 |
| Elective | 9 |
| Core | 36 |
| Total | 132 |
Degree Requirements
A minimum grade of C- in all core courses, major courses, and LA 107 Writing for the Multilingual Artist or 108 Composition for the Artist
Minimum 2.0 GPA and the following general education requirements:

1 Written Communication: Composition
1 Written Communication: Critical Thinking
1 Written Communication: Context & Style
2 Art Historical Awareness: Western Art
2 Art Historical Awareness: Surveys
1 Historical Awareness
1 Quantitative Literacy
1 Cultural Ideas & Influences
1 Employment Communications & Practices
After the above general education requirements are met, take Liberal Arts electives as needed to fulfill the Liberal Arts unit requirement.
Curriculum
Semester 1
FND 113: Sketching for Communication (Core)
JEM 108: Wax Carving and Introduction to Casting (Core)
JEM 110: Jewelry & Metal Arts 1 (Core)
LA 101: Freshman Symposium: Artistic Resilience (Liberal Arts)
Semester 2
FSH 161: Digital Techniques for the Fashion Business (Major)
IND 138: Model Making 1 (Major)
JEM 155: Jewelry & Fashion (Core)
JEM 224: Exploring Textile Techniques in Metal (Core)
Recommended for summer
LA 108: Composition for the Artist (Liberal Arts)
LA 120: Art History Through the 15th Century (Liberal Arts)
Recommended for summer
Semester 3
JEM 210: Jewelry & Metal Arts 2 (Core)
JEM 249: Modular Casting for Jewelry and Sculpture (Core)
JEM 275: Welding and Smithing (Major)
LA 121: Art History Through the 19th Century (Liberal Arts)
LA 291: Designing Careers (Liberal Arts)
Semester 4
JEM 233: Digital Design: Laser Cutting and Milling (Core)
JEM 238: Papermaking/Mixed Media (Elective)
JEM 240: Enameling 1 (Core)
JEM 344: Moving Metal 1 (Core)
LA 202: English Composition: Creative Persuasion & Argument (Liberal Arts)
Recommended for summer
LA 245: History of Jewelry and Metal Arts from Around the World (Liberal Arts)
PH 103: Digital Photography for Artists (Major)
Recommended for summer
Semester 5
JEM 235: Kinetics and Mechanics (Major)
JEM 243: Introduction to 3D Printing and Modeling (Major)
JEM 310: Innovations in Materials and Processes (Major)
LA 110: Writing the Short Story (Liberal Arts)
LA 222: 20th Century Art (Liberal Arts)
Semester 6
FASCU 231: Ceramics: Expressions in Clay (Major)
Recommended for summer
JEM 239: Introduction to Contemporary Jewelry Rendering (Core)
JEM 255: Electronics and the Wearable Form (Major)
Recommended for summer
JEM 320: The Jeweler's Lathe: Technique and Application (Major)
JEM 333: Advanced 3D Modeling and Printing (Elective)
LA 124: Physics for Artists: Light, Sound, and Motion (Liberal Arts)
LA 292: Programming & Culture (Liberal Arts)
Semester 7
JEM 420: Advanced Techniques: Metalworking (Major)
JEM 422: Advanced Stone Setting (Major)
LA 171: Western Civilization (Liberal Arts)
LA 464: Dada & Surrealism (Liberal Arts)
Semester 8
JEM 238: Papermaking/Mixed Media (Elective)
Recommended for summer
JEM 340: Enameling 2 (Major)
JEM 450: Jewelry & Metal Arts Portfolio (Core)
JEM 500: Internship in Jewelry & Metal Arts (Major)
LA 128: The Body As Art: History of Tattoo & Body Decoration (Liberal Arts)
LA 410: E-Commerce (Liberal Arts)
Recommended for summer
Scholarships and Funding
Since Academy of Art University's art scholarships program was founded over 40 years ago, we have helped over 45,000 aspiring artists and designers pursue their educational goals. Academy of Art University offers a number of innovative and inexpensive ways for first-time students, high school students, and teachers to improve their skills and experience all that we have to offer.
Emerging Artist Scholarship
Aspiring artists and designers looking to go to school in the summer and fall semesters should apply for the Emerging Artist Scholarship, which offers a limited number of awards worth up to $3,000.
Graduate Scholarship
Prospective graduate-level students who need to build their art and design portfolio or improve their career options should take advantage of this amazing scholarship opportunity worth up to $2,000.
Spring Forward Scholarship
Working adults seeking a career upgrade and current college students looking to transfer should take advantage of this amazing scholarship opportunity worth up to $2,000.
Pre-College Programs
The Pre-College Art Experience (PCAE) provides intensive, no-tuition art and design courses to current high school students. Those students receiving passing grades in their PCAE courses can also earn scholarship money toward their undergraduate degree at the Academy of Art.
Specialty Grants & Scholarships
Teacher Grants
The Teacher Grant* provides high school and community college art teachers an opportunity to practice and improve their skills. These full-tuition art scholarships apply toward any regular undergraduate course and are subject to limited availability.
Academy of Art Military Scholarship
The Military Scholarship provides U.S. service members (Active Duty, Reserve, National Guard, and Coast Guard) an opportunity to start preparing for a career in art and design. This art scholarship applies to any degree-seeking course.
Alumni Tuition Benefit
The Alumni Tuition Benefit supports all returning Academy alumni with a 20% tuition benefit off all courses and or additional degrees/certificates.
Nationwide Scholarship Opportunities
Aspiring and current students can apply for nationwide scholarship opportunities to help continue their education here at Academy Art University. We've organized these by application closing date for your convenience. The Chamber of Commerce has created a Best College Scholarships Guide. This guide provides insight into the types of scholarships available, the application process, and how to improve your odds of being awarded a scholarship.
English Language Requirements
Certify your English proficiency with the Duolingo English Test! The DET is a convenient, fast, and affordable online English test accepted by over 4,000 universities (like this one) around the world.