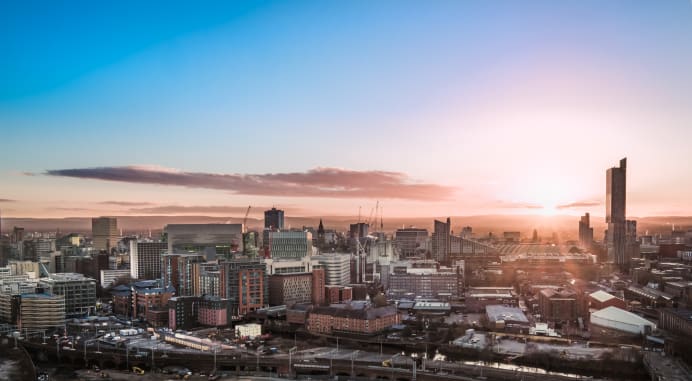 Great things happen in Manchester
Manchester is where Alan Turing helped to design the world's first electronic-stored programme computer.
Meanwhile, in 2010, Manchester-based scientists Andre Geim and Kostya Novoselov won the Nobel Prize in Physics for isolating the properties of graphene. This lightweight but super-strong material is set to transform electronics, energy consumption, biomedical science, and water filtration systems.
Manchester values equality
Manchester is a city that has never been afraid to speak out against social injustice. The 19th-century Manchester Liberalism movement challenged unfair business practices and promoted freedom of the press. The city was also the birthplace of Emmeline Pankhurst, a key figure in the suffrage movement that fought for women's rights.
A vibrant music scene
Live music is a big thing in Manchester. The city's indie scene produced The Smiths, The Stone Roses, New Order, and Oasis. You can see the next generation of artists refining their talents at the city's rock clubs, jazz bars, and concert venues. You can also watch international DJs at the annual Warehouse Project, which features some of the biggest names in dance music.
A diverse and welcoming city
Manchester is a truly diverse city. It has the third-largest Chinatown in Europe, a large Eastern European community, and a famous strip of South Asian restaurants called the "Curry Mile". Every year, the city also hosts a Caribbean carnival. All of this creates a vibrant, multicultural atmosphere where everybody feels welcome.
Manchester Metropolitan University
Manchester Metropolitan University is a respected UK university and ranks in the world's top 200 universities under 50 years old. It has a triple-accredited business school and the eighth-best architecture course in the world (according to QS World University Rankings 2020). The University's state-of-the-art School of Digital Arts (SODA) will also be opening in 2021. SODA is a £35 million investment to help develop the next generation of creative talent.
Manchester Met provides students with high-quality teaching in a friendly and supportive environment. The school holds the Silver award in the Teaching Excellence Framework (TEF). The independently-assessed TEF silver award recognises high-quality teaching and learning outcomes for students.
The University also offers extensive employability and careers support. You can attend regular employability events, including advice workshops, networking opportunities, and careers fairs. Guest speakers are also invited to events to share their expertise. Manchester Met also benefits from fantastic industry links with global employers, including Microsoft, Nike, Volkswagen, and Walt Disney. Plus, all graduates receive lifelong access to a digital careers service, which lists jobs, internships, and career advice resources.
The University has recently launched Rise at Manchester Met to support and enhance your employability. The programme gives you the opportunity to develop your skills outside of your course while earning credits towards your degree. There are many ways to get involved with the programme, including completing online courses, attending events or taking part in exciting projects.
When you come to Manchester Met you're also coming to the UK's most liveable city. The Economist's 'Global Liveability Index' named Manchester as Britain's best city for the sixth consecutive year. Also, the NatWest Student Living Index 2019 ranked Manchester the fifth most affordable city in the UK for students. Manchester scored highly on all key indicators, including travel, housing, and entertainment.
Once on campus, you will have full access to excellent IT and learning facilities, including a library that is open 24 hours (during term time). Also, the University has over 150 sports clubs and societies. Joining clubs and societies can be especially beneficial for international students, allowing you to make friends and build networks from all over the world based on common interests, as well as helping you to settle in and feel at home.
Manchester Met has over 3,000 international students from more than 130 countries. It understands that moving to a new country can feel overwhelming, especially during a global pandemic like COVID-19. That's why the University has implemented several initiatives to help students feel safe and welcome, and they will continue to update their procedures in line with the latest government advice.
Manchester Met has also designed a flexible programme of activities for Welcome Week to help you settle in, meet new friends and make the most of your university experience.
Lilly is a Speech and Language Therapy student from the USA currently studying at Manchester Met. She shared her thoughts on studying during lockdown. "I'm surprised about how I've adjusted to studying online", she explains. "I have enjoyed the flexibility. I can complete pre-recorded lectures in my own time, and I can go back and access them after. I'm currently studying for an exam, so it's been really helpful. Manchester Met have done a fantastic job going virtual. Virtual workshops are available for many different topics and there are extra workshops for writing papers, academic referencing, and personal well-being. It's made my transition so much smoother and allowed me to become the best student I can be."
David, a Marketing Management student from the UAE, has had a similar experience. He says, "Manchester Metropolitan offers so much help for their international students. They are here to support you and your journey, whether it be in regards to your education or emotional health."
To learn more about life as an international student at Manchester Met go to its page here, where you can find student videos, blogs, and lots of useful information. There's also a form to register for regular news and updates, including invites to online events to help decide which course is right for you.
Article written in association with Manchester Metropolitan University.

After graduating with a degree in English literature and creative writing, Ashley worked as a bartender, insurance broker, and teacher. He became a full-time freelance writer in 2016. He lives and writes in Manchester, England.
Find a program in these categories