Why Study in Lyon, France?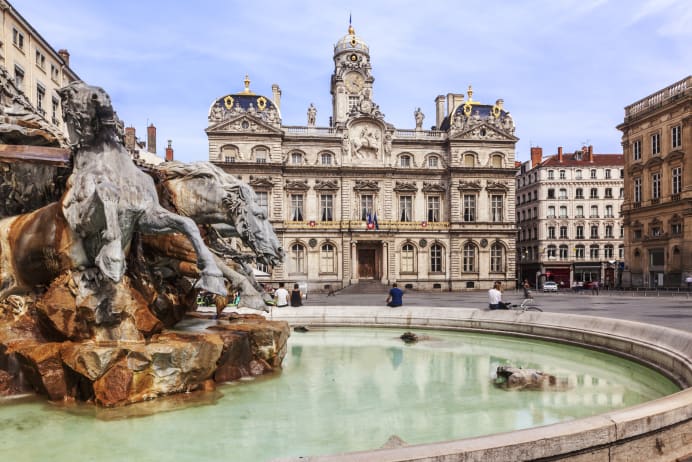 The Lyonnaise way of life
Lyon's high quality of life is one of the main characteristics that attracts those looking for a new home in France. The city has everything you could look for: beautiful nature, vibrant nightlife and cultural scene, impressive infrastructure, and easy access to some of Europe's most important cities - to name a few. The city's administration is constantly making improvements that enhance people's daily life, such as turning parking lots into jogging and cycle paths, converting old military facilities into parks, and creating new establishments such as shopping galleries and museums.
France's gastronomy capital
Lyon has been considered the world capital of food, but not only because of its world-renowned chefs or its popular dishes like the poulet de Bresse, the quenelle de brochet, or, for the more adventurous, escargots à la Bourguignonne. You can find fresh produce and quality meats originated from local farms for very reasonable prices in just about any market and try your hand at cooking some traditional - and maybe new - dishes from your own kitchen while enjoying the delicious taste of Lyon's local food.
Affordable cost of living
One of the best perks of living in a smaller city is enjoying an overall lower cost of living. Lyon is about 30% cheaper than Paris but still delivers the high living standards of a major city. You can rent a furnished studio outside the city center with utilities and internet for under €800. Monthly tickets for public transportation can amount to up to €64, and dinner for two in a pub will usually stay just under €40. Luckily, many museums, galleries, and other attractions admit students for free, offering great outing options that won't detract from your budget.
Impressive nature
Besides being declared a UNESCO World Heritage Site for its outstanding universal and historical value, Lyon's privileged location at the confluence of the Rhône and Saône Rivers, its wide variety of parks and gardens, and its proximity to the mountains make the city a paradise for all nature lovers. On a clear day, you can even see the French Alps and Mont Blanc – the highest point in the EU – from the city.
Growing startup scene
Lyon is quickly becoming one of the hottest destinations in the European startup scene. Investors enjoy the city's more relaxed environment than Paris and benefit from the excellent digital infrastructure available. For Vincent Thery, cofounder of Lilismart, "Lyon has a great way of life - it's only two hours from the alps, it's less crazy than Paris and the salaries and cost of living are lower. It's easy to get exposure if you do a good job."
The student experience
The benefits of studying abroad in Lyon are countless. "There's always something going on in Lyon!" Chloe, an international student in Lyon, says. "To keep up-to-date with things, I would recommend following Ville de Lyon on Instagram and Only Lyon on Instagram as this is how I found out about all of the cool art festivals taking place during my stay. I appreciated life much more in Lyon - living in a beautiful city and having the time and freedom to do whatever you want is truly empowering."
Why study business in Lyon?
With France being the world's sixth-largest economy and 29 out of the world's 500 biggest companies having headquarters in the country, there is a constantly growing demand from students for business degrees in the country and an increasing appetite from employers for business graduates from the European nation. The thriving tech startup sector, attractive costs compared to other major cities, and the possibility to study at world-leading emlyon business school make Lyon one of the best options for students out there.
emlyon business school
As one of the top three best French business schools, according to the 2021 Shanghai Ranking, emlyon offers a wide range of accredited business programs at both undergraduate and graduate level. emlyon's resources and transformative pedagogical approach have landed the school among the 1% of the world's institutes to achieve triple accreditation by the Association for Advance Collegiate Schools of Business (AACSB), Equis, and the Association of MBAs (AMBA).
Alumnus Menelaos says "One of the greatest elements in emlyon is the teaching style. Small groups combined with practical approaches on learning that enable students to be more confident for their future endeavors."
emlyon business school offers courses entirely taught in English by its world-renowned professors and welcomes students from 121 different nationalities, providing students with an optimal environment to develop an extensive international network of experienced and emerging professionals. In addition, the school allows students to study in other excellent institutions abroad, thanks to its 190+ academic partnerships in 50 countries.
The Global BBA
emlyon's Global BBA, taught in English or French & English, is an innovative degree that prepares students for management positions with a combination of teaching, group work, and internships at top international companies. Global BBA students have the amazing opportunity to study not only in the amazing city of Lyon but world-leading cities Paris, Shanghai, Casablanca, and Saint-Etienne. Digital tools help promote collective intelligence, to stimulate the creativity and multidisciplinarity thinking needed for the jobs of today and tomorrow. With a 97 percent employment rate within six months of graduating, the program is ranked second in France for employability by the Times Higher Education 2021 rankings. Also, there are a staggering 35,700 alumni and 190 academic partners.
"I am 20 years old and I can speak Spanish, English, French and Portuguese," says Alejandra Duque, a second-year global BBA student at emlyon. "I am from El Salvador.
I think you make the right decision when you choose emlyon business school as it helps you grow as a person and as a professional, it helps you be a more responsible and independent person. You learn a lot in classes but also by doing and applying what you know."
So whether you're looking for a bachelor's degree in business administration to start your business journey or an MBA to advance your career, emlyon provides you with the innovative education, professional experience, and connections necessary for success in the business world while allowing you to enjoy a life-changing study abroad experience in one of France's best cities.
Article written in association with emlyon business school.
Find your perfect program
Use our search to find and compare programs from universities all over the world!
emlyon business school

Thaís graduated with a degree in Language and Literature and is now pursuing her master's while working as an English teacher and freelance writer. She lives in an inland city in São Paulo, Brazil, and enjoys binge-watching TV, game nights with her friends, and learning how to play any musical instrument within reach
Find a program in these categories