Why Study Hotel And Restaurant Management In Ireland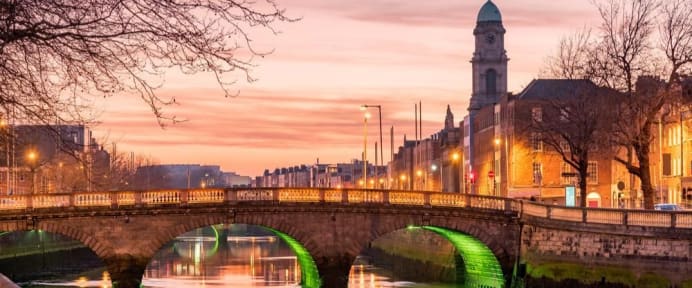 The hospitality industry is one of the biggest economic sectors, and it's growing at a phenomenal rate. One-tenth of global GDP is now accounted for by travel and tourism, with close to $1.6 trillion spent on bookings last year.
The trend continues. New customer bases in developing countries, a shift from product purchases to the experience economy, and ever-improving conditions and prices for consumers play a big part in this boom. However, these conditions require the business ingenuity of managers and other tourism professionals for the industry to flourish.
Hotel and Restaurant management opens a great career for you
Hospitality work offers almost limitless potential for variety and growth. Today's home-town hotel manager might be working in the most exotic climes tomorrow, or managing a casino, resort, or chain of hotels anywhere in the world.
The scope of employment opportunities and travel options means that breaking into the industry is not the difficult part.
"Worldwide, tourism attracts some of the biggest employers and is a steadily growing industry. Therefore, there is an increasing demand for highly qualified junior employees," agrees Dr. Peter Neumann, Professor of Tourism at IUBH University of Applied Sciences.
Advancement, however, comes with proving yourself as a manager and using your professional qualifications to leap from success to success.
What's more, the skills are transferable which means it's always possible to side-step into another industry should circumstances change.
Why Ireland?
Ireland is one of the best places on Earth for entrepreneurs.
Fortune named Dublin, Ireland's capital, one of seven international cities with the potential to become the "next Silicon Valley." Twitter opened its third foreign office in Ireland (after England and Japan), and the government is investing significantly in research and development.
In short, there's a real business buzz on this little island at the western edge of Europe. Studying in this atmosphere can be both energizing and practical for those who want to work in a field as dynamic as tourism.
And that's to say nothing of the place itself. The epic landscapes have proved a lure for TV and film productions looking for out-of-this-world natural vistas. The cities are infused with history and a vibrant local culture even as they lead towards the future.
Forts, castles, a mythic coastline, and of course the Guinness Brewery are just the backdrop to a cast of famously friendly and fun-loving locals who are keen to welcome ambitious students to their upwardly-mobile environment.
Where to study in Ireland?
No more suitable destination can be found than the IUBH in Killarney.
Their Bachelor in Hotel and Restaurant Management combines theory and practice in an internationally-oriented program. It includes local work experience in one of the most touristic regions in Ireland – preparing undergraduates for those junior level hospitality jobs that are the first step on the path to business success.
"We train our students to take on these positions by equipping them with the knowledge that they can directly apply at their partner companies," continues Dr. Neumann. "This combination of theory and work experience gives our students a competitive edge in the labor market.
To that end, IUBH University of Applied Sciences offers students a chance to gain real-world experience during their bachelor's degree. Students enrolled in the Bachelor in Hotel and Restaurant Management program participate in a study and work program organized by IUBH University of Applied Sciences. Students are matched with industry employers in paid positions, where they can learn on the job. Student's salaries can cover their tuition up to the full amount, and these study and work opportunities can be completed during the summer term (May-September). This means that once their studies are completed, students will be prepared to enter the job market. Under Irish law, non-EU students can stay in Ireland and work for up to eighteen months after they complete their bachelor's degree.
IUBH University of Applied Sciences is ideal for students with global careers aspirations. The course is in English, and students from Europe, Mexico, Brazil, Russia, Malaysia, and elsewhere with A-Level qualifications or equivalent will flock to this opportunity to study abroad, in anticipation of a colorful career in hotel management.
Read more about IUBH University of Applied Sciences.
Find a program in these categories