Why Study Business & Hospitality Management in Switzerland?
May 23, 2019
Education

Study Abroad

International News

When you conjure associations of Switzerland, you are likely to imagine exquisite nature, the smooth functioning of everyday life, the stability and expertise of the banking industry, and – of course – the watches that have become unofficial emblems of Swiss culture and craft.
Furthermore, Switzerland is known for excellence in education and provides a brilliant student experience for domestic and international students alike. In fact, it was recently ranked the third best study abroad country in Europe by educations.com. High standards, independent thinking, and a safe, multicultural environment bolster the nation's reputation as a fine place to study.
Moreover, Switzerland is considered to be the birthplace of hospitality, its long and rich history in the area dating back to around 150 years ago when palatial hotels were built across the Montreux Riviera, heralding the start of luxury tourism in Switzerland. Attracted by the healthy climate and the lure of adventure in the amazing Alps, aristocrats and royalty travelled to the country. Unsurprisingly, they craved a very high level of service, which led hoteliers to innovate, systematizing the operational and management processes, and laying the groundwork for the hospitality industry as it is now.
James Osmond from Triptease, writing about an interview with Mr. Thomas Allemann of hotelleriesuisse, the Swiss Hotel Association, explains, "Historically speaking Switzerland has been a longstanding leader on the travel and tourism platform, beginning with the classical hotel model as early as the 1800s. [...] Being well known worldwide for these seasonal holidays in idyllic mountain and lakeside settings, the country earned itself a reputation as a traditional, go-to destination."
Today, in the 21st century, the tourism and hospitality industry is booming in Switzerland. One in every twenty-five workers is employed full-time in this sector, helping process around US$17bn each year, and welcoming visitors from Europe, the Gulf States, and rising economies such as China and India. Indeed, Switzerland is even the destination of choice for the world's leaders, who hold the annual World Economic Forum conference in the town of Davos, in the Swiss Alps.
This means those studying business or hospitality in the country have abundant opportunities to work in these diverse, dynamic, global, people-centred, and opportunity-rich industries.
So what is it that puts Swiss hospitality education among the greatest in the world?
With such a strong tradition of hospitality, it is unsurprising that the education in hospitality offered in Switzerland is world class; something to which many, many students testify. Anna Trofimova, who will graduate from B.H.M.S. (Business & Hotel Management School) in Lucerne with a BA degree this summer, says, "B.H.M.S. Lucerne provides a high-quality education that combines academic studies with practical knowledge. By the end of my 3-year BA Degree study program, I will graduate with 1.5 years of work experience that will significantly increase my chances of finding a job within the wide range of [the] hospitality industry."
The hospitality industry in Switzerland is diverse, dynamic, and presents a plethora of opportunities for a graduate in the field. The country earns the title of the world's most competitive country year after year and is pinned to the top of the league table for labor market efficiency, business sophistication, and innovation, not least in hospitality. These are the foundations for the Swiss hospitality industry that is growing and innovating all the time.
One particular area of innovation is Swiss gastronomy. Swiss restauranteurs are driving business forward: 14 new Michelin stars were awarded to the country's dining places in 2018, ensuring Switzerland remains the place with the most Michelin-starred restaurants per person. The number of Michelin-starred restaurants in Switzerland has risen by 40 percent in just a decade.
One of the things that makes Switzerland so accessible to the tourists that enjoy these hotels and restaurants is the culture of multilingualism. English is widely spoken (with language skill levels rated 'high' on the English Proficiency Index), and there are three official national languages: German, French, and Italian. As you can imagine, a culture like this is also well-versed in a number of other languages.
None of the above would be much use for the hospitality industry if there was not plenty to see to bring in tourists in the first place. But Switzerland is consistently ranked as one of the most beautiful destinations in the world.
The stunning contrasts of the Alps, where snowy peaks overlook verdant meadows and crystal-clear lakes offering peace or adventure, also hide little villages that seem untouched for centuries. But the big cities, too, offer a sense of history that feels quintessentially European without looking like anything you will find elsewhere on the continent.
Trips by rail, boat, foot, or even climbing rope, offer unparalleled aesthetic experience and certainly build an appetite for an evening in one of those Michelin-starred eateries!
Where to study
B.H.M.S. (Business & Hotel Management School) in Lucerne, a city at the heart of Switzerland offers accredited degrees that strike the perfect Swiss balance between the academic foundations on which to base a career in hospitality and the real-life experience to put it in motion.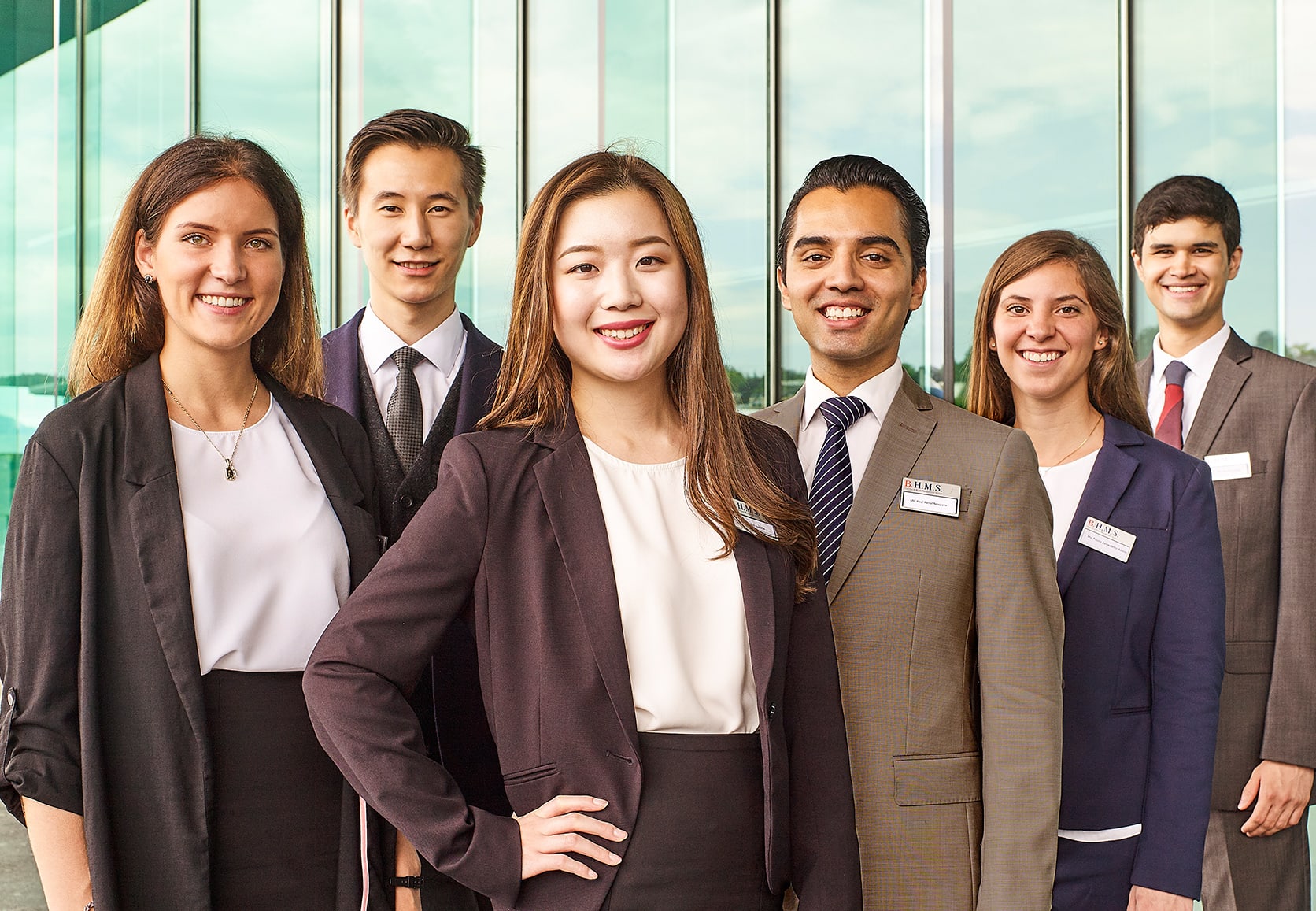 B.H.M.S. (Business & Hotel Management School)
This approach introduces students to the hospitality business. B.H.M.S. provides students with the essential technical skills and background knowledge that they need -- but also develops their passion, work ethic, and personal potential, since hospitality is first and foremost about people.
The government officially recognizes the school as a Swiss Federal College of Higher Education, and the program is in English – with plenty of opportunities available to develop other language skills alongside the main curriculum. Furthermore, Swiss universities are highly respected all over the world, with a long tradition of higher education dating all the way back to 1460 -- and a particular historical standing and reputation in the field of hospitality studies.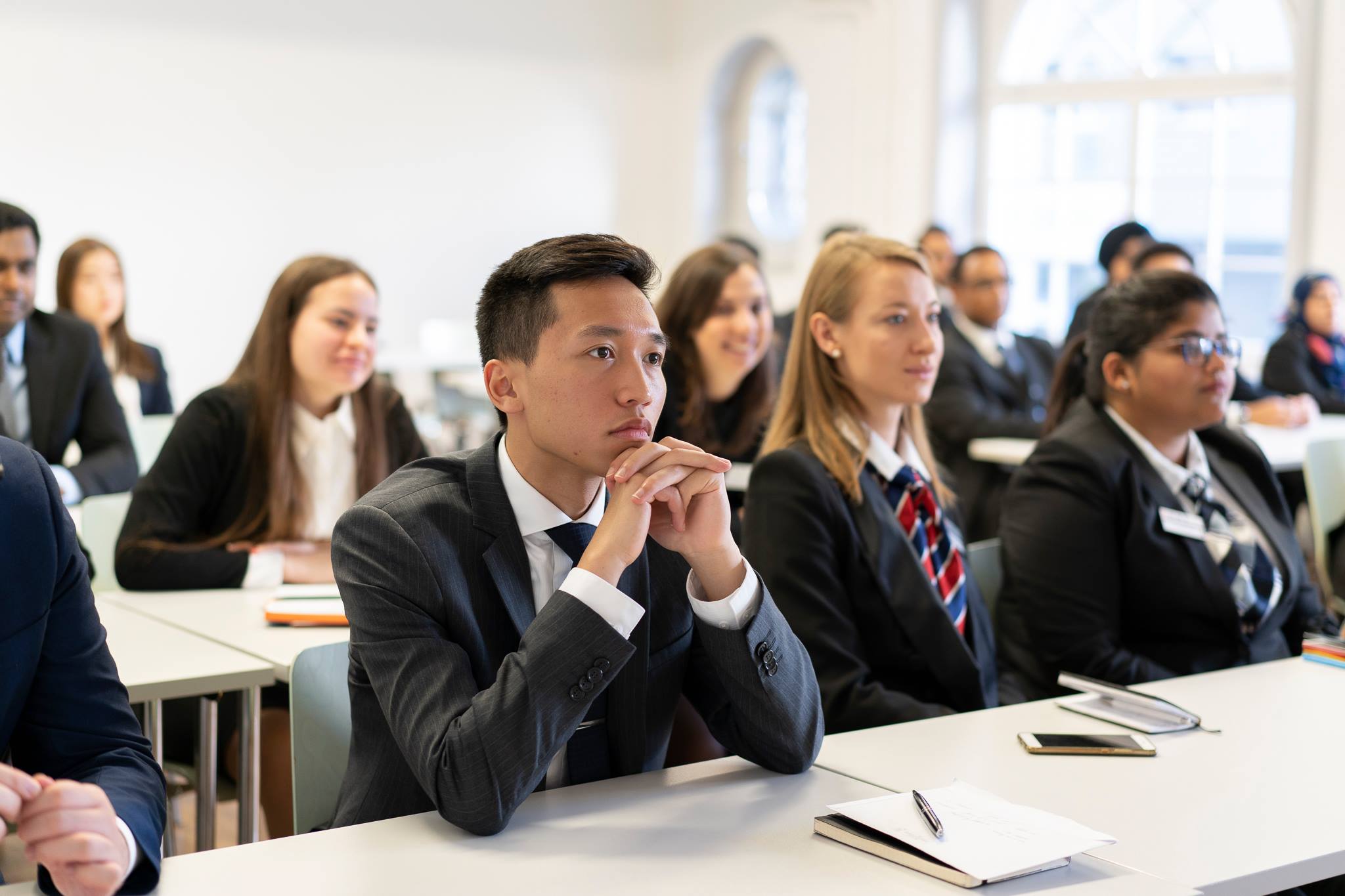 B.H.M.S. (Business & Hotel Management School)
For example, the BA Degree in Hospitality can be completed in three years, or pursued as separate one-year diplomas as best fits the student's personal situation and ambitions. At the heart of the program is a guaranteed paid internship throughout the second semester of each year, allowing students not only to learn and gain real-world experience of the industry, but to help them on their first career step, and also to earn money while doing so.
The first and second years lead respectively to a Diploma and a Higher Diploma in Hospitality Management while the third year brings it up to BA level. Students can decide whether to choose the Hotel & Hospitality Management or the Global Business Management route. The soft skills developed across the program, including flexibility, creativity, and communication, make a precise fit for multiple roles in the hotel business, but are also highly transferable to other industries. In fact, The Financial Times' 2018 Skills Gap survey found soft skills to be the most important skills employers wanted from graduates.
B.H.M.S. (Business & Hotel Management School)
Graduates can work in many exciting businesses around the world including hotels, cruise ships, the airline industry, resorts, and private clubs. Additionally, there are opportunities in the service industry in many other sectors, such as insurance, marketing, real estate, finance, banking, and the luxury sector.
What is more, Lucerne is under 60 miles from five different countries (France, Germany, Liechtenstein, Austria, and Italy), with great transport connections to all, making it the perfect base for students who wish to travel during the free time. Anna Trofimova adds, "In my opinion, one of the most important features of B.H.M.S. Lucerne is its location in the heart of Lucerne city. While choosing the school it was important for me to be centrally located within a walking distance to cafes, restaurants, shopping areas and nice parks, that is why B.H.M.S. Lucerne was a perfect choice. [It felt like] a home away from home."
She also praises the multicultural environment, explaining that the school accommodates 95 different nationalities. B.H.M.S. students have the opportunity of learning at least one of the languages spoken in Switzerland.
So for those who wish to learn and experience hospitality in its finest, most professional form, it's surely time to check-in in Lucerne.
Find a program in these categories