Why Study African American Studies?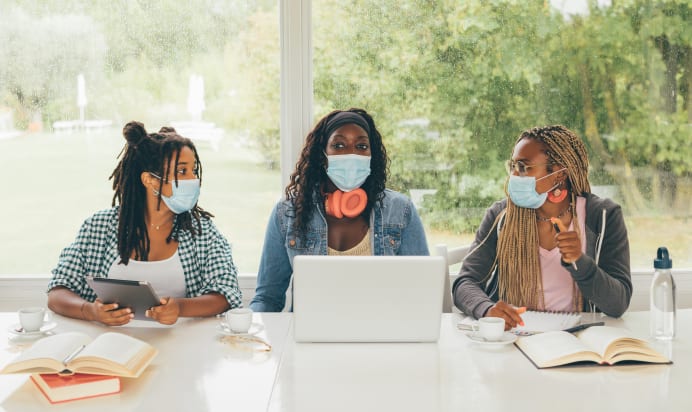 Africa and the African diaspora in North America are rich, complex, and multidisciplinary subjects with origins in the mid-1500s when black Africans were first brought to America as slaves. While African Americans have endured and overcome a lot since that time, there is still significant work to be done to achieve social justice. African American Studies majors investigate the African American experience from an African American-centered perspective toward an enriched understanding of the past and present situation of African-descended people.
Here's a closer look at this important major, along with why it's a compelling choice for many students.
What is African American studies?
"African American Studies examines the experience of people of African descent in the United States and the Black diaspora, both throughout history and in the present," explains English and American Ethnic Studies assistant professor Omari Weekes.
"Unbound by but indebted to critical methodologies from disciplines like English, history, sociology, law, and political science, African American Studies centers black people. It examines social, legal, and economic structures, and also our fundamental understandings of concepts like space, place, the human, belonging, and community," Weekes adds.
As higher education continues to move toward inclusivity, African American Studies is becoming increasingly prevalent. "The goal and the purpose is to make real this idea of diversity and inclusion. [...] To be sure that the key experiences of a people in the United States, that indeed were pivotal or crucial and critical to the growth and development of the United States, would be included in the academic, scholarly curriculum of the University, right? That's the big goal, right?" Kwesi Brookins, psychology and Africana studies associate professor Kwesi Brookins tells Technician.
5 Reasons to get an African American studies degree
Today's students have many options when it comes to majors. If you're wondering whether a degree in African American Studies makes sense for you, consider these five reasons.
1. It is multidisciplinary
Comprising history, sociology, culture, politics and government, religion, policy, law, language, foreign affairs, literature, education, entertainment and many other fields, African American Studies is uniquely multidisciplinary. Whether you have an interest in one aspect of the African American experience or are looking for a broader viewpoint, African American Studies touches on many different topics.
2. It can lead to many different careers
African American Studies degrees don't prepare graduates for specific trades. However, this doesn't mean a major in African American Studies won't lay the foundation for a good career -- or for a multitude of them, in fact. Because of its multidisciplinary nature, African American Studies not only imbues students with knowledge, but also with strong critical thinking, communication, writing, research, and analysis skills. These same skills are the foundation of a strong liberal arts education. As a result, African American Studies majors are equipped with a breadth and depth of transferable professional abilities. According to the National Council for Black Studies, "The answer to those asking what can a person do with a Black studies major is simple[:] ANYTHING!"
3. It's fascinating -- and a testament to the strength of the human spirit
Despite the many horrors and hardships African Americans have faced for hundreds of years, they managed to develop and maintain a strong cultural identity, which has informed and enriched American culture. Black Americans have made amazing contributions to every aspect of American society -- from arts and entertainment to business and science. As an African American Studies major, you won't just be informed -- you'll be inspired.
4. You'll have a new perspective on very relevant issues.
After taking just one African American Studies class, one student told The Atlantic, "I've broadened my outlook. I actively try to include a wider range of people and media sources in my regular consumption. I have started studying history and reading fiction in my spare time. And I've made a wider range of friends and acquaintances. I wish I had been pushed to do this earlier, or had understood better my own blind spots. But it's better late than never, and my life is definitely better now than before I made these efforts."
Indeed, African American studies are extremely relevant. As countries all over the world continue to wrestle with long-term issues of race relations and inequality, many universities are adjusting their curricula to be more student-centered toward the goal of helping students not only understand these issues, but to build "habits of awareness" in their everyday lives.
5. You can make a difference -- wherever you go
The Black Lives Matter movement has highlighted issues pertaining to racial equity and justice. African American Studies not only helps put recent events into context, but also positions graduates to become advocates for the Black community. "We should seize this moment. I think the activism of our students will not let us rest," urges University of British Columbia Ockanagan provost Ananya Mukherjee-Reed.
Your potential impact isn't limited to the Americas. "When I look at the struggles of black men and black women all over the world I think, no I know that we all face the same struggles whether you go to African, China, Europe, the Caribbean, South America we all go through the same struggles in the fight to be seen as humans," says university Office of Multicultural Affairs assistant director Maurice Nelson.
"The differences between black folk and white folk are not blood or color, and the ties that bind us are deeper than those that separate us. The common road of hope which we all traveled has brought us into a stronger kinship than any words, laws, or legal claims," Wright adds. In choosing to major in African American Studies, students not only travel this "common road of hope" but help to make it more passable for all.

Joanna worked in higher education administration for many years at a leading research institution before becoming a full-time freelance writer. She lives in the beautiful White Mountains region of New Hampshire with her family.
Find a program in these categories