Why students in Africa are choosing BA degrees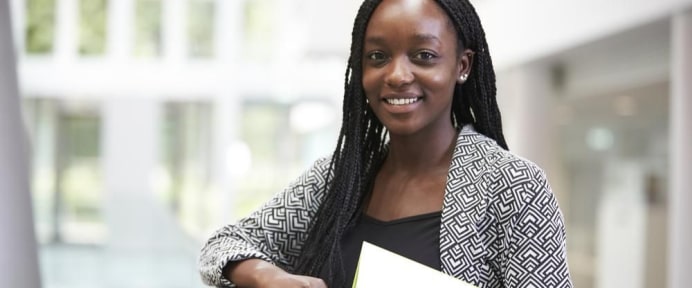 Higher education enrollments continue to grow in Africa due to a number of factors, including a rising demand, a rapidly expanding young population, and a shift away from traditional occupations, like farming and agriculture, to more demanding jobs in business, industry, manufacture and services. One degree programme which is particularly appealing to many career-oriented, global-minded students? The Bachelor of Arts, or BA, and the Bachelor of Sciences, or BSc.
Here's a closer look at this sought after degree, and at one particular university helping students in Africa prepare for global careers.
About Bachelor degrees
The Bachelor of Arts, or Bachelor of Sciences, is an undergraduate degree conferred in the humanities, sciences or arts. Typically taking four years to complete, the Bachelor degree provides instruction across a broad range of subjects, adding up to a comprehensive educational foundation. After meeting a set of core curriculum requirements in the initial years of their Bachelor programme, students may pursue studies in specific fields, known as majors. Majors prepare students for work in specific professional areas, such as Business, Economics, Accounting, Information Technology, Tourism, Engineering, Architecture, Sociology, Psychology, Communication, Logistics, Teaching, History, Geography, Music, Drama, Literature, Fine Arts and many more.
Of course, a good Bachelor degree does not simply prepare students for their chosen profession, but also serves a higher purpose by providing students with the diverse and intricate skills and tools they need to navigate our increasingly globalized world. Not only is the world changing at lightning speed, the new "knowledge economy" demands that successful professionals evolve and learn continuously, to keep up with new trends, ideas and practices. Therefore, good Bachelor degree programmes offer a lot more than vocational training; they also impart crucial skills like creativity, innovation, critical thinking and problem-solving, communication, teamwork, leadership and an understanding of global sociopolitical realities. These skills are useful and applicable in any professional environment.
Remy Varga, writer on youth culture website Hijacked, has recently suggested that the Bachelor of Arts degree in particular may be the "best way to future-proof your career." She claims that "the development of foundational skills, instead of specific skills intended for specific jobs, is what may make BAs the winning ticket...The increasing presence of technology in our lives and in the workplace has highlighted our need for human skills, which are developed when studying the arts and humanities."
Introducing the BA in Business Administration from Unicaf University in Malawi
But all BA degrees are not created equal. Quality is imperative, as well as factors such as flexible modes of study, new learning technologies, cutting-edge curricula, internationally qualified faculty and state-of-the-art learning infrastructures. Not only do these components guarantee high-quality and effective learning, they also make graduates more attractive to employers, thereby supporting both job placement and career acceleration.
Enter UNICAF, the leading online platform offering affordable, quality higher education to students in sub-Saharan Africa. UNICAF is the most generous scholarship programme available today and operates the largest, state-of-the-art digital platform in Africa. UNICAF has started to establish its own University campuses, currently operating in Lilongwe - Malawi and in Lusaka - Zambia, which offer both online and blended learning delivery modes, further enhancing the learning experience of students.
If you're considering a career in Business, the BA in Business Administration, offered by Unicaf University in Malawi, is a good choice to acquire the knowledge and skills you will need in order to thrive in today's fiercely competitive and complex world of international business. In other words, this degree offers excellent employment prospects right after graduation, but also prepares graduates for high flying global careers.
Vice Chancellor of Unicaf University in Malawi Professor Joseph Kuthemba Mwale has this to say: "In Malawi, the BA in Business Administration is very popular and is the first choice of most job seekers. This is consistent with the availability of relevant jobs in the local market and abroad, offering good salaries. We advise our students and all who wish to follow a career in Business, Banking, Commerce or Industry to start with a BA in Business Administration."
And Professor Kuthemba Mwale continues: 'Business Administration graduates possess a very good range of competences and skills, that are relevant and useful in many different occupational settings. Included in our BA Business Administration coursework are modules in Accounting, Management, Economics, Marketing, Quantitative Methods, Research Methods, Organizational Leadership, Global Business and Information Technology. The knowledge imparted creates a sound educational springboard for our graduates to excel in almost any profession they choose, and to further their studies in the future by pursuing a Master's degree or a PhD."
The Vice Chancellor of Unicaf University in Malawi underlines the value of the BA in Business Administration degree programme for individuals already in employment, in any sector of Business. He continues, "Individuals already employed in these sector can also benefit greatly from our Bachelor in Business Administration, which imparts valuable knowledge of business processes, risks, challenges and opportunities in the business world, while developing leadership and organizational skills. They can choose to study for their Bachelor online, while continuing to work and receiving their salary. "
Beyond Business Administration
In addition to the BA in Business Administration, Unicaf University in Malawi offers many different Bachelor degrees, like the BA in Economics and Business, the BA in Hospitality Management, the BSc in Accounting and Finance, the BSc in Computer Science, the BSc in Electronics Engineering, the BSc in Finance, the BSc in Supply Chain Management and Logistics, the BSc in Accounting and the Level 6 Diploma in Accounting and Financial Management, awarded by a British awarding body, which is comparable to a Bachelor degree and allows graduates to pursue the ACCA professional accounting qualification, with exemptions in 9 ACCA examination papers (F1-F9) .
All of Unicaf University's Bachelor programmes offer an international perspective combined with a strong local focus: "All of us at UNICAF University in Malawi do our best to ensure that each and every one of our study programmes meets the academic and professional needs and aspirations of our students. We also make efforts to establish and maintain links with other universities and research institutions across the globe, to avoid the isolation of our institution, and to enable our academics and staff to interact with peers working for foreign institutions, in different countries, with which we have co-operations and partnerships," adds Professor Kuthemba Mwale and continues: "The ultimate aim of our degree programmes is to equip our graduates with skills and tools which boost their self-confidence and help them handle all challenges they may face, whether they work in Malawi or abroad."
Students in Africa, wishing to prepare for successful careers in today's globalized market can start with an international quality Bachelor's degree from Unicaf University in Malawi as a particularly promising pathway to the professional future of their dreams.

Joanna worked in higher education administration for many years at a leading research institution before becoming a full-time freelance writer. She lives in the beautiful White Mountains region of New Hampshire with her family.
Find a program in these categories