Why is UK Higher Education So Popular?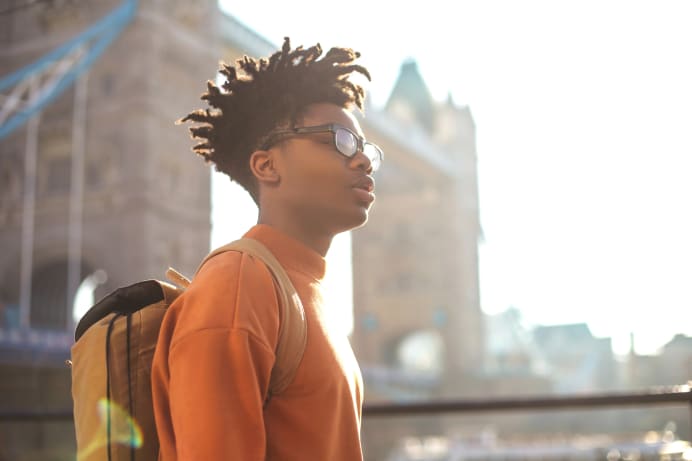 The UK understands the value of its international students. It knows they're an essential part of the UK's mission to become a world leader in science and innovation. "So many of our crucial breakthroughs wouldn't be possible without being open to the brightest and the best from across the globe to study and work in the UK," says UK Prime Minister Boris Johnson. "We want this to continue. That's why we're unveiling a new route for international students to unlock their potential and start their careers in the UK." This new route includes extended visa schemes, and fast-track applications for the world's best researchers. These measures are part of an ambitious plan to host 600,000 overseas students by 2030. In other words, the UK is well on its way to becoming the go-to destination for international study. Here's a look at why the UK is such a great place to study, work, and live.
More international students than ever
The number of international students in the UK hit an all-time high in 2019/20. The majority came from EU member states. Around 15,000 Italians traveled to the UK, while similar numbers arrived from Germany and Spain. However, the UK's growing international student market is primarily driven by students from beyond Europe. In 2019, the number of non-EU student enrolments at UK universities passed 400,000 for the first time. China was the biggest contributor, with more than 140,0000 Chinese people began studying at UK schools in 2019. In 2015, that figure was just 90,000. The number of students from India also doubled in 2019/20, rising to 55,465.
The UK restores two-year post-study work visas
The rise in the number of international students heading to the UK didn't happen by accident. Instead, it's the result of concerted efforts by the UK government to attract the best talent from around the globe. In September 2019, UK ministers reversed a previous ruling that reduced the amount of time foreign graduates could remain in the UK to just four months. Now, all eligible international students can stay in the UK for up to two years. The extension was welcome news to UK university deans and chief executives. "This will put us back where we belong as a first-choice study destination," says Alistair Jarvis, Chief Executive of Universities UK. "Not only will a wide range of employers now benefit from access to talented graduates from around the world, but these students also hold lifelong links with the UK. A recent study showed 77% of graduates want to retain business links with us and 88% would return for tourism."
Studying in the UK after Brexit
There's still some uncertainty over the UK's exit from the European Union (EU), but measures have been put in place to help international students already enrolled in UK schools, and there are clear guidelines for EU citizens who want to study in the UK post-Brexit. Any EU citizens, including family members, who arrived in the UK before 31 December 2020 can apply to the EU Settlement or Pre-Settlement Scheme. Those with settled or pre-settled status get continued access to education, free movement within the EU, and permission to work in the UK.
EU students who arrived, or are planning to arrive, in the UK after 31 December 2020 will need visas for any course longer than six months. Visa applicants need to provide a copy of their acceptance letter, evidence of English language proficiency, and proof they can support themselves financially. They will also have to pay an Immigration Health Surcharge. This costs around $550 per person, and grants full access to the UK's national health service. Postgraduate students who bring their family must pay a separate surcharge for each of their dependents.
UK universities and colleges offer real value for money
Unfortunately, the UK's decision to leave the EU means international students will start paying more for their education. However, despite the higher tuition fees, studying at a UK university is still an excellent investment in your future. With eighteen UK schools featured in the QS 2021 top 100 university rankings, British higher education is world-class. UK degrees are recognized all over the world. They can be your ticket to a global career in business, finance, tech, law, or many other careers.
Plus, holding a UK degree will significantly increase your earning potential. According to the latest official statistics, graduates from UK universities earn an average salary of $48,000. The same figure for non-graduates is $33,000. You could start earning that salary sooner than you think, as undergraduate courses in the UK tend to be much shorter than those abroad. Most undergraduate courses take three years to complete, while master's degrees generally take one year.
The UK vaccine programme spreads confidence
The UK's initial response to the COVID-19 outbreak was controversial. Some believe the UK government was underprepared, while others understood its desire to explore all the options before imposing national lockdowns. Either way, it will take some time to work through the fallout. However, one thing is certain: the UK has done an excellent job rolling out the vaccine. It was the first country to start administering a fully trialed and tested COVID-19 vaccine to its citizens and (at time of writing) more than 18 million citizens have received their first shot. This rare pandemic success story had caught the attention of people from all over the world, including those interested in international study. A recent report by university rankings provider QS found nearly half of all prospective international students are more likely to choose to study in the UK because of its successful vaccination program. Almost a fifth of those surveyed said the vaccine rollout had encouraged them to accelerate their plans to study abroad.
The UK welcomes everybody
British cities are vibrant, multicultural metropolises with a forward-thinking and welcoming outlook. You can hear up to 250 languages spoken in London, making it the most linguistically diverse city in the world. Bristol, Birmingham, Leeds, and Liverpool have thriving immigrant communities, giving you a chance to experience many different cultures in one place. Spend a summer afternoon at Bristol's famous Caribbean carnival, or sample the tastes of India along Birmingham's Curry Mile. Leeds has a large Chinatown, and Liverpool's National Museum recently launched its World Cultures Gallery, a permanent display showcasing over 1,600 artworks from underrepresented groups. The UK is also committed to fostering a culture of tolerance and inclusion. For example, Manchester is home to Canal Street, a pedestrianized district with dozens of LGBT-friendly bars, clubs, and restaurants. Manchester also hosts a huge Pride festival every summer and recently launched the UK's first LGBTQ housing support assistance initiative
It's a cool place to live
The UK is a fun place to live. London is famous for its nightlife, museums, art galleries, and tourist attractions. Visit the Houses of Parliament, Buckingham Palace, or see some of the greatest modern works of art at the Tate Gallery. East London is where you'll find the city's trendiest neighborhoods, such as Shoreditch and Stoke Newington. The independent coffee houses and bars in East London are popular hang-out spots with students and artistic types.
However, the UK's hipster capital is up north. Ancoats in Manchester is regularly singled out as one of the world's coolest neighborhoods. It came 13th out of 50 in a Time Out survey, out-'hipstering' several major hipster hotspots, including Berlin, San Francisco, and Copenhagen. The formerly abandoned cotton mills in Ancoats are now co-working spaces, river-facing apartments, craft beer bars, and artisanal bakeries. Colorful street murals and guerrilla art installations add an extra dash of cool.
Despite the uncertainty created by Brexit and a global pandemic, the UK's international student market is thriving. What's more, it's about to enter an exciting new phase based on global cooperation and innovation. Want to know how you can get degree from a British university without moving abroad? Read our article on the value of an online UK degree.
Find your perfect program
Use our search to find and compare programs from universities all over the world!
United Kingdom

After graduating with a degree in English literature and creative writing, Ashley worked as a bartender, insurance broker, and teacher. He became a full-time freelance writer in 2016. He lives and writes in Manchester, England.
Find a program in these categories