What You Need to Know About Studying in English in a Non-English Speaking Country
Feb 14, 2019
Education

Study Abroad

Student Tips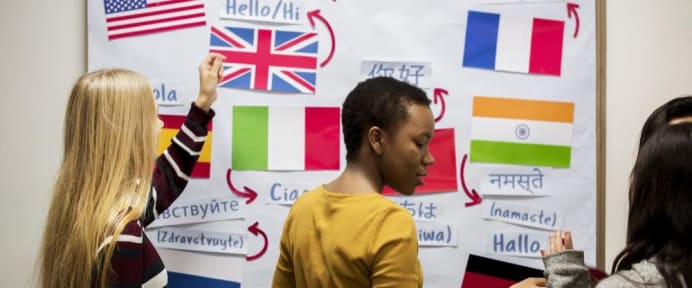 You have a lot of choices when it comes to studying English. Why would you choose to study in English where English isn't the main language?
Believe it or not, it's more common than you think, and while there are some big plusses, there are also some serious drawbacks.
A 2016 article in the BBC highlighted a study that found over 8,000 courses taught in English by leading universities in non-English countries. Not only do these courses attract international students seeking education in English, but domestic students who also want to study in English.
France is one such country that has upped the numbers of English courses. As reported in a recent article in France 24, French Prime Minister Édouard Philippe said increasing the number of international students in the country would boost France's influence and reputation. Offering more courses in English could well prove a good way of doing so.
If you are considering a study abroad option and want to study only in English, here's what you need to know about studying in a country where English isn't the primary language.
1. You'll experience the culture and language of a new place while earning a degree in English
If you want to experience a culture completely different from your own but still earn a degree in English, you can. A bachelor in english in Germany, the Netherlands, Sweden, and China, to name but a few, offer students the chance to travel and experience another culture.
You will return fluent in English, whether or not you were in the first place, with insight into your country's local language, customs, culture, and pace of life.
When people are actively more open to new experiences, says says Scientific American, it leads to creative thinking, curiosity, imagination, and authentic experiences.
2. You will be with a diverse group of students
In a US News and World Report article, staff writer Kelly Mae Ross explains that the demand among both domestic and international students for English-taught programs is high.
Ross cites the Schwarzman Scholars program, a one-year master's at Tsinghua University in China. The program's 111 accepted students come from 32 countries -- 44 percent of whom from the US, 21 percent from China, and 35 percent from the rest of the world. Programs taught in English attract diverse groups of students.
3. Studying English in a non-English speaking country is challenging
You will likely have to navigate at least two languages. If you speak neither English nor the local language, you're dealing with three.
Not only will you have to have enough English to excel in class, but you will probably also have to have some basic understanding of the local language to get around. At the very least, speaking the local language can help significantly in making a good impression on people in the country. This can be true even if your efforts are far from perfect! The fact that you are making the effort to fit in is often very much appreciated.
4. It might be harder to stay after graduation if you don't know the local language
If you love studying abroad and have your sights set on staying a bit after you graduate, you will need to make yourself stand out. One clear way to do that? Language.
If you don't have a working command of the local language, you may have a hard time getting a visa and it is likely you will encounter difficulties finding a job in your host country.
So work on that language acquisition if you have plans of staying on in the country after your studies.
5. Classes in English in a non-English speaking country may lack clarity
Although the lecturer or professor may be an expert in the field, if their English is not good enough, your study experience could be challenging. Do some research. Find out who's teaching your courses and how often.
Some lecturers and professors do not necessarily feel that it is their job to help students in English-only programs with their English, but merely to deliver the course in English. This does not help English language learners.
Pay attention. If most of the faculty lecture in English as a second language, find out their proficiency and whether you will be able to learn in their class -- or whether you'll flounder a bit. Ask yourself: is your goal to learn English or learn the subject?
There's a lot to consider when it comes to making the decision to study abroad in English in a non-English speaking country. While there are some pitfalls, there are lots of opportunities for learning, growth, and reflection.
Find a program in these categories