What to Do Once You've Applied to College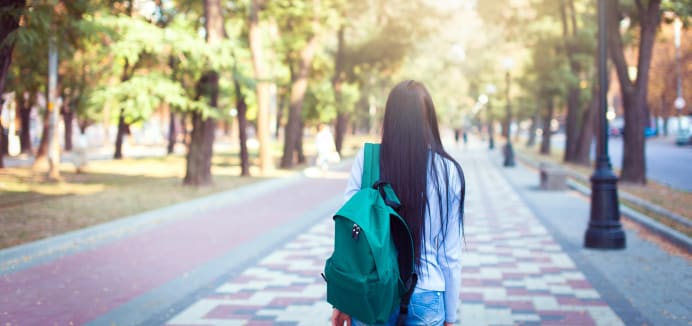 Congratulations on getting those applications in! While you should take a minute to pat yourself on the back, and maybe even relax a little, know this: you're still not done. That's right, you can't just coast and wait. There's work to be done. What work, you ask?
Let's take a closer look at six action steps to take once you've applied to college:
1. Relax…
It will feel like forever between the time you submit those applications to when you hear back. It's not.
It's time to give your brain a rest. Give yourself some necessary headspace as you end one phase of your life as a high school student and begin another as a college student. Our advice? Get out and get some exercise—it will help you manage stress and give you either some quiet time, or some guided time listening to music, podcasts, or even an audiobook. Try something new, like yoga, or meditation. Aim for a few times per week.
Another idea? Try a new hobby you've always wanted to try. Refocus your attention on something new: learn a new sport, teach yourself to knit, play cards, or get your ham radio license.
Better still, write. Start a journal. Record your thoughts as you embark on this new chapter. Or… write fiction. Create a new reality with words.
Bottom line? Get some distance from the application process, but… (see #2).
2.… But don't forget about your grades
You can't let your grades slip. College and universities ask for final transcripts. They notice if you have a big slide in grades.
Maintain the same quality of work that you have throughout your academic career, if not better.
Colleges and universities can and will rescind an acceptance letter based on your final academic transcript—and your behavior.
Keep it together—you've done it this long, and you don't have much more to go. You can do it.
3. Look for financial aid
Want money? You need to find it and ask for it. Make your first step the FAFSA, the Free Application for Federal Student Aid. In order for you to qualify for any type of federal loans or grants in the US, you must fill this out. The national deadline on June 30, but many colleges and universities have different due dates. Do your homework early on this one.
Plan a trip to your new college's financial aid office for additional support. Make an appointment and bring any relevant financial documents to ensure that you receive as much funding and support as you need.
4. Follow up with the admissions office—carefully
Tread lightly here. Do not pester an admissions officer for a decision. In fact, don't ask about the status of your application at all. When you call, ask to speak with someone in the admissions office to ensure that they have received all of your required application materials. Be courteous and quick. Repeat: do not ask about the status of your application.
5. Check your messages regularly
Here's why: if an admissions officer or financial aid officer contacts you, you want to be able to respond quickly and professionally.
Check your primary email account daily and respond to requests promptly. If you need help or don't have an immediate answer, respond with a polite, "I'm not sure, but I'll find out and respond by the end of the week" type of response.
You should also keep open lines of communication between yourself and the university—put yourself on the mailing list, follow them on Twitter and Facebook. If any place you applied has a website for prospective students, follow it regularly.
6. Prepare for college life
It's a significant undertaking. Read up on how to pick a major, what to look for in an advisor, and how to prepare for dorm life. Start making lists of potential resources to secure school supplies. Need a new computer? Start shopping now. Want to know where to buy books? Run a google search. Not sure how you feel about living with a roommate you don't know? Read some college life blogs and consider joining a forum.
Bottom line? Rest up, read up, get your finances in order, and enjoy this last bit of high school.
A new adventure is about to begin. Pack your bags and off you go!