What Should Students Know About Brexit?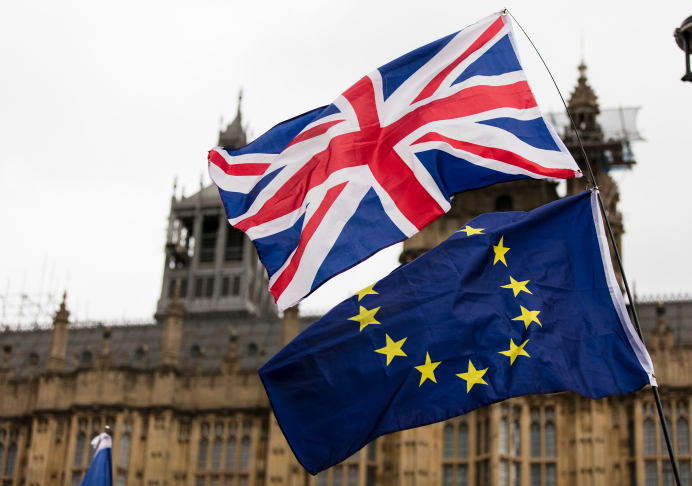 International students will still be welcome in the UK!
Whatever changes occur, universities and the UK's academic community are holding firm in at least one regard: international students remain welcome in the UK. Still, it is advised to check any UK university's official website to get a better understanding of its position on Brexit. Keep in mind that unforeseeable changes to visa regulations may supersede your findings.
The British Council, the UK's international organization for cultural relations and educational opportunities, also weighed in with specific advice for EU students, including immediate implications for EU students in the UK, visa requirements, and eligibility for loans and Erasmus+ participation.
A University World News piece looked at the topic from a different angle: whether post-Brexit UK will remain an appealing destination for international students. While there are concerns on this front, there's heartening news, too. Figures indicate there's been a "softening" of student views toward Brexit between 2016 and now.
And there is good news. Earlier this year, the UK government announced a new two-year post-study work visa, aimed at expanding opportunities for talented international students to pursue careers in the UK. UK Home Secretary Priti Patel said, "The new Graduate Route will mean talented international students, whether in science and maths or technology and engineering, can study in the UK and then gain valuable work experience as they go on to build successful careers. [...] It demonstrates our global outlook and will ensure that we continue to attract the best and brightest." The announcement of the Graduate Route, also called the 'Post-Study Work visa,' followed the creation of a new fast-track visa for scientists as well as a lift on limits for PhD students transitioning into the skilled work visa route.
This could also help MBA degrees and business schools, attracting business students who wish to work in the UK after studying. Indeed, The Financial Times reports that UK institutions have bucked a worldwide dip in MBAs, indicating Brexit issues have not put off prospective business students from studying in the country.
In the UK 59 percent of business schools have seen recent growth across all postgraduate degrees and applications from international students increased at 75 percent of institutions. Bill Boulding, business school dean and chair of the Graduate Management Admissions Council (GMAC) board, said UK business schools are considered a smarter choice in terms of job opportunities and return on the investment relative to other markets -- especially the USA, where tuition fees are typically higher. "Talent will flow to places where there is opportunity," he declared.
Tuition fees
While the specifics regarding tuition have not been clearly defined, MillionPlus, the Association for Modern Universities in the UK, has recommended the UK follow the Australia-New Zealand example with the implementation of fee reciprocity during and after the implementation of Brexit. This means if EU students are treated as "home" students in the United Kingdom, then UK students can expect to receive the same treatment when studying in other EU countries. In this case, all parties can expect tuition fees to remain the same. However, the converse could also be true: If EU students are treated as 'international' students in the UK abroad, EU countries would likely respond similarly. In that case, tuition fees would rise. Many experts agree that it is safe to assume that fee reciprocity will indeed occur.
British Council
Erasmus and Eramus+
More good news: students from the remaining 27 EU countries and the additional five countries participating in Erasmus+ scheme (Iceland, Liechtenstein, Norway, North Macedonia, and Turkey) can continue to study in the UK until the date of the exit. While post-exit participation is as yet unknown, the British Council, Erasmus+, The UK National Agency (British Council and Ecorys UK), and Universities UK are all in overwhelming support of continued and full participation for UK and EU students, according to the British Council website.
That being said, a recent vote by MPs did indicate the government may not be on board with negotiating full membership of the Erasmus scheme, which has led to politicians, the academic community, students, and others rallying support for Erasmus+ and the huge educational and cultural opportunities it offers. Liberal Democrat education spokesperson Layla Moran said, "Universities warn that no UK-led scheme could ever match the reputation and extensive partnerships that Erasmus has to offer. But rather than voting for our amendment, Conservative MPs are willing to let ministers negotiate away our membership of Erasmus if they think they could do a better job."
University and College Union general secretary Jo Grady added, "Wilfully abandoning Erasmus+ would be a worryingly closed-minded move. The many benefits from having the opportunity to study abroad – from boosting employment prospects, to learning other languages and from other cultures – are well documented."
And Guardian writer Rhiannon Lucy Coslett, a Brit who studied in Italy as part of Erasmus ten years ago, writes, "It's hard to express all that this programme gave me, without becoming emotional. I didn't have the kind of resources that made travel an option. I could never have afforded to move to Italy without the grant the EU gave me. I would never have learned Italian, a language I love, or discovered the same passion I have for the country's literature, cinema and art. I would never have developed the confidence you gain from having to navigate the complex bureaucracy of another country, or from being cross-examined in front of a packed lecture theatre in a foreign language about the paintings of Leonardo da Vinci. I would not have seen Sicily, or Venice, or Sardinia in the company of so many new friends. [...] I treasure all of it and will carry it with me for the rest of my days. It's all part of the life experience of living in another country, and that is a gift. It's a beautiful thing to mix with other cultures, especially when you're young."
On a bright note, insiders insist UK participation in Erasmus+ is not over. Science minister Chris Skidmore said, "We remain open to participation and this will be part of future negotiations with the EU -- we highly value international student exchanges."
UK research
Currently, the UK benefits from Horizon 2020, the biggest EU Research and Innovation program ever with nearly €80 billion of funding available in the years between 2014 to 2020. While funding is guaranteed for current recipients, there are concerns about the future of academic research in the UK after Brexit if the UK halts participation in Horizon 2020. These concerns are not going unacknowledged or unaddressed.
According to the Financial Times, the UK's ruling Conservative party recently said it would seek to keep close relations with the EU on innovation and research. This includes paying to be an associate member in Horizon Europe, a seven-year EU scientific research scheme. But it is still to be seen if this will be possible for the UK, and if so in what form. Still, shoring up research in the UK remains a collective priority. Sir Venki Ramakrishnan, president of Britain's senior scientific body, the Royal Society, said, "The outward-facing and internationally collaborative nature of the UK's research and innovation sector is a key factor in our global success. It is right that we review our place on the world stage but we must make sure we protect the elements that are already working well."
Also, according to an article in Science, an external report commissioned by the government lays out clear research priorities, including calling for increased national spending on research and development; a new research fellowship program; and more money for universities to target research opportunities. More specifically, the report calls for the creation of a UK equivalent of the prestigious European Research Council (ERC) if it doesn't remain part of Horizon 2020 after leaving the bloc, according to Nature.
What it means for Scotland and Northern Ireland
Scotland's national student organization NUS Scotland recently called on the UK government to work with the Scottish Government to help protect student mobility following the UK Parliament vote against maintaining Erasmus+ after Brexit. Scotland's government is also endeavoring to keep citizens updated on what to expect after the leaving date, as well as during the transition period that will follow. Its conclusion, despite the fact that many details as yet remain unknown? "Brexit will have an effect on some areas of life in Scotland." NIdirect has also compiled a helpful resource on how Brexit relates to Northern Ireland and the people living in Northern Ireland, including the higher education sector.
How can higher education institutions help students prepare for Brexit?
While the imminent withdrawal of the UK from the EU approaches with many things undecided and likely to change, proper preparations can help ensure that the process goes as smoothly as possible for students and universities. To that end, Universities UK, English UK (the national association for English language centers in the UK), individual universities, and other organizations have been taking steps to be Brexit-ready and to help others be equally prepared. Staying up-to-date on the latest news can help students and aspiring students understand what to expect and how they can stay on track toward their education and career ambitions.
Find your perfect program
Use our search to find and compare programs from universities all over the world!
United Kingdom

Joanna worked in higher education administration for many years at a leading research institution before becoming a full-time freelance writer. She lives in the beautiful White Mountains region of New Hampshire with her family.
Find a program in these categories