What is the Shape of the Tourism Industry Post-COVID?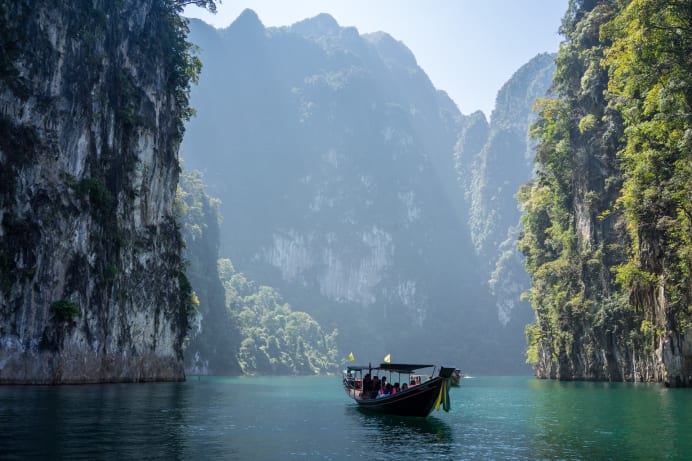 Let's take a look at how the tourism industry has rebounded - and in many cases transformed - following the pandemic and one leading program, the International Tourism Management Programme at Linnaeus University, where you can study all of these changes and more, to become a leader in the rejuvenated tourism sector.
Prior to the pandemic, travel and tourism made up a whopping 10 percent of global GDP and accounted for over 320 million jobs. In 1950, at the start of commercial air travel, just 25 million people took foreign trips. By 2019, that number was 1.5 billion, and tourism had grown to almost too-big-to-fail proportions for many nations.
According to the World Tourism Organization, international tourist arrivals declined globally by 73 percent in 2020, the first year of the pandemic, with one billion fewer travelers compared to 2019, jeopardising between 100 and 120 million direct tourism jobs. This resulted in a huge fall in tourism-related revenues.
But the tourism industry has proved to be very resilient and agile – and the pandemic has created a lot of pent-up wanderlust.
According to the World Tourism Agency, in the first seven months of the year international tourism arrivals hit 57% of pre-pandemic levels, almost tripling (+172%) compared to the same period of 2021, despite a 'third wave' of COVID and some associated travel restrictions in January and February.
The tourism industry is becoming much more sustainable too. Before the pandemic, many tourist destinations were grappling with 'overtourism'. This is a situation where numbers of tourists are so high that tourism's benefits are (arguably at least) outweighed by economic, social, and environmental costs.
One of the fiercest battlegrounds in this regard is Barcelona, which in the past decade has seen a huge increase in tourism. According to the New York Times, by 2019 Barcelona, a city of about 1.6 million, had over 21.3 million overnight stays, more than double the 2005 figure. And that's not even counting the more than three million cruise ship passengers.
The socio-economic and cultural costs came to a head in 2014, as anti-tourism protests and graffiti sprung up in the hip, beachy Barceloneta neighborhood, where locals had grown irritated with the rowdy behavior of partying tourists. And in 2017 activists vandalized an open-top bus filled with tourists.
Many blame usage of AirBnB, which is very popular with tourists to Barcelona and has led to significantly increased property prices, making it hard for locals to get on the market. Last year, Barcelona's city government implemented a new rule, the only one of its kind in a major European city, prohibiting short-term private-room rentals. Critics claim the move cuts out an important source of income for residents. But the city government says limiting private tourist accommodation is one of the few effective measures available to rein in excessive tourism and tackle the city's housing issues.
And there are several other examples of overtourism, such as Hawaii, Bali, Amsterdam, Machu Picchu, Dubrovnik, New Orleans, Venice, Boracay in the Philippines, the Amalfi Coast, and Cinque Terre.
The situation is so stark in the latter two destinations - stunning, pastel-coloured cliffside villages on the Italian coast - that local authorities have introduced measures to cut visitor numbers. On the Amalfi Coast, a rule has been implemented restricting automobile access to roads to alternate days (based on if registration plates end on odd or even numbers). And shortly before the pandemic, Cinque Terre was attempting to go from 2.5 million yearly visitors to 1.5 million via measures including ticketing and restricting access to roads when certain numbers were hit.
As hard as some of the effects of COVID have been on the tourism industry, what the pandemic has done is essentially give destinations such as these a chance to breathe - and rebuild their tourism industries in a sustainable way.
The Guardian reports "stag party capitals" such as Prague, Budapest, and Kraków are attempting to reinvent themselves. Budapest's Mayor Gergely Karácsony said, "We want to spread out the spots in the city that are touristically interesting, and change the type of people who come. It shouldn't only be bachelor parties and booze – we want to rebrand ourselves a bit."
Venice, where pre-pandemic tourist numbers had been predicted to balloon to a staggering 1.8 billion yearly arrivals by 2030, has also been highlighted as a city that can take advantage of a new, greener kind of tourism.
Two new (closely related) forms of tourism, eco-tourism and sustainable tourism, have emerged out of this ethos. They have been around for some years, but awareness of and participation in these models of tourism have sharply increased during the pandemic.
One of the defining videos of the early stages of the pandemic was footage, which went viral, of dolphins swimming in the canals of Venice, a sign, it was claimed, of 'nature healing'. It was actually fake news (the footage was actually taken in Sardinia) - along with other such stories of animals 'reclaiming' places usually dominated by human activity. However, all of these stories (and the fact they were so popular) show strong desire among travelers not to destroy the planet, and all the communities within it, with how we travel – and, indeed, not just not harm it, but in fact better it.
Needless to say, there are many exciting opportunities in this field for students and graduates. If you want to be part of this movement to shape the future of tourism, one excellent way to help you on your path is the International Tourism Management Programme at Linnaeus University.
The degree provides students with deep analytical skills, in an inspiring learning environment, to help students assess the environmental, social, cultural, and economic effects of tourism. Topical focus on hospitality management, event management, destination management, and entrepreneurship in tourism are blended with business courses in e-commerce and marketing. Examining sustainable development and ethnic diversity in the industry are specialties of the program. Also, students enjoy real-world experience with study trips, guest lectures from industry experts, and internships.
The International Tourism Management Programme at Linnaeus offers two different specialisations and you choose which specialisation you prefer during the programme. If you choose to specialise in Tourism studies, you will have the opportunity to choose an internship during the final semester. Here you will combine studies while working with a tourism company or hotel organisation. If you choose to specialise in Cruise Management, you will study certifying courses in maritime science for work on passenger ships and in cruising tourism and you will graduate with a degree in business administration.
Students can choose from a specialisation in Tourism studies, whereby they mix studies with a prestigious internship at a top tourism company or hotel organisation, or Cruise Management, in which students study certifying courses in maritime science for work on passenger ships and in cruise tourism. You graduate with a degree in business administration.
The degree is one of the most valued in Sweden's sought-after tourism sector. Graduates of the program work in roles such as CEOs for travel agencies, tour operators, hotel management, site managers, destination managers, event managers, senior press officers at international agencies, conference managers, destination developers and travel consultants.
"I chose Linnaeus University for several reasons, mainly because it's one of the best schools that offers tourism," student on the program Jooan explains. "It is more than just a tourism and hospitality programme. It is more focused on the business side of tourism. I also reached out to them to ask my questions before applying and they were super responsive and friendly which I think is a plus. I wanted to move from Iran to Sweden, so the communication made me feel like I can get the support I need during my studies."
"I love how each course is structured different than the next. I also love how we have to participate in group projects for each course. It's a good push to be able to perform better in different settings and with different people. It's also a great way to meet people and make friends."
"I would like to land a job in tourism, but eventually my ultimate goal is to establish a little hotel somewhere off the grid, a hotel that is designed in minimal Scandinavian aesthetic, and I want to make the operation as sustainable as possible!"
"I also did my research and fell in love with Kalmar. It's a cute seaside town with all its swedish glory. The weather is not harsh and you can get anywhere you want by bike. Being from a big city myself, I wanted to experience the small city life, and be able to get to places by bike, which is impossible to do in Tehran. The campus is also located by the sea in the heart of Old Town, even if you are in a bad mood or the weather is not at its best, a stroll towards school will cheer you up!"
"International tourism management at Linnaeus University is much more than just hotels and managing spas. It's a combination of business management and tourism."
Meanwhile, for many years fellow student Emma Forslund has worked as a dive instructor and manager for a dive shop in Asia, due to her great interest in the ocean, which is also what attracted her to the Linnaeus University programme.
"What attracted me about the programme was that it has international focus and gives you a broad basis while also offering specialisation", says Emma. "It's fun and interesting to study maritime science and all the other subjects, plus all the practical exercises that we have, like smoke diving."
So if you have wanderlust to travel the world, help others to do so, and make the planet a little more sustainable while you are at it, sign up today!
Article written in association with Linnaeus University.

Content Manager at Keystone Education Group, living and working in Oslo, Norway. I love helping prospective international students find their dream degree, university, and study destination through articles like these and social media. Outside of work, I enjoy sports, especially football and racket sports, and seeing the world.
Find a program in these categories