What is Dual Enrollment and How Can You Apply For It?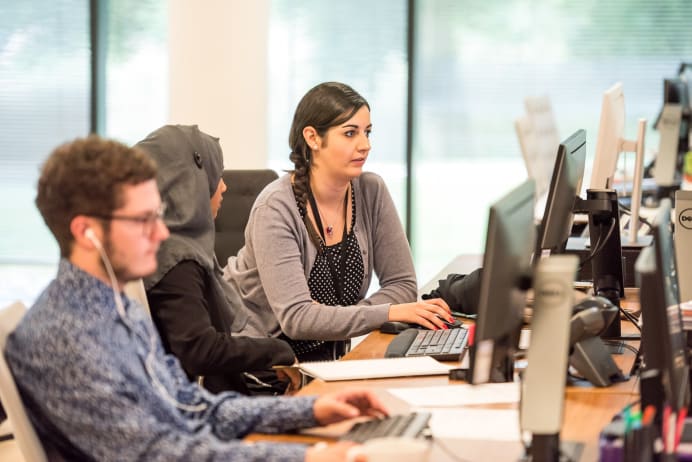 How it works
There are a few different paths students can take, usually depending upon what partnerships their high school creates with higher education institutions. Some schools offer collegiate level courses taught by their high school teachers. Whereas others may send their students to attend courses at a nearby college or university. Finally, sometimes university professors will teach their courses at a local high school. Students may also find opportunities to take college courses online if in person instruction isn't available.
These courses are also available to students who are home-schooled, provided they meet the requirements. Dual enrollment classes are available for students pursuing a bachelor's degree, associate's degree, or career and technical education certificates. Students will need to earn a C or better to earn their college credits, and unlike Advanced Placement courses, students are not required to pass a test to earn their credits. To get started, students can work with their guidance counselor to determine what options are available for them, since each university has its own standards for participation.
What it costs
While it's dependent upon location and program, many students find dual enrollment a great way to earn college credits at a cheaper rate. Students can expect to pay between nothing and $400 per class, which is significantly cheaper than most traditional university courses. Additionally, dual enrollment can ultimately make university cheaper, as students will already have credits and can thus avoid taking those classes. Some states require students and families to cover the costs of dual enrollment courses, so you'll have to work with your school to figure out what you'll be responsible for financially.
Why you should consider dual enrollment
There are a ton of great reasons to consider dual enrollment. As mentioned above, it can set students ahead when they go on to university. For students who might struggle with transition, such as Rebecca Barton, dual enrollment made it easier for her to take the next step. She said participating in dual enrollment "made me much more confident, as I proved I could succeed at a university and learned how college worked while still having my support network at home." In addition to paving the way from high school to college, students can save money and time. Dual enrollment is often cheaper than taking traditional classes, and allows students to skip courses they've already taken.
Additionally, dual enrollment helps students get a better understanding of what collegiate life will be like, and the rigors of a university course. For students who aren't entirely sure what degree path they want to follow, dual enrollment gives them the opportunity to explore their options, while not taking a big personal or financial risk. For students who didn't take Advanced Placement classes or didn't have those available, dual enrollment provides another opportunity to earn college credit. This can allow students to complete their degree on time, or even early, which can ultimately save them money in the long run.
Before jumping in, there are a few things to consider. Students should only consider taking dual enrollment courses if they feel confident they can handle the additional academic responsibilities. The grades earned during these courses will be a part of the student's academic record at their chosen university, so it's important to make it count. Failing a course can impact an admission decision, and can even delay a student's high school graduation.
For those considering dual enrollment, there's a lot to consider, but also a lot of benefits. These programs can help determine if higher education is the right fit, as well as what you'd like to pursue when at university. Finally, you'll know you're making the best choices for your future, and doing what you can to get yourself to the next level.
Find your perfect program
Use our search to find and compare programs from universities all over the world!
Bachelorstudies

Chelsea is a Student Affairs expatriate, who now works as a freelance writer and editor. She homesteads in a small town in rural Maine, USA. She enjoys hiking, fishing, cooking, reading, all things Laura Ingalls Wilder, spending time with her family, and chasing her black lab puppy, Cash.
Find a program in these categories