What is Digital Product Development and Why Study It?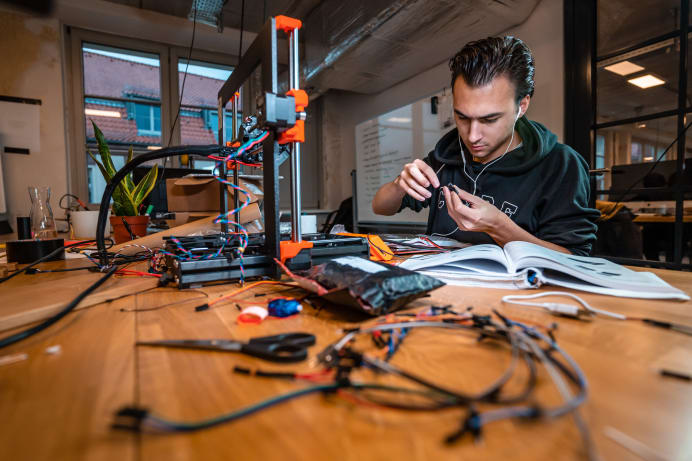 Read on for a closer look at digital product development, why you should consider studies in this increasingly vital field, and one school that can help you gain the knowledge, skills and experience you need to thrive in a tech career.
The digital imperative
According to McKinsey, companies employing a traditional approach to business rather than using digital technologies and strategies have lower earnings and earnings growth than their digital-forward competitors. Additionally, these rates directly correlate with the levels of digitalization in their sectors.
The conclusion, according to McKinsey? "The companies making digital moves -- digital natives, industry incumbents competing in new and digital ways, and incumbents moving into new sectors -- are out-performing their traditional-incumbent counterparts."
Sean Johnson of advisory and product development firm Digital Intent says effective digital product development is driven by one thing above all else: solving customer needs. "Products that work solve a customer need, in a way that is truly differentiated. This requires knowing what needs the customer has, the degree to which those needs need to be solved, and how they go about trying to solve those problems today," insists Johnson.
Because of its complexity, many steps are involved in digital product development, including analysis, research and preparation; sketching and wireframing; design; prototyping; agile implementation; launch; and maintenance and support.
The benefits of digital product development
Success in the contemporary marketplace relies on innovating faster than other companies in order to deliver products and services that consumers want and need.
Digital product development supports this outcome, offering a number of benefits including enhanced productivity, faster problem detection and resolution, accelerated speed to market, better product adaptation rates, decreased sampling cost and turnaround times, improved profitability, and better sourcing decisions.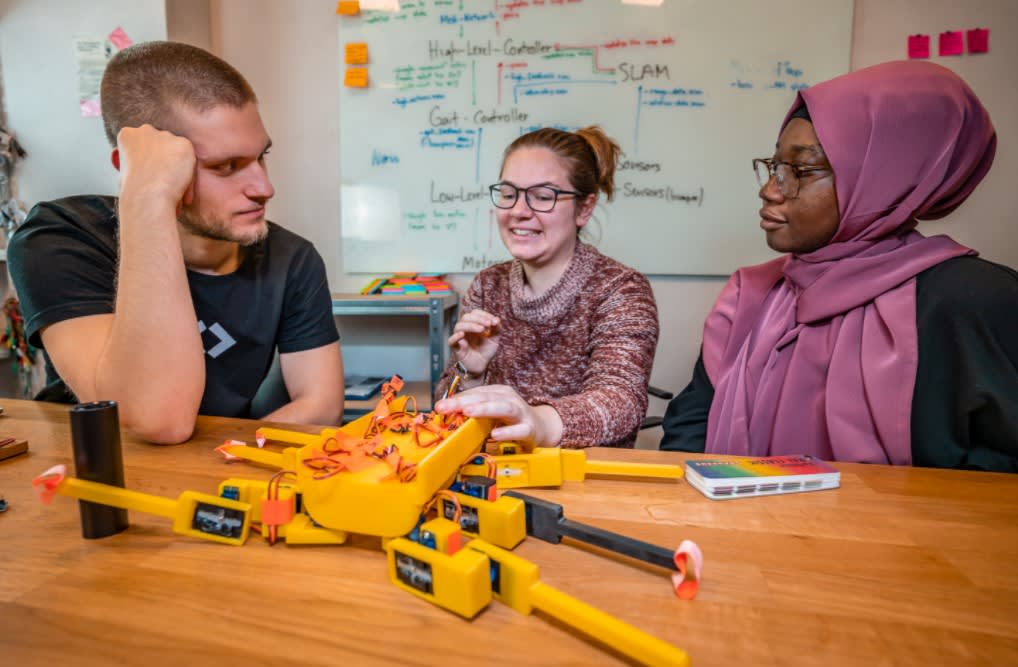 Digital product development trends
New and emerging trends are constantly shaking things up in this rapidly moving industry and shaping its future. Iryna Bulgina, VP of Product Development at Dashdevs, recently identified five up-and-coming trends, including data-driven development, digital product ecosystem, distributed teams, security awareness, and employees with execution and technical backgrounds for critical product roles.
So studies in this field can not only help you keep up with the trends, but can also give you an inside edge with employers. This is where CODE University of Applied Sciences comes in.
A degree with a difference
Computer pioneer Alan Kay said, "The best way to predict the future is to invent it." This sentiment guides CODE in providing interdisciplinary bachelor's degrees that combine technical teaching with a literal arts education in order to equip students with essential 21st-century skills for careers as digital pioneers. This private, state-accredited university also boasts a prime location in Berlin, home to a booming digital economy.
Two CODE programs, in particular, offer perfect training for aspiring digital product development managers:
The Bachelor of Arts in Interaction Design, a fully English-taught program which teaches students to design system behaviors that understand and satisfy user needs via technology. Participants choose between a set of modules in order to assemble the program that fits their specific interests. These include image composition, generative design, editorial design, screen design, design history, design methods, design psychology, design strategy, brand design, animation, navigation design, augmented reality and virtual reality, and many others.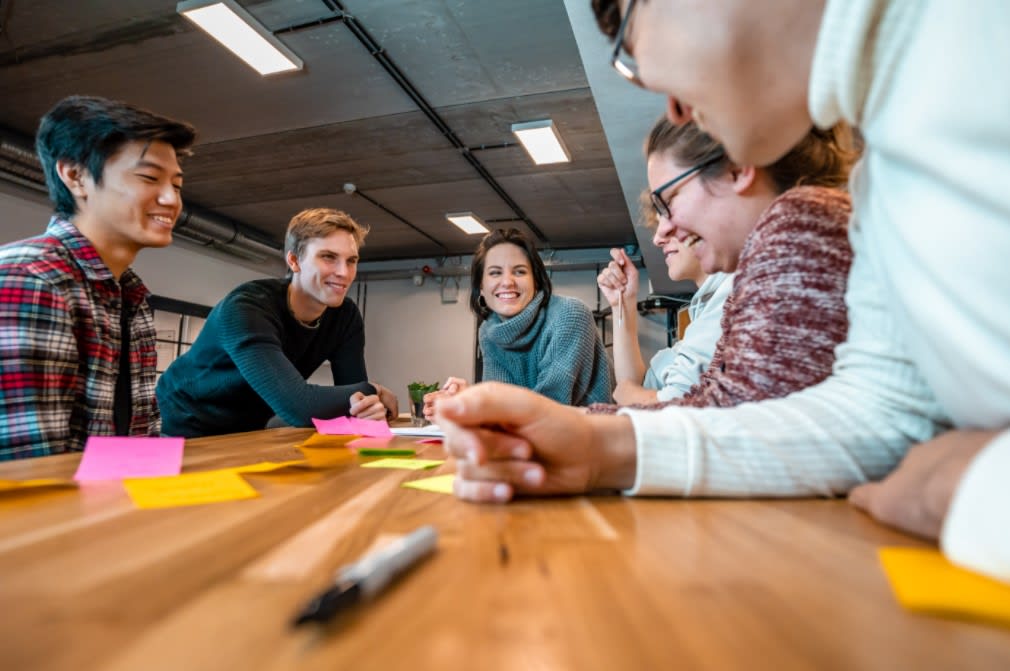 CODE Interaction Design student Dominic says, "An Interaction Designer deals with many different issues such as user experience, visual design and creates therewith a product that is appealing and intuitive for the user at the same time."
The Bachelor of Arts in Product Management lets students develop theoretical and practical insights across fields including economics, data science, systems and design thinking, psychology, strategy, agile methodology, marketing, software engineering, and project management, to explore software solutions as well as hybrid software-hardware products.
Student Adrien says, "I chose to study Product Management at CODE because I fell in love with the pedagogy's description as it reflects perfectly what I was looking for and which values I believe in. Diversity and transdisciplinarity are melted together in the CODE's environment to support exploration and inventiveness."
CODE's programs are all about offering new ways of learning -- not only to succeed in this world but to thrive in it through curiosity-driven education.
Student Katharina explains, "CODE is special because we get the freedom to create what we want, learn what we want and how we want. There are few rules and guidelines which means that there's lots of room for creativity and also failure (which we already learnt is an essential for success in work and life in general)."
CODE students are also drawn to the school and its programs because of its emphasis on social responsibility, including accessibility. Interaction Design student Maya's interest in driving this conversation comes from her own personal experience: being partially deaf has heightened her awareness of the barriers that exist. "Through a UX course I started a couple of years ago, I was made aware of the problems that people with disabilities are facing with technology. I started to work on my own sign language app idea, and I continued to work on it during my orientation semester at CODE," she says.
Another social issue at the forefront of CODE is women in tech. With an early interest in software engineering, CODE student Lotta grew up in classrooms surrounded by boys. At CODE, she finally felt like a peer. "[The] tech community is hopefully shifting, people are getting more sensitive, and sometimes the prejudice comes out of unawareness. But working in a diverse team is important -- the work is better, and it's more fun."
Lotta also has a new perspective on her own potential place in improving the visibility of women in tech. "Real role models are important, and maybe I can be one," she says.
Digital is not only here to stay, but, especially amid COVID, is increasing its foothold on how we live, work, interact, and play everyday. Digital product development studies at CODE can help aspiring leaders acquire the knowledge, creative problem-solving skills, and experience they need to navigate the way.
Article written in association with CODE University of Applied Sciences.

Joanna worked in higher education administration for many years at a leading research institution before becoming a full-time freelance writer. She lives in the beautiful White Mountains region of New Hampshire with her family.
Find a program in these categories