What is Digital Media Arts and Why Study It?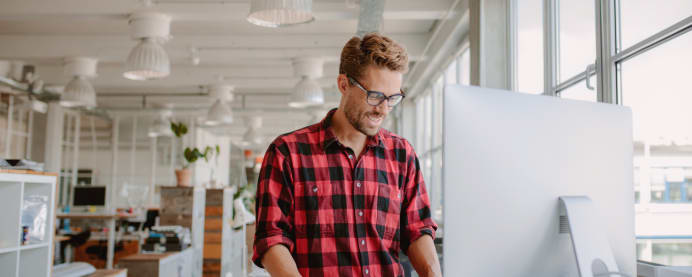 A non-fungible token (NFT) is a unit of data stored on a blockchain that certifies a digital asset to be unique and therefore not interchangeable. In analog terms, it's like a certificate that proves you own the Mona Lisa. The NFT market is now worth $250 million and it's growing fast. Critics call the NFTs a bubble. But for the tech-savvy innovators and forward thinkers, digital art is the next natural step in the way we create, consume, and distribute information. And with the fourth industrial revolution just around the corner, we're about to see a new wave of digitization that will change the way we live forever.
So let's take a closer look at digital media arts and where you can study it.
What is digital media and who is using it?
Digital media is a broad term that refers to information broadcast to us through a screen or device. Examples of digital media include software, digital images, digital video, video games, web pages, mp3s, podcasts, streaming services, electronic documents, and e-books.
We're surrounded by digital media. For many people, it's now the primary way they receive, send, and create content. This is especially the case with members of what sociologists have called Generation (or Gen) Z, otherwise known as the zoomers. Born between 1997-2012, the zoomers were the first generation to grow up with access to the internet and portable digital technology from a young age. That's why they are also referred to as digital natives.
Zoomers prefer communicating via images and voice control over typing and texting. They often use social media and other platforms to make new friends, many of which they never meet in 'real life'. And -- for better or worse -- smartphones are their number one source for information and entertainment. A 2015 Microsoft study found 77% of people aged 18-25 pick up their phone when nothing else is occupying their mind. Just 10% of those aged 65 and over said the same.
How digital media changed the world
Digital media has disrupted many industries, including journalism, filmmaking, publishing, education, and entertainment. Some of the changes have been extremely positive. Platforms such as YouTube allow individuals to become content creators, giving them a chance to share ideas, speak up for marginalized groups, or start their own businesses. At the same time, podcasting created a space for long-form debates/discussions on important subjects free from the more restricting formats of mainstream news outlets.
However, bypassing the traditional media gatekeepers has created a new set of problems, including the spread of misinformation, fake news, or alternative facts. And while social media apps can help drive positive change, they can also be platforms for bad actors looking to exploit divisive issues or socio/economic tensions.
To look at it another way, the rise of digital media has been a double-edged sword. It has destroyed jobs but created new ones -- and a plethora of other opportunities for making money. Sometimes it empowers the little guy, and other times it makes his job much harder.
Filmmaking is a good example. The transition from analog to digital film has had huge economic benefits to Hollywood. Digital media is easier to copy, store, share, and modify, therefore it brings down production and distribution costs. But the industry's switch to digital film hit theaters hard. Many of the smaller and independent theatres couldn't afford to purchase costly digital projection equipment. As such, a significant number went out of business.
Digital media is here to stay and will continue to rapidly reshape the way we consume information, form our ideas, and live our lives. The biggest challenge is ensuring that nobody gets left behind.
Studying digital media
Digital media students learn a range of high-tech skills that put them in a great position to find work in some of the fastest-growing and most exciting industries in the world.
You could learn how to develop websites, create graphics, edit video, design 3D virtual worlds, or design computer-generated effects and models that can be used in film, gaming, educational materials, or even financial analytics. Digital media courses tend to be very hands-on and practical. So while some of your university buddies will be writing 5,000-word essays as part of final assignments, you'll probably be creating or editing videos on professional-standard equipment.
And you also could get a chance to test your new skills on a work experience placement or summer internship. As part of their studies, many digital media students spend a few weeks working at local radio stations, music labels, production companies, graphic design firms, or digital marketing agencies.
Digital Media Arts at the University of New York in Prague
The Bachelor's Degree in Digital Media Arts at the University of New York in Prague (UNYP) is a new, innovative four-year program that combines media theory with a hands-on approach to learning the practical skills you'll need to work in today's digital marketplace.
Years one and two give students a foundation in media and communications. You will learn about the history and evolution of media, while lectures on linguistics and cognitive psychology will give you a strong understanding of the media's broader impact on society. You can then choose your elective courses, tailoring the degree program to your long-term career ambitions. You can choose from text in visual arts, digital art, 2D design, and more.
Digital media arts graduates from UNYP have the skills and knowledge to pursue various exciting and creative careers. Future job options include digital media design, multimedia journalist, or web project manager. Alternatively, you could work as an e-business consultant, digital creative manager, or social media manager.
The Degree in Digital Media Arts is one of three new exciting programs at UNYP. From fall 2021, UNYP will also start offering a Bachelor of Child Development and a Bachelor of Political Science.
Located in the heart of Prague, UNYP is the largest English-language higher education institution in the Czech Republic. It has 800 students from 60 countries, creating a lively and diverse community. UNYP boasts excellent learning facilities, including two PC labs, a high-speed wifi network covering the entire campus, and the latest e-learning platforms. And you'll receive extra support from world calls tutors and academic advisers, ensuring you get the very most out of your college experience.
Prague is a beautiful and culture-packed European capital. It regularly appears in the best student cities in the world rankings. Prague scores highly in all the key student indicators, including arts and culture, nightlife, affordability, employment opportunities, diversity, and friendliness.
Steven Trottier, a recent UNYP graduate from Canada who is now Director of Temporary Recruitment at TAG Recruitment Group, says, "This beautiful city was fascinating. I truly enjoyed living somewhere so different from what I am used to. I befriended people from all over the world. I loved the fact that when you walked down the halls of UNYP, you would hear every language and every accent that you could imagine."
"I was looking for a university where I could make good connections for the future – the network you create is one of the most important things you gain from doing a degree," fellow graduate Olga Mantilla from Colombia, Deputy Manager at five-star hotel Carlo IV in Prague, adds. "UNYP's program is unique, and the American style of teaching combined with a very international body of students was another plus. I couldn't find all the "ingredients" I needed in any of the other universities here in Prague."
Digital media is a fascinating industry with loads of exciting career opportunities. So start your journey with the UNYP's new program. It's the perfect way to learn 21st-century skills in a truly international setting.
Article written in association with the University of New York in Prague (UNYP).

After graduating with a degree in English literature and creative writing, Ashley worked as a bartender, insurance broker, and teacher. He became a full-time freelance writer in 2016. He lives and writes in Manchester, England.
Find a program in these categories