What International Students Should Know About Clearing and Adjustment

With a new academic year just a few months away, students all over the world are exploring their options. Many will already have their offers in place and can start getting ready for the next big challenge. But for others, things aren't so straightforward. Maybe you didn't receive the kind of offers you expected or maybe your grades were better than you expected? Perhaps you've had a last minute change of heart and decided to go university after all? Either way, don't panic -- you haven't missed your chance! Because thanks to Clearing and Adjustment, there are still plenty of spaces available at UK universities.
So if you're determined to grab your perfect place, here's what you need to know about Clearing and Adjustment in the UK.
University admissions in the UK
Before we get into the specifics of Clearing and Adjustment, it's worth taking a look at the university application process in the United Kingdom. Applications and admissions are overseen by the Universities and Colleges Admissions Service, or UCAS. Formed in 1992, UCAS is an independent charity funded by fees charged to students and universities, as well as advertising revenue.
Students search for degrees and make applications through an online portal, which also contains advice on how to write a great application and guidance on student finance. UCAS forwards the applications to universities, who then decide on what kind of offer to make. Universities will make an unconditional offer, where the student's place is guaranteed for the next academic year, or a conditional offer, which depends upon the student achieving the required graded or a certain amount of UCAS points. In the UK, an A* grade at A-level is worth 56 UCAS point, while an A is worth 48 and a B equals 40 points. For international students, a perfect 45/45 score on The International Baccalaureate Diploma Programme is worth 720 UCAS points, a score of 40 is worth 611 points, and so on. For more information on how international qualifications correlate with a UCAS score, check out the latest UCAS tariff tables.
But what happens if a student doesn't achieve the required UCAS points? What if they do even better than expected? And what if they've accepted an unconditional offer but now want to study something else? Well, this is what Clearing and Adjustment are all about.
What is clearing?
UCAS Clearing is a chance for students to secure a university place in the event they don't receive an offer during the application stage, don't quite get the required grades, or decide to apply after the 30th June cut-off date. If you don't get your application in on time, you will still need to complete a UCAS form. Students without any formal offers and those who missed out on conditional places are automatically entered into Clearing.
UCAS contacts students directly, often with offers of alternative courses or institutions. For example, students who applied to study at an old red-brick university might be offered a place on similar courses at newer, metropolitan universities. Students can accept these offers straight away, although it's always best to see what other options are available via the UCAS portal. So take your time and do as much research as possible before making a decision. And most importantly, don't panic. Signing up for a three-year undergraduate degree is a huge commitment -- you need to make sure you get it right!
Clearing for international students
Clearing is also available for international students. In fact, thousands of non-UK students secure places at British universities every year via Clearing. Again, the same rules apply. International students are eligible for clearing if they decide to apply after 30th June, did not receive any offers, or have changed their minds about existing offers. Clearing starts on 5 July, the same day that International Baccalaureate (IB) results are published, and runs until 22 October. International students are advised to start applying as soon as possible. Some universities ask non-UK residents to take a language proficiency test, while others like to do interviews via Skype. And once an offer is made, there's the matter of sorting out a student visa. Lots of people will be applying at the same time, so it's best to get a head start in case of any delays or complications. To obtain a student visa, you will need to provide evidence that you've accepted an unconditional offer, prove you can afford to live in the UK, and have an English language test certificate in some cases.
What is adjustment?
Adjustment enables students who performed better than expected to search for alternative courses. Higher grades could mean they are eligible for a place at a more prestigious university or another undergraduate programme. Adjustment runs from A-Level results day, 15 August, to 31 August. Students should register via UCAS and then contact universities directly. Any existing offers are guaranteed until the student accepts an alternative.
Clearing and Adjustment at SOAS University of London
One school with an excellent clearing and adjustment programme is the SOAS University of London. Attracting the brightest minds from all over the world to create a community that is diverse, vibrant and multinational. SOAS is a unique institution specialising in the study of Asia, Africa and the Near and Middle East across a broad set of subject disciplines within the arts, humanities and social sciences.
Programmes are taught by leading academics whose research has influenced government policy seeking to improve the lives of millions of people. SOAS programmes tackle the most pressing issues, including human rights, migration, poverty, and social change.
Students also get a unique chance to bridge the gap between theory and practice through international placements
The school has a diverse student body made up of UK residents, international students, and mature learners, 90% of who say they are very satisfied with teaching standards, the highest percentage among all London universities. And with one of the best student-to-lecturer ratios in the UK, students receive excellent one-to-one support throughout their studies.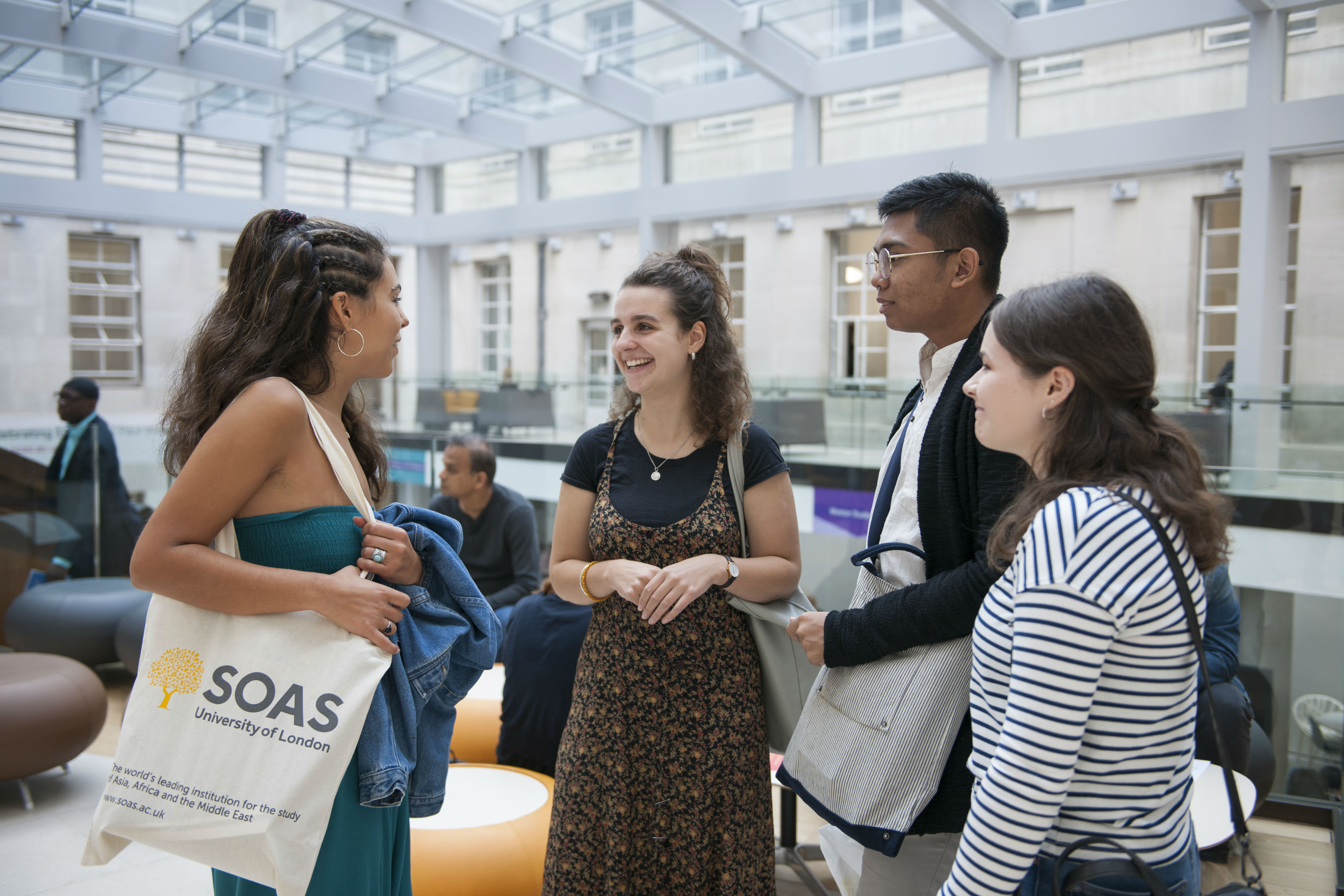 SOAS
It's definitely not too late to grab a place at this unique institute. SOAS University of London welcomes applications after the UCAS deadline and adjustment begins on 16 August for those who want to upgrade to another programme.
Nida Iqbal enrolled in 2017 through clearing after declining several other offers. "The process was quite straightforward," she said. "I got all my offers and got an interview from Oxford, but I decided to change my course. [...] SOAS appealed to me, because I really like the international approach."
As well as gaining a first-class education, SOAS students also have the chance to appreciate one of the world's greatest cities, London. The UK capital is home to over eight million people from a range of diverse cultures and is a centre for global finance, fashion, art, and new ideas. International students will also get to see some of Britain's most iconic landmarks, such as Big Ben and Nelson's column, as well as exploring all the amazing experiences that this very modern city has to offer.
So remember, there's still plenty of chances for international students to find a place at SOAS University of London via Clearing or Adjustment. Visit the admissions page for more information, where you'll also find links to all the undergraduate courses. What are you waiting for?...
Article written in association with SOAS.
Find your perfect program
Use our search to find and compare programs from universities all over the world!
SOAS University of London

After graduating with a degree in English literature and creative writing, Ashley worked as a bartender, insurance broker, and teacher. He became a full-time freelance writer in 2016. He lives and writes in Manchester, England.
Find a program in these categories