Want Your Kid to Go to College? Start with these Five Books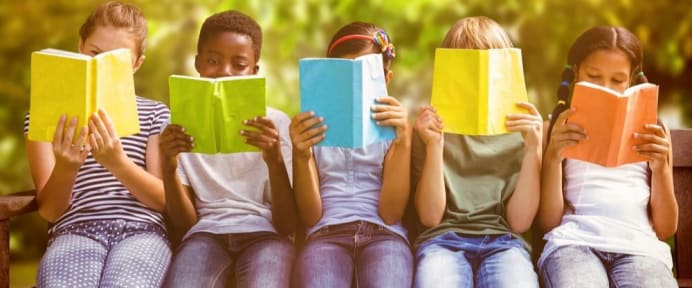 College is a goal many parents have for their kids. However, the portrayal of academics in children's books is often clichéd and outdated -- not to mention biased against women and other minorities. Melissa Terras, an expert on the subject, argues, "There are some truly lovely books, but there is also a lot of lazy stereotyping," including everything from "crazy evil egotists" to "baffled, obsessive eggheads."
The good news is not all representations of academics are all bad. In fact, some might even spur kids to pursue degrees in certain subjects. Read on for a roundup of books aimed at inspiring passion for five different fields of study.
1. The Magic School Bus by Joanna Cole: Science
This book series turned TV series and video game franchise is beloved for its ability to help children learn about science in a non-stuffy way.
Talking about character Valerie Frizzle in a list of The 11 Best Teachers in Children's Literature, former librarian and self-proclaimed "obsessive reader" Janssen Bradshaw said, "Haven't we all secretly wished for a teacher that could take us on magical field trips into outer space or through the arteries of the heart? And now, as a parent, I'm so grateful for books that make science cool and interesting for my girls!"
2. The Harry Potter series by J.K. Rowling: Chemistry, Astrology and More
While any kid would pretty much flip for the opportunity to go to Hogwarts for magical studies, subjects at the school of magic have muggle equivalents like chemistry (transfiguration), sociology and psychology (muggle studies), botany (herbology), mathematics (divination) and more. Or, if the stars catch your fancy, there's always astronomy.
Plus, Hogwarts' house set-up paints a pretty idyllic picture of dorm life. Still not convinced of the correlation between the Hogwarts and higher ed experiences? Check out Odyssey's 22 Times Harry Potter Perfectly Described College Life.
3. The Boy Who Loved Words by Roni Schotter: Literature and Linguistics
Speaking of magic, it's never too early to get kids thinking about the power of the written or spoken words.
GreatSchools explains of its inclusion of The Boy Who Loved Words in its ranking of favorite books for first graders, "In this book, a word-loving boy spreads the wealth. Parents need to know that there's nothing to be concerned about and much to be learned in this introduction to the joy of words. Families who read this book could discuss words. What makes some words so much fun? How does knowing a lot of words help? What are some of your favorite words? Together you can also learn the words in the book's glossary and try using them in everyday life whenever you can."
4. Big Bug Surprise by Julia Gran: Entomology and the Natural Sciences
Also making GreatSchools' list is this fact-packed tale of a bug-loving little girl. Nature-lovers will enjoy Prunella's adventures while learning about the value of knowledge about insects and the natural world, as well as how creative thinking can lead to valuable solutions.
Publishers Weekly says, "Gran nicely portrays a heroine whose passion is its own reward."
5. The Sir Cumference series by Cindy Neuschwander and Wayne Geehan: Mathematics
Say the word "math" around a group of kids, and you're likely to be met with groans of dismay. But it doesn't have to be that way. Enter this 10-book series covering algebra, geometry, measurement, fractions, and other math topics.
"Brave knights, a strong ruler, and a dilemma that needs to be solved using math. This book about math is great for introducing geometry concepts in a fun and accessible way," writes teacher Elizabeth Mulvahill in her list of 16 Picture Books About Math to Inspire Curious Kids.
Looking to help your older kids understand the importance of education in general, meanwhile? Point them to I am Malala, the remarkable story of the youngest-ever Nobel Peace Prize laureate's fight for education.
Do you have an inspiring children's book you have shared with your children or remember from your own childhood? If so, please share it in the comments section

Joanna worked in higher education administration for many years at a leading research institution before becoming a full-time freelance writer. She lives in the beautiful White Mountains region of New Hampshire with her family.
Find a program in these categories