Top Reasons to Study in Rome This Summer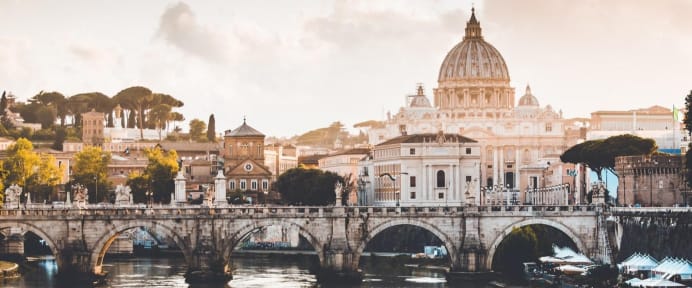 Are you a summer-loving fine arts major already plotting your escape from winter this summer?
There's a place just for you. From art and design to architecture and engineering and everything in between, the answer is clear: Rome.
Let's take a closer look at why to study in Rome this summer.
Its culture is unique
In Rome, you can see something new every day. It's a big city with a big history -- and a big present, too.
Walk among millennia-old ruins, see the Colosseum, the Vatican, the Pantheon, the Trevi Fountain, and the Spanish Steps. Sip wine from a cafe and people watch. Drink copious amounts of Italian coffee and sample the desserts. Take a painting class. Study architecture. Go to a fashion show. See a cutting-edge movie. It's all in Rome.
Rome is the place for art, design and fashion
Quintessential to all this culture is art, design and fashion. For centuries, it has been one of the most important cities for art in the world, with influences ranging from Classical Greek, to Renaissance art such as Michelangelo and Botticelli, to Baroque art such as Bernini and Caravaggio. Rome's current art and design scene takes inspiration from the city's great history and combines it with new and innovative styles.

Rome is also widely regarded as a world fashion capital. According to Global Language Monitor, it is the fifth biggest city in the world for fashion, topping London and LA among others. Big luxury fashion houses, such as Fendi, Bulgari and Laura Biagotti, were founded or have headquartered in the city, and many major labels have luxury boutiques in the city, including Prada, Chanel, Dolce & Gabbana, Versace and Armani.

Rome also has Cinecittà ('Cinema City') studios; at 99 acres, the biggest film studio in Europe. Within, some of history's greatest films have been produced, including Bicycle Thieves and La Dolce Vita, by decorated directors such as Rosselini and Fellini. Also, the studios and the city have been the settings for many huge foreign movies including Spartacus, Ben Hur and Gladiator.
The Roman lifestyle peaks in the summer
Street festivals, fairs, music, food, dancing, art, fashion, and dance come alive on Roman streets every summer.
From open-air markets to designer outlets and department stores, summer in Rome offers some of the world's finest outdoor experiences.
Delicious Food
Pasta, pizza, gelato, wine, some of the freshest vegetables, and Italy's native blood oranges. Need we say more? If the food doesn't convince you, we don't know what will.
Food culture in Rome is one of the strongest on the planet. You can enjoy savory meals and regional dishes that you cannot find anywhere else. Eat well, study well, and enjoy.
Salute!
From there, you can travel everywhere
Once you've exhausted all the sights, sounds, smells, music, food, and culture of the city itself, Rome's travel options are endless.
Situated on the edge of the Mediterranean, Rome's location at the crossroads of Europe, Africa, and Asia, situates itself as one of the best places from which to travel, and also Italy boasts a train system which can take you to all corners of Italy.
Want to study this summer in the fashion, cinema media, and design capital of Europe?
Then check out the Nuova Accademia Di Belle Arti, or NABA, which has just opened a new campus in Rome, with summer programs in visual and graphic arts, fashion, multimedia arts, and a dual city program with Milan (the fourth biggest city for fashion in the world).
The new campus boasts state-of-the-art facilities, with cutting-edge technology, study and lounge programs, and a new library.
The new fashion lab in Rome offers industrial sewing and pressing machines, and professional level mannequins and busts. In the new Visual Arts Atelier, there are new facilities for printing and engraving. The Media Laboratory has the newest high -tech equipment for digital arts and experimentation, too.
NABA Rome also offers each student access to NABA's virtual archive space.
NABA's Study Abroad Program
NABA's distinctive study abroad programs also offer students another way to connect with this incredible city. For international fine arts students looking to spend a semester or summer abroad in Milan or Rome, NABA may be just the ticket.
The four-month semester abroad program now offers integrated, hands-on project work in Rome, in addition to Milan, another of Italy's most cosmopolitan cities.
Students in the study abroad program can work towards their degrees in painting and visual arts, media design and multimedia arts, graphic design and art direction, and fashion design.
Find a program in these categories