Top Five Fashion-Inspired Films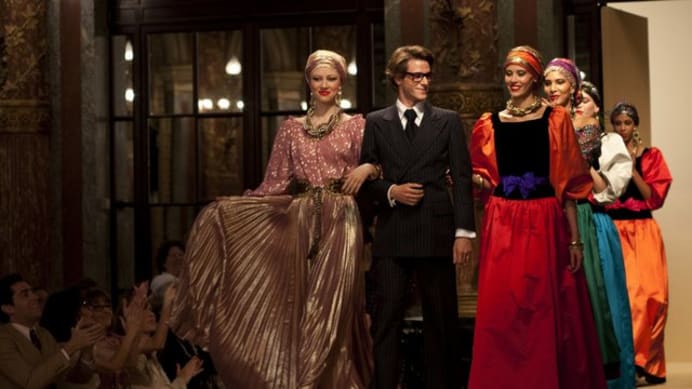 Fashion industry careers are the ultimate "it" jobs for many of society's most driven -- and stylish -- movers and shakers. After all, it's not for nothing that influential Vogue editor-in-chief Anna Wintour earned herself a spot alongside pop culture icons including Taylor Swift, Caitlyn Jenner, Amber Rose and Kim Kardashian West (natch) in Kanye West's controversial "Famous" video.
Given its lightning fast pace, beautiful people, and stunning settings, it's hardly a surprise that the fashion world is prime fodder for film. From rom-coms to classics, we've rounded up five of our favorite picks for movies about the fashion world.

1. Best Biopic: Saint Laurent
Yves Saint Laurent died of brain cancer in Paris in 2008, but his fascinating legacy remains alive and well in the contemporary fashion world. Directed by Bertrand Bonello, Saint Laurent follows the famed fashion designer's journey while delivering an intimate, behind-the-scenes look into his personal and professional life. Says The New York Times of the film, "It's a giddy, intoxicating, decidedly decadent feeling, but Saint Laurent is more than merely seductive….Observations of Saint Laurent at work and in love give way to panoramic, intricate surveys of the world of commerce and culture in which he suffered and flourished."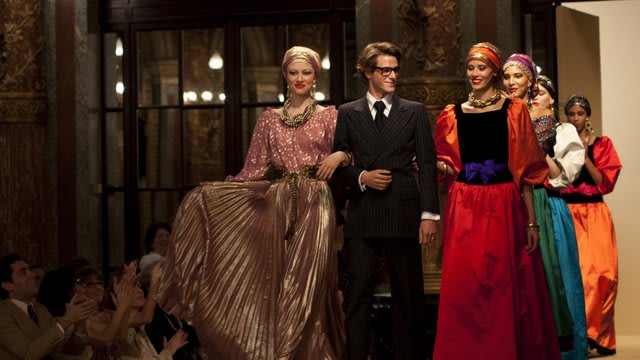 Can't get enough of YSL? Be sure to check out the 2014 flick Yves Saint Laurent, which also traces his trajectory from fresh-faced fashion school student to master of his own empire.

2. Best Classic Film: Breakfast at Tiffany's
Is any film image more captivating than Holly Golightly's gamine, Givenchy-clad look in the beloved 1961 film Breakfast at Tiffany's? Based on the Truman Capote novel about a young country girl's quest to find a rich husband in the wilds of New York City high society, the film was a breakout vehicle for Audrey Hepburn...and for the LBD (AKA "little black dress").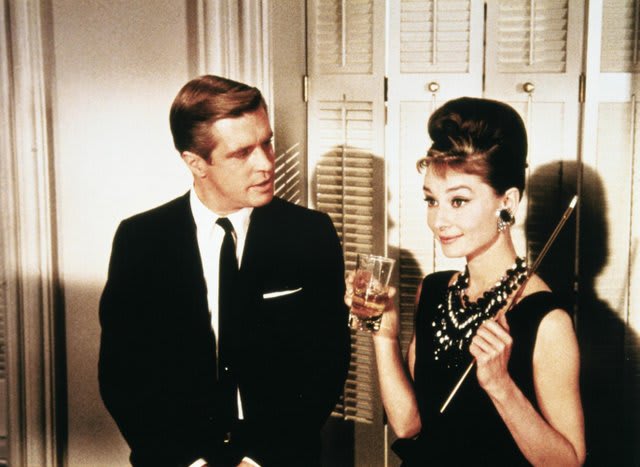 Wondering whether this 55-year-old flick has held up over the past half-century or so? Film critics insist that it's gotten even better. New York Times film critic A.O. Scott attests, "I think it's true partly 'because of the wonderfully charming and romantic and sophisticated view it gives of bohemian life in New York."
3. Best Historical Film: Coco before Chanel
Holly Golightly would likely not have been conceived with inspiration from others, including the for And indeed -- no name evokes the essence of "chic" as much as "Coco Chanel." 2009 French film Coco Before Chanel chronicles the early life of young Gabrielle Chanel as she ascends from abandoned orphan to the upper echelons of Parisian haute couture.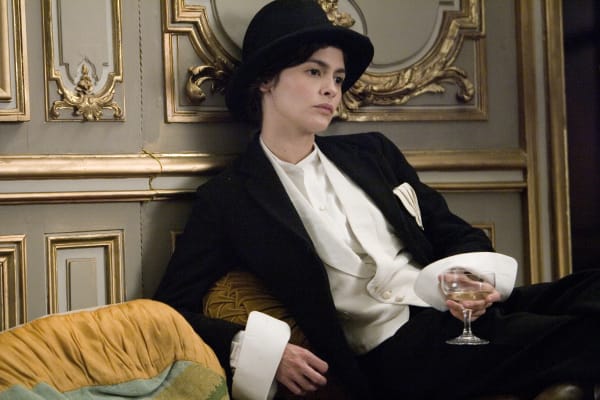 The award-winning film stars Audrey Tautou in what The Guardian describes as "a role she was probably born to play." Writes The New York Times, "With a mixture of brutal candor and tender sympathy, it charts the rise of an ambitious, difficult woman, taking note of the obstacles and opportunities offered by her time, place and circumstances."
And then there's the fashion. Go for the compelling story; stay for the fabulous clothes.

4. Best Thriller: Blow-Up
For many trend-watchers and style-setters, the word "fashion" alone is enough to set pulses racing. But a thriller set in this thrilling world? We're sold. Michelangelo Antonioni's 1968 British-Italian film Blow-Up tells the tale of glamorous London fashion photographer Thomas, who may or may not have captured a killing -- and the killer -- on film. This Grand Prix-winning movie earned ample praise from critics, including Andrew Sarris and Arthur Knight, who described it, respectively, as a "mod masterpiece," and "as important and germinal a film as Citizen Kane, Open City and Hiroshima, Mon Amour – perhaps even more so."
A 1966 New York Times review, meanwhile, is astoundingly prescient in proclaiming, "This is a fascinating picture, which has something real to say about the matter of personal involvement and emotional commitment in a jazzed-up, media-hooked-in world so cluttered with synthetic stimulations that natural feelings are overwhelmed."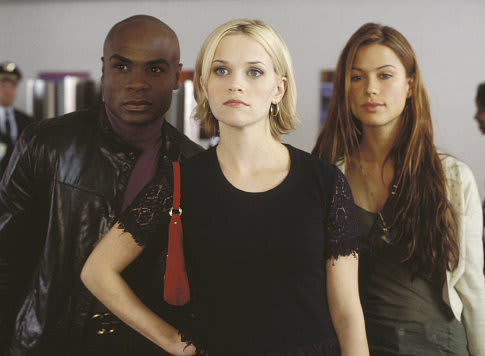 5. Best Rom-Com: Sweet Home Alabama
If you're looking for less intense fare, you can't go wrong with Sweet Home Alabama, a fun, modern-day fairytale about the comic trials and tribulations of up-and-coming New York City fashion designer Melanie (Reese Witherspoon) as she returns to her birthplace of Pigeon Creek, Alabama -- home to plenty of humorous local color, including the annual Catfish Festival and a coonhound cemetery -- to announce her engagement to the NYC mayor's son, Andrew, played by Patrick Dempsey (AKA "McDreamy"). But there's a hitch: She's already married to her oh-so-charming but unambitious childhood sweetheart.
While critics were iffy about the film, Witherspoon was lauded for her undeniable appeal, with Roger Ebert bestowing particularly high marks in declaring her to be, "as lovable as Doris Day would have been in this role." Extra points to Sweet Home Alabama for giving us the oft-quoted line, "You brought your baby to a bar?"
One of the best things about these five fashion films? They're incredibly diverse -- which, as it turns out, makes them very much like the fashion industry itself. Thinking of having some real-life fashion world adventures of your own? Choose from extensive coursework in fashion and design to help you reach your career goals.

Joanna worked in higher education administration for many years at a leading research institution before becoming a full-time freelance writer. She lives in the beautiful White Mountains region of New Hampshire with her family.