To Unplug or Not to Unplug: Seven Ways to Keep Your Brain Sharp This Summer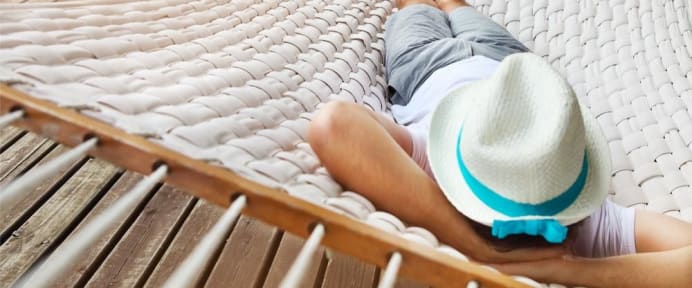 Academic pursuits take an automatic backseat to fun when summer kicks off every year. But this doesn't mean you should completely opt out of intellectual pursuits either. After all, we've all heard the expression, "Use it or lose it." So what can you do to maintain your study habits without letting school take over? Read on for a roundup of seven ways to keep your brain sharp this summer.
1. Write away.
If you're one of the few lucky people for whom writing comes naturally, congratulations and good for you. However, if you're like the rest of the population, writing takes effort. The good news? The more you do it, the easier it gets.
On the flip side, if you're in the practice of writing and you suddenly stop, picking it up again when the fall semester kicks up can be a huge chore. Avoid ending up in this situation by making a commitment to write every day. In addition to strengthening your writing and editing skills, writing will also help clarify your thinking, boost your creativity, and even make you a more persuasive person.
2. Read all about it.
While you may feel like you did more than your fair share of reading last semester, the reality is that there's no such thing as too much reading. Plus, pleasure reading is very different than assigned reading. While there's no harm in choosing books in your area of study if they're calling to you, summer reading opens doors to reading anything you like -- from the latest bestseller to the classic novel you can't ever seem to get around to.
According to the National Library of New Zealand, meanwhile, reading for pleasure offers a number of extraordinary benefits, including "the sheer joy of exercising the imagination," understanding other cultures, improving your vocabulary, community participation, and insight into human nature and decision-making.
3. Spend a day at the museum.
Kids go to museums all the time, but when was the last time you've been to a museum since starting college? In her blog, Chief Market Engagement Officer at IMPACTS Research & Development College Dilenschneider sets forth 10 reasons to visit a museum. These include everything from making you feel good to engaging you intellectually. One of these best things about museums? There's always one near you or one worth road-tripping to.
4. Take a class.
Yes, you read that right. While the last thing you may want to do during your time off is go to school, summer classes offer exciting learning opportunities you may not have time to explore during the academic year. Always wanted to learn more about winemaking, music, or money management? There's no better time to learn than during the summer. You don't even have to step foot on campus, either, thanks to an abundance of online options. (Still on the fence about summer classes? Check out five reasons to do so here.)
5. Do your body good.
If you're like many students, the rigors of finals may had interfered with your usual fitness regimen. Summer is the perfect chance to get back on track. Whether you head to the gym, take a hike, or take up stand up paddleboarding, you'll feel (and look!) better if you start moving your body more.
6. Give your brain a workout.
Your body isn't the only thing that can benefit from regular exercise. So can your brain! According to Be Brain Fit, performing evidence-based brain exercises has the potential to improve your memory, focus, mood and more.
Other advantages of adding brain exercise to your summer routine include stress reduction, increased focus and concentration, enhanced productivity, better thinking and reaction time, sharper vision and hearing, improved fluid intelligence, mental flexibility and creativity, and even greater self-confidence.
The best part? Brain exercises may be more fun than you think. In his book, Keep Your Brain Alive: 83 Neurobic Exercises to Help Prevent Memory Loss and Increase Mental Fitness, Dr. Lawrence Katz suggests activities ranging from doing chores with your eyes closed to eating with chopsticks.
7. Take a daily nap.
While taking a nap might seem like the ultimate in summer slothery, doing so is actually an investment in your own health and wellness.
Proposes Everyday Health of the upsides of taking a 20-minute daily nap, "A daytime nap will produce nearly as much skill-memory enhancement as a whole night of sleep. So after you have taken a class or engaged in some other learning situation in the morning, consolidate that information by napping for a brief time in the afternoon after lunch when you're most likely to feel tired and fall asleep easier."
Do you have any favorite ways to keep your brain engaged during the summer break? If so, please share them in the comments section below.

Joanna worked in higher education administration for many years at a leading research institution before becoming a full-time freelance writer. She lives in the beautiful White Mountains region of New Hampshire with her family.