The Pros and Cons of Working as a Freelancer

The number of freelance workers in the US has grown to a staggering 55 million to comprise a whopping 35 percent of the country's total workforce, according to a comprehensive joint report from Upwork and the Freelancers Union, "Freelancing in America: 2016." Wondering whether or not you should get in on the freelance action? Here's a closer look at the pros and cons of hanging out your shingle as part of the freelance economy.
Three Pros of Freelancing
There's a reason -- several of them, actually -- why more and more people are opting to go freelance. Read on for a roundup of three appealing aspects of working for yourself.
1. It's flexible.
From choosing where you work to when you work to what you want to work on, freelancing offers unparalleled flexibility. Looking for a job that will allow you to spend more time with your kids, travel, or even stay home in your jammies all day while still collecting a paycheck? Freelancing offers the freedom to do all of these things -- and then some.
This flexibility may also open doors to living life at a different pace. Freelancers can avoid dealing with pre- and post-work crowds at the supermarket and gym by structuring their schedules to avoid these popular places at their busiest times of day.
2. You'll be in control of your earning potential.
As a freelance worker, your salary is directly informed by factors controlled by you, including how much you charge, how many clients you have, and how much work you chose to do. The takeaway? If you're saving up for a particular expense, such as holiday shopping, a vacation, or a new car, you can amp things up to increase your earnings. Conversely, you can slow things down -- or tuck away more into savings -- when you don't have any major expenses looming in the near future.
3. You'll work on a variety of projects.
The work life of a salaried employee is often the same day after day: Perform a specific set of duties; repeat. Freelancers enjoy much more variety. In fact, if a particular project doesn't spark excitement, you can simply turn it down and walk away. While it can take some time to build up your freelancing career to the point where you can afford to pick and choose what projects you work on, the payoff is well worth the effort.
In addition to different types of work, you also get to work with different types of people. Not only can this keep work interesting, but you'll also build a much larger network of contacts.
Three Cons of Freelancing
But before you quit your full-time job to pursue a freelance career, there are a few additional things to consider. Specifically, the following three downsides are worth keeping in mind.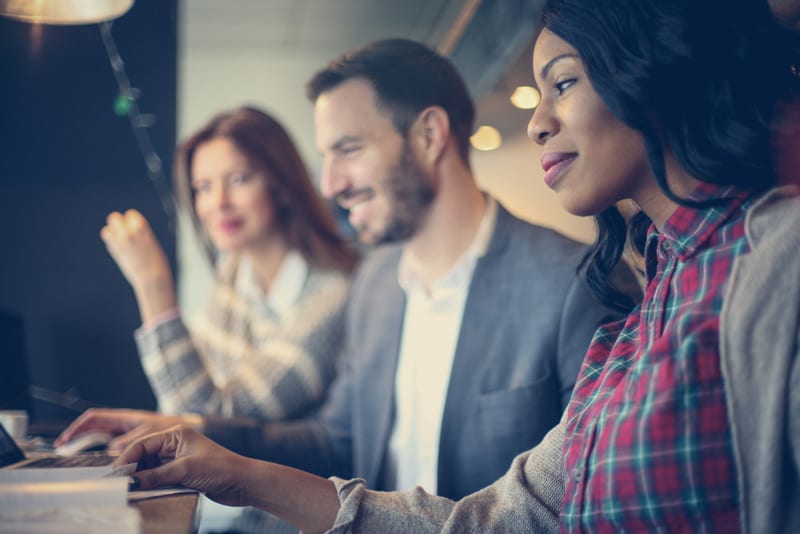 1. You might be lonely.
While many are drawn to freelancing because the promise of working alone is an alluring one, it's all too easy to underestimate how isolating it can be. Whether or not you end up missing certain people or just the general hum and buzz found while working amidst others, you may find yourself lonelier than you expected. Sure, your coworkers can drive you crazy sometimes, but at the end of the day, the camaraderie found in office life can help keep spirits high.
2. It is financially unstable.
Freelance work can be "feast or famine." While business may be booming today, there's nothing to ensure your clients will still be around tomorrow. And while a full-time job comes with a guaranteed salary (and severance, if you're laid off), you're on your own when it comes to freelancing. Building a pipeline of work can help, but can also be accompanied by the pressure to take every job that comes your way as a preventative measure. Plus, there's a certain degree of pounding the pavement involved -- which may run nature to the often introvertive nature of many freelancers.
The same goes for benefits. Freelance workers may collect a higher hourly rate than they would for the equivalent full-time job, but they also have more out-of-pocket expenses. If you've run the numbers and think you'll be raking it in as a freelancer, make sure you've factored in healthcare, 401K, and other forms of compensation not built into a freelance gig.
3. Your professional and personal lives may overlap.
While freelance life offers more adaptability when it comes to hours, the lines between work and home -- particularly if you're working at home -- can easily bleed together. You may leave your work at the office as a full-time worker, but the pressure to work as a freelancer can follow you everywhere you go.
Ultimately, there's no "perfect" job. And while many happy freelancers find that working for themselves offers the closest thing they can get, others find it's not all it's cracked up to be. Understanding the pros and cons - and considering your own personal work styles and preferences -- can help you decide whether or not freelancing is the right path for you.
Read more about graduate degrees and freelance work.

Joanna worked in higher education administration for many years at a leading research institution before becoming a full-time freelance writer. She lives in the beautiful White Mountains region of New Hampshire with her family.