Ten Songs to Get Your Study On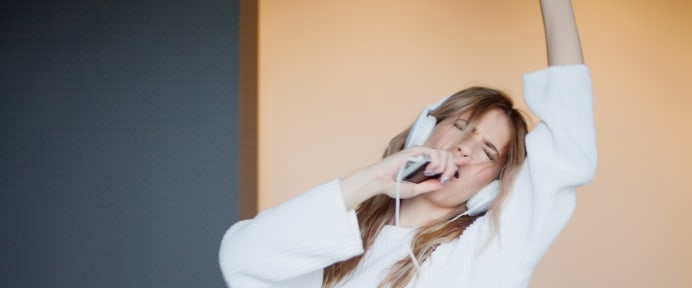 Music has power. It has pizzazz. Sure during study time, you might want to cue up the Vivaldi or the Mozart to get those classical vibes connecting neurons. But what if you need something to get you going? Get you moving?
Need to get your brain jumping? Crank up these tunes, do a little dance, get your sweat on, and then get your butt in the seat. Time to study!
1. Beat It - Michael Jackson
If the King of Pop can't get you motivated, we're not sure what will. Michael Jackson's Beat It offers you a chance to shore up your mental fortitude and tell those bad study habits to beat it! You got this. Now sit down and study!
2. Don't Stop Believin' - Journey
Feeling defeated? Let down? Pick your head up and get rockin'! You can do it if you believe it! Yes, you can!
"Don't stop believing / Hold on to that feeellliiing." You can do this. Journey's 1981 hit resonates today, especially when you're not sure if we're going to make it through the next paper, exam, or course. Give yourself some space to believe. Then sit down and make your dreams come true. Just because you don't stop believing doesn't mean you don't have to work hard!
3. Eye of the Tiger - Survivor
Survivor's 1982 hit Eye of the Tiger will, at the very minimum, inspire some swanky desk choreography, if not a full-on motivational study session. It's about taking chances and having the sheer will to survive -- and succeed. What more do you need?
4. Ain't No Mountain High Enough - Marvin Gaye and Tammi Terrell
Ain't no paper hard enough; ain't no deadline tight enough...Nothing's going to stop you from climbing that mountain of studying, no matter how high it is. And nothing to keep you from getting those great grades. Pump it up, groove out, and get studying!
5. Roar - Katy Perry
Think like an aggressive lion.
If this snappy beat fails to get you motivated, and you can't hear the roar of your own desire to overcome any hurdle in your way, then we don't know what will. Roar it out, sit down, and do it. No one said it would be easy.
6. Stronger - Kelly Clarkson
What doesn't kill you makes you stronger. There's truth to it. Don't let that class get the best of you and show yourself that you're strong. Fight it! It takes work and you can do it. Be a fighter.
7. I Feel Good - James Brown
Technically, you probably shouldn't play this until after you ace that test, but if you want to gear yourself up to feel all the good feelings, go for it. James Brown, the Godfather of Soul, has your back. Feel good while you study. It will likely show in your grades.
8. We Are the Champions - Queen
We know: you're paying your dues all with all of this studying. Want to feel like you're going to fight until the end, until you can call yourself a champion? Crank up this golden oldie to 11 and crack open the books. You'll feel grand.
9. Dream On - Aerosmith
Nothing quite like this 1973 classic from Aerosmith's Steven Tyler to get you to keep living the dream!
10. All You Need Is Love - The Beatles
You might need a little more than love to pass that exam or write that paper, but if you want to get into a feel-good mood about what it's really all about, you can't go wrong with the Beatles. Learn how to play the game. It's easy. All you need is love (...and some hard work).