Stressed Out: Coping with a Worldwide Spike in Depression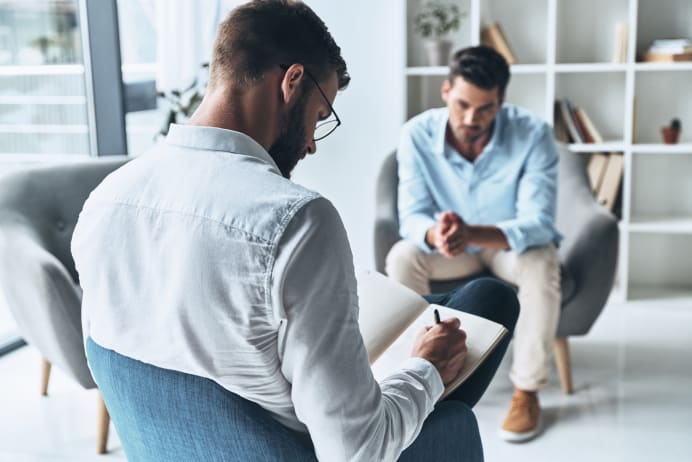 COVID-19 and depression
Evidence continues to mount pointing to the troubling effects of the pandemic on mental health. As early as June of 2020 — just a few months COVID-19 related lockdowns and shut-ins — researchers were already reporting a third of Americans were showing signs of clinical depression and anxiety due to factors including trauma, grief, fear of getting sick, physical distancing, financial concerns, loss of community, and reduced access to caregivers.
Massachusetts General psychiatrist-in-chief Maurizio Fava, M.D., says, "It's quite understandable the COVID-19 pandemic is likely to cause significant stress and psychological distress for a large proportion of the population. And we know the rates are progressively increasing."
As the pandemic continued to surge, researchers began tracking a corresponding surge in mental health changes with the hopes of using this data to understand the impact of control measures in order to help manage the fallout of future pandemics. Mental health policy specialist Victor Ugo told Nature, "The things we know predispose people to mental health problems and conditions have been increased as a whole."
And even as the pandemic abates, new findings emerge with ongoing repercussions. For example, scientists recently determined that while depression rates more than doubled in the UK since the onset of the pandemic, women and young adults were more likely than men and other age groups to feel depressed during the UK's second coronavirus peak in early 2021.
The conclusion, according to clinical psychologist Luana Marques? "I don't think this is going to go back to baseline anytime soon."
Pre-pandemic mental health concerns
Speaking of baseline, while the pandemic may have escalated mental health concerns, many issues were pre-existing. For example, in March of 2019 — a full year before the pandemic struck — scientists were already reporting a rise in depression rates among young millennials in both the US and the UK, according to findings published in the International Journal of Epidemiology. Even more alarming is that these spikes occurred despite lower overall risk factors such as smoking, drinking, and antisocial behaviors.
Scientists attributed the rising numbers to the internet and social media. "Millennials can't help but compare their situations and achievements to everyone else's, which can leave them feeling insecure and unaccomplished," Mental health therapist Jessica Singh told Healthline. "Millennials are feeling the pressure to always look and act like they have it all together. This can easily result in lowered self-esteem, anxiety, or depression," she added.
How psychologists are tackling the mental health toll
Psychologists are already playing a critical role in leading the fight against the mental health effects of the pandemic. In response to the emerging crisis, the American Psychological Association (APA) changed the theme of an international gathering of experts from climate change to how to mitigate the psychological impacts of COVID-19.
APA Chief Executive Officer Arthur C. Evans Jr., PhD. says, "These issues highlight the importance of psychological knowledge in addressing the big problems the world is facing and how we need to work together collaboratively to face those challenges."
Adds former British Psychological Society (BPS) president David Murphy, Ph.D., "Since COVID is a new disease with a unique constellation of symptoms, the BPS has worked with the U.K.'s National Health Service to build a new multidisciplinary rehabilitation package from scratch, drawing on pulmonary rehab, treatment of health anxiety, chronic fatigue management, and neurorehabilitation."
In addition to helping survivors cope, psychologists have done everything from help connect isolated people with psychological support to offer critical support to frontline health care workers.
Position yourself to join the fight
The more we understand about how the human mind works, the better equipped we'll be to address the current mental health crisis while preventing the occurrence of future ones. Enter the BSc (Hons) Psychology at Arden University.
Delivered online and accredited by the British Psychological Society (BPS), this degree explores core elements of psychology, including research methods, biological psychology, cognitive psychology, developmental psychology, and social psychology.
In addition to serving as a stepping stone for people interested in specialised work such as counseling and child psychiatry, the BSc (Hons) Psychology degree is a suitable foundation for careers in many different fields including social work, education, marketing, politics, journalism, human resources management, and many others.
One student on the degree said, "I love studying with Arden. It's at my own pace, in my own time, and fully accessible no matter the time of day. I was nervous returning to education as a mature student, but have to wholeheartedly say that the experience has been superb, and feel a valid and welcome student treated with full support, and encouragement to make the best of myself. The tutors and support teams are excellent."
The ability to progress at one's own pace is one of the biggest appeals of Arden University according to its students and graduates. The curriculum consists of a series of 17 modules, which students can study in their own time, taking as long as they need to learn, fitting their studies around other commitments. Most students complete their degrees within three to six years. Students can also study from anywhere in the world courtesy of ilearn, Arden's "university campus in the cloud".
While the end of COVID-19 may be in sight, its psychological effects will be felt for years to come. The BSc (Hons) program in Psychology at Arden University can position you to play a vital role in supporting individuals struggling with mental health issues while also helping to safeguard public mental health for the future.
Article written in association with Arden University.
Find your perfect program
Use our search to find and compare programs from universities all over the world!
Arden University

Joanna worked in higher education administration for many years at a leading research institution before becoming a full-time freelance writer. She lives in the beautiful White Mountains region of New Hampshire with her family.
Find a program in these categories