Six Tips For Student Athlete Success in College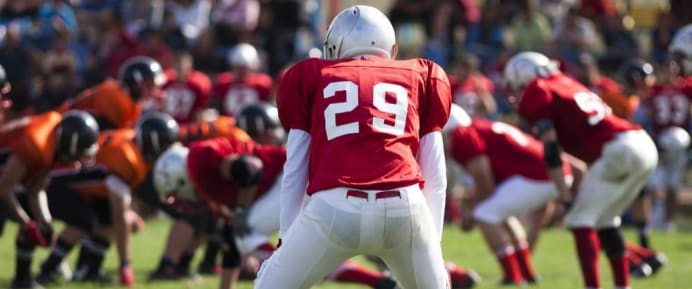 Many kids play sports in elementary school and high school. However, college is a whole different -- ahem -- ballgame. If you're a student-athlete hoping to make the leap to college competition, several strategies can help you increase your chances of making the team -- and staying on it. Read on for a roundup of seven tips to support athletic success in college.
1. Know your options early.
Depending on what level athlete you are, athletics may have just as much influence as academics when it comes to choosing a college.
In the US, for example, schools are separated into divisions by the National Collegiate Athletic Association. Division I schools are usually the largest, most competitive, and have the largest budgets; they also offer the most significant scholarship funding. As such, they also have very firm and closely monitored rules.
Conversely, Division III is the NCAA's largest division, which places a higher value on the benefits of competition than on creating events and generating revenue. (Read about the impact of NCAA Final Four spots on college enrollments here.) There are no athletic scholarships in Division III.
In the middle falls Division II, an intermediate-level division. The NCAA says, "Division II student-athletes are just as competitive and in many cases just as skilled as their Division I counterparts, but institutions in Division II generally don't have the financial resources to devote to their athletics programs or choose not to place such a heavy financial emphasis on them."
Understanding whether your goal is to play for a Division I, II, or III school -- and whether you have the athletic prowess to do so -- can help guide your college decision-making process. Depending on which level you plan to play, you'll have different considerations, such as registering for and being certified by the NCAA Eligibility Center if you're applying to Division I and Division II schools.
2. Know that it's about more than how well you play.
The decisions you make during high school can directly impact your future as a college athlete. If you're hoping to be recruited, you may have only a small window of opportunity to impress a recruiter. In addition to demonstrating your skill, you'll also want to show that you'll be a good addition to a team, which means having a positive attitude and being "coachable".
The Quad explains, "If you throw up any warning flags, a recruiter may simply move on to the next student-athlete. College sports have thousands of high school athletes to choose from, particularly considering that only five percent will actually play a college sport. Remember, they already know you can play the sport or they wouldn't be watching you at all. They can pull up your grades, stats and physical attributes to see that you are awesome. They really need to see your character and learn what kind of person you are."
Poor grades and disciplinary problems in the classroom can also be warning signs for schools and recruiters so commit to always being the best person you can be.
3. Think of yourself as a future university representative.
The importance of good behavior doesn't end once you get your acceptance letter. Plenty of college athletes have seen their careers end with bad decisions.
US News & World Report says of the responsibilities of high-profile college athletes, "Signing on to be a college athlete automatically projects you into the spotlight, not only on the field but off the field, too. You are the face of your university, and your actions reflect on your institution and your sport, both positively and negatively. Make good decisions, especially when it comes to alcohol and drugs. One bad decision will negatively affect not only you but your team, your family, and your whole athletic department. Understand that as an athlete, it's not just about you anymore; you are part of a greater whole."
4. Keep up with your school work.
Depending on the sport and where you're playing it, some college athletes feel like celebrities. Others are just one of the crowd. In both situations, however, student-athletes share a similar quandary: How to balance the rigors of being a college athlete with a college student.
Committing to keeping up with your work, staying organized, and asking for help when you need it can help you not only maintain the grades you need to stay on the team, but also to do well in school -- an accomplishment that will stay with you long after your sports career is over.
5. Think of your professors like coaches.
Just like a good relationship with your coach can help you become a better athlete, so can good relationships with professors. Open lines of communication are critical: The more -- and the sooner -- your professors understand your athletic commitments, the more they will be able to support you in reaching your goals -- both on and off the playing fields.
While the onus of your performance in college rests with you, you may be pleasantly surprised to discover the lengths your professors will go to help you if you are proactive about it. After all, many professors are sports fans, too!
6. Be wary of "imposter syndrome."
While you may be known for your sporting prowess, you have more to offer than your talent at tennis, baseball, or swimming.
US News & World Report explains, "Inevitably, there will come a time in your college career when you feel as if you're walking around with a sign on your back that says, 'Dumb Jock.' You may feel you don't belong in the same class as the 'regular' students, either because of your lack of self-confidence or poor treatment by those who (for whatever reason) don't like athletics. [...] Remember that each student brings value to the institution in different ways, whether it be musical talent, academic excellence, or athletic ability."
One way to see yourself as more than "just" an athlete? Make an effort to get to know non-athletes and to be part of the larger university community. Not only can doing so broaden your circle, but it can also broaden how you think of yourself within your university environment.
One last thing to keep in mind is that while your dream may be to be a college then even professional athlete, this comes to fruition for only a very small group of talented and lucky individuals. For starters, you may not make a college team. In this case, participating in intramurals can help you continue to do the sport you love as a university student. Doing well in school and having career goals beyond athletics is also important as it means that whenever your athletic career comes to an end, you will still have open doors ahead of you -- and you'll already be off to a great start with your college degree.

Joanna worked in higher education administration for many years at a leading research institution before becoming a full-time freelance writer. She lives in the beautiful White Mountains region of New Hampshire with her family.
Find a program in these categories