Six Reasons to Study in Prague
Nov 23, 2018
Education

Study Abroad

Student Tips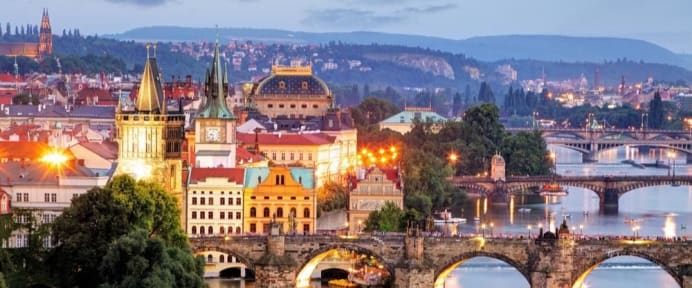 Want to study abroad in one of the most culturally rich and historically fascinating cities in Europe? Then Prague is the place for you! There's something for everyone, from high school graduates looking for their first international experience to those studying master's degrees. Here are six reasons why Prague is the place to be — and one great option for everyone.
It's a wonderful city
Want to see the largest castle complex in the world, immerse yourself in some of Europe's finest architecture, walk some of the world's oldest bridges, peruse fine art, or immerse yourself in a rich history?
Then Prague is your city.
Dating back to the ninth century, Prague Castle is the largest castle complex in the world, covering over 70,000 square meters. The complex has numerous buildings, including the mighty St Vitus Cathedral.
Many of Prague's buildings survived WWII, meaning the city offers an electrifying mix of baroque, gothic, and renaissance architecture. You can treat yourself to some classic gothic architecture in the form of the Church of Our Lady before Týn in the historic Old Town.
One of Europe's oldest bridges, Charles Bridge, is still in use and is one of the most popular attractions in Prague. Built between 1357 and 1402, the bridge has survived massive floods and the Thirty Years War.
In addition to this, there's a rich arts culture, Prague having been home or had strong links to, at various points, famous novelist Franz Kafka, Albert Einstein, Che Guevara, Mick Jagger, and Frank Zappa.
It has a rich history
Czech history is fascinating. In the last century alone, the Czech Republic has seen the Hapsburgs, the Nazis, and Communists.
Achieving independence only in 1989, the Czech Republic split from Slovakia in 1993.
Want to learn more? Do your homework on the Velvet Revolution.
The international environment
Prague is an international city, with students from all over the world studying there. You will hear lots of English mixed in with just about every other language imaginable.
To accommodate all of the international students, there are a number of organizations that offer support services, all of which have information on schools, housing, and funding.
Degrees from the Czech Republic have international standing, too. You can study anything from marketing to IT, from medicine to business, and everything in between and rest assured that your time in Prague will pay off.
Great quality/price ratio
Even if you decide to study at a private university instead of a free-tuition public university, your costs may well be less than they would be at home. Private schools set their own fees, typically between $2,000 and $15,000 per year. Even so, compared to the US and many other places in Europe, you get a lot of bang for your buck.
In addition to a high-quality education at an affordable price, you will also benefit from a reasonable cost of living. You can live well for well under $1,000 per month, including food and housing. If you get an International Student Identity Card (ISIC), you will save even more!
It's in the middle of Europe - great for traveling
Prague's geography is ideal for traveling throughout the entire region. You are in the center of Europe. If eastern Europe piques your interest, you're close to Hungary, Slovakia, and Romania. It's easy to get to destinations in western Europe, too, like Germany, Switzerland, and Italy. So it's a great base for traveling around Europe.
The city has international rail stations and airports, all easily accessible by regular, punctual public transportation.
One place to study there
One place you can experience all the best of Prague is the University of New York in Prague (UNYP).
It has students and professors from over 60 countries, a wide variety of study options in English, and it is accredited by respected accrediting bodies in the US, the UK, and the Czech Republic. UNYP offers small classes in high-tech smart classrooms on its modern campus, and combined US and EU degrees. All of its four-year bachelor's degrees lead to a bachelor's diploma from State University of New York, Empire State College.
There is very vibrant student life at the university, with top sports and fitness facilities and a wide array of clubs and societies, from debating society, to creativity club, to psychology club, and a volunteering team. Also, there is a model United Nations for young students engaged in international relations to discuss global current affairs and the university has hosted its own TEDxUNYP talks and will host another in March.
The school offers both bachelor's and master's programs across four schools: the School of Business, School of Psychology, School of Communication and Media, and the School of International Relations.
Also, the school boasts an employment rate of over 99% for recent graduates.
Ready to study abroad in one of the finest cities in the world? Find out more about UNYP today!
Find a program in these categories