Simple Things Students Can Do To Make The World A Better Place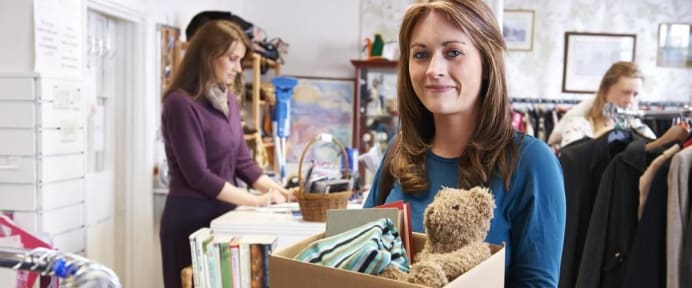 'Tis the season! We often associate this time of year as the season for giving. But really, it should be all year round. If you feel inspired by the season to do some good in the world, here are some simple things you can do to make the world a bit better all year round! Remember: doing good things for others makes you feel good, too!
At home
Good deeds rarely go unnoticed or under-appreciated.
At home? Pop in to visit friends and neighbors, especially those who you know are home alone or ill.
Leave a box of books-to-donate in front of your house or apartment, scrawl the word 'free' on the box, and let passers-by enjoy them. If you live in a more rural area, drop the box off at a municipal building (after asking permission first). If your town has a 'little free library', you can leave them there.
Made too much fudge? Bring some to your neighbors, drop some off at your mechanic, or offer it to the library.
Donate clothes you're not using to shelters and donation centers that will use them immediately. Same goes for food. See what they need.
Make your own compost.
Offer to collect an out-of-town neighbor's mail.
Shovel snow, clear the sidewalks, pick up the trash that fell over on the sidewalk.
Give to charity.
Pay a stranger a compliment.
Volunteer.
Shop small -- avoid ordering from big box retailers and support the local economy.
Have money to invest? Invest in sustainable energy.
Call someone you love.
You get the idea, right? If there's a kind thing to be done, do it. And smile. Expect nothing in return other than the knowledge that you've done right by somebody.
At school
If you're on campus, you can share the same spirit. Nearly all of the above apply, but here are some campus-specific ones:
Reach out to a classmate you haven't seen in a while. Lend someone a textbook they need.
Tutor a friend.
Buy yourself a reusable travel mug to eliminate paper and styrofoam waste.
Put a plant in your room.
Join a club you've always wanted to join.
Write thank you notes to professors whose courses you enjoyed.
Say thank you to everyone with whom you interact.
Organize a dorm dinner.
Say hello to someone new.
We could go on. The point? Be kind, not selfish. Go out of your way to do good things. Even if you think they are small, they can make a big difference to others!