Seven Reasons to Work in the Construction Industry
Aug 21, 2018
Education

Student Tips

International News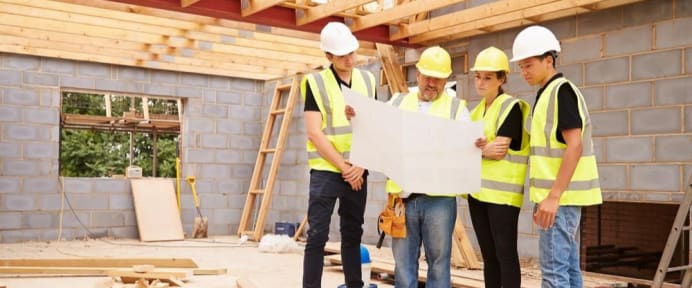 A recent Wall Street Journal report highlighted a growing problem in the construction business: a drop in job seekers is resulting in an industry-crippling labor shortage that is expected to continue for years to come. What does this mean for you? An abundance of opportunities if you have the right training under your (tool) belt. Here's a closer look at six reasons to build a career in the construction industry.
1. It is extremely rewarding.
If the idea of creating something tangible that society will rely on for years to come appeals to you, construction delivers.
Construction industry mobile communication system Fieldlens says, "How many professionals in other industries can point at the brand-new hospital in town and say, 'I helped build that'? Whether it's a road, a home, a sewage system or a school, the things you build matter to the people in your community."
BuildForce Canada echoes those sentiments, explaining that, "You can push paper around all day, or you can build houses where families live, skyscrapers where people work, roads and bridges that get us where we need to go, and communities that help everyone in Canada thrive. At the end of the day, you can look back and see that you built something new. Something that didn't exist before. Something that will be there, in many cases, for generations to come. Something you can be proud of."
2. Career opportunities are many and lucrative.
While a shortage of workers may mean challenges for the industry at large, it means opportunities for workers all over the world getting into the industry.
The UK's Tradeline Recruitment says, "The UK construction sector is in need of skilled professionals making it a great option for anyone looking to join the industry. 73% of construction firms need highly skilled construction workers. Also, with the government's pledge to create 3 million apprenticeships by 2020, young people have an excellent opportunity to land great positions in the lucrative industry."
Not only have skilled workers been sought after for the past decade -- even when the economy has been sluggish -- but the money is good and it is possible to earn a high paycheck quickly.
"Given that the industry currently has a high demand for workers, it also means that workers' wages have increased as well. Estimates have it that engineers, skilled construction workers, site managers, and architects are earning four times above the cost of living," continues Tradeline Recruitment.
3. You will have a positive impact on the economy.
We talked about how construction leaves a tangible legacy, but it also leaves an intangible one, in the contribution it makes to the economy.
Now Careers explains, "The impact on the economy is not only affected by the amount of jobs offered by the construction industry, but also the amount of jobs it assists in creating. For example, working on a new office building is making a physical change to the economy as well as helping to expand and grow the environment economically. Knowing that you are making an active difference and impacting the economy positively, is rewarding in itself."
4. You will get to work as part of a team.
If working with other people appeals to you, construction is all about collaboration and the relationship and bonds that go along with it. Construction projects involve many people working together toward a common goal, and their ability to do so makes or breaks the final result.
Writing in New Civil Engineer, Antony Oliver argues, "Overall excellence [in construction] depends on the whole project team pulling together to pool expertise and get the job done as efficiently as possible." For many construction workers, this is a uniquely fulfilling aspect of the job.
5. There is big potential for travel.
All over the world at any given moment, a new structure is going up -- but not without skilled workers. So if you want to travel, you can work anywhere!
"Depending on a company's size and market reach, a single construction company could have opportunities for traveling construction workers to work on projects in Texas, Hawaii, New York, and even the Middle East. While construction schedules are grueling and involve hard work and long hours, working a traveling position exposes workers to new cities and towns throughout the world, and no one works 24 hours a day," says Construction Jobs.
Traveling also amplifies your potential impact beyond a single market and to a variety of cities and communities.
6. You will never be bored.
Sitting at a desk between the hours of nine and five every day can be tedious. Not so for construction jobs! "No two days are the same in the construction sector, you may have already heard that before and that's because it is true. Whilst on-site, the job constantly changes as work progresses, meaning that you will need to adapt quickly to the tasks required. There are constant updates to the industry, whether it's new legislation or the latest consumer trends, working in construction definitely keeps you on your toes," says builders' merchant JT Atkinson.
7. It is intellectually stimulating
There is a pernicious stereotype about construction jobs that they are all simple, laborious, and do little to engage the mind. It is not true. Constructing buildings and landscapes for people to live, work and play in is a fascinating challenge with a lot of scope for creativity and innovation, and there are various academic courses which can help you land a job in the industry, for example civil engineering, construction engineering, and architecture.

The construction industry is actively on the lookout for fresh talent, and is more than willing to make it worth your while. If you like to work with your hands, and if the rest of these benefits appeal to you, a career in construction offers life-changing potential.

Joanna worked in higher education administration for many years at a leading research institution before becoming a full-time freelance writer. She lives in the beautiful White Mountains region of New Hampshire with her family.
Find a program in these categories