Rural Students and Higher Ed: Bridging the Gap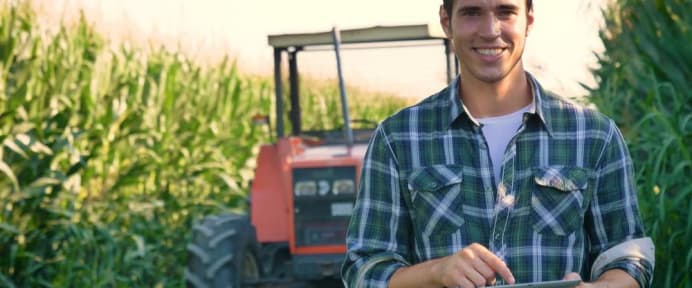 Students from the US's rural communities are less likely than their city and suburban peers to attend college, according to data from the National Student Clearinghouse Research Center. In fact, fewer than 60 percent of rural high school grads of all races and across all income levels enroll in college the following fall. Meanwhile, of the 52 percent of students between the ages of 18 and 24 currently enrolled in higher education, just 29 percent come from rural areas, according to the National Center for Education Statistics. Not only that, but even if they do make it to college, rural students are less likely to graduate.
It's statistics like these which prompted The Atlantic to declare the existence of a "rural higher-education crisis" and Capture Higher Ed to proclaim rural students to be "higher ed's newest underrepresented minority." The good news? Now that the problem is on the collective radar, several strategies can help reverse the trend. Read on for a roundup of six ways to help more students from Middle America succeed when it comes to college attainment.
1. Create more rural higher education centers.
While young people in urban areas may have plenty of higher education options within a five-mile radius, the same cannot be said of those in rural areas -- many of whom live far away from the nearest college or university. Factor in lack of broadband internet access, and the result is "higher education deserts."
Enter higher education centers. Also called virtual colleges, they "provide physical infrastructure for colleges to offer online and in-person instruction in places where no brick-and-mortar institutions exist. In some areas, they also offer occupational training in line with the needs of local businesses and act as pop-up satellite campuses, community colleges and training agencies rolled into one," writes Anne Kim.
Already going strong in several states, this "leaner, cheaper approach" creates an oasis for knowledge-thirsty students and communities.
2. Improve internet access to rural communities.
In identifying lack of access to the internet as the leading consideration for policy makers, the Internet Society declares, "Access to the internet, with sufficient bandwidth, is essential for the development of an information society. Lack of broadband connectivity is preventing widespread use of internet in education and other areas of life in many countries. [...] This is not just a matter of connectivity. For access to be meaningful, it must also be affordable for schools and individuals, and teachers and students must acquire digital literacy and other skills required to make best use of it."
Last month, Agile Networks and Microsoft announced an agreement which will bring high-speed internet access to more than 100,000 people in Ohio's rural communities. Kyle Quillen, Agile Networks Founder and CEO, said, "People across the state, no matter where they choose to live, work and send their children to school, should have the same access to strong, reliable broadband service...We're excited to partner with Microsoft as part of this national initiative to ensure everyone has access to the information they need, when they need it."
More initiatives like this one will vastly improve quality of life in these communities, not least in terms of higher education attainment.
3. Educate students (and counselors) about college options.
According to Allianz Global Assistance, the majority of rural college students -- and their parents -- do not believe college is worth the cost. At the same time, many guidance counselors in rural areas steer students primarily toward community college and vocational training. Helping all parties understand not only the value of a college degree, but also that other options, such as private schools in distant locations, may be within reach, after all.
Colleges and universities can also play an important role here by letting students in rural areas know they are wanted. Sending them informational material, putting them in touch with virtual college advisors, sharing college prep tools, encouraging students to visit, and embracing financial aid programs for students from certain geographic areas can all help open the door to rural students.
4. Fight the "rural brain drain."
In an Education Week piece on how education is failing rural America, Catharine Biddle and Daniella Hall write, "Instead of providing a pathway for youths to go out of their communities and potentially return with a knowledge base of new experiences, rural public schools have simply become engines of exodus, educating students for labor markets and communities located elsewhere. Educated young people, for the most part, leave rural places and, even if they want to, cannot return. The phenomenon is so common that it has a name: rural brain drain." It also means that young people in these communities do not see the success stories college degrees support.
Some tactics which experts claim can help fix the problem are incentives, such as free land programs, tuition relief for graduate school, and student loan forgiveness for grads willing to commit to returning home for a designated period of time after completing their degrees.
5. Make the concept of college more comfortable.
The EvoLLLution recently highlighted the fact that rural students don't know "how to go to college" as a major challenge to facilitating rural student college success. Exposing them to college early can help it seem less daunting.
"Institutions must get students on campus and exposed to higher education early, especially by middle school, before all of the distractions of driving and hormones begin. Camps, ball games and other sports activities, band and music events and a variety of clubs provide a point of entry for exposure. Partnering with K-12 school systems to reach out to students early and often in the schools can also help demystify the process," says university chancellor Susan Elkins.
6. Remove financial -- and other -- barriers.
Rural students also suffer from a shortfall of resources -- financial and otherwise. Institutions can help here, too.
"Institutions can assist students as they navigate the financial aid process and educate them to avoid the huge burden of debt. Institutions can also offer peer mentors and interactions with faculty and staff to assist in navigating the maze as well as opportunities such as service learning and other extracurricular activities. Colleges can also make a point to reward students for their involvement in social and cultural activities as well as their academic successes," continues Elkins.
So, while there are indeed obstacles to college attainment for rural students, there are also opportunities. The first step in taking advantage of them? Accepting that rural students are very much wanted on college campuses. But you do not have to take our word for it. Take it from college admissions director Scott McDonald, who recently told the New York Times, "In terms of diversity, geography is just as important as racial and ethnic."

Joanna worked in higher education administration for many years at a leading research institution before becoming a full-time freelance writer. She lives in the beautiful White Mountains region of New Hampshire with her family.