Life as a Sports Scholarships Student in the USA - Christoffer Greve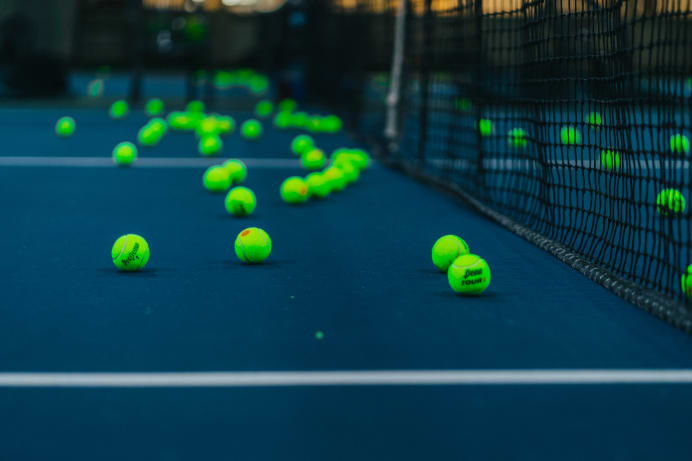 Welcome, Christoffer. We're excited to hear your story!
Thank you for having me!
What was it like growing up playing tennis in Norway? After all, tennis isn't that popular in Norway.
Historically, we have been a small tennis nation. There are far more players and competitions in other countries. There weren't many professionals when I was growing up But the sport is starting to grow here, especially with the emergence of players like Casper Ruud.
Is that why so many junior players from around the world head to the US? Do they see it as a chance to turn professional?
Yes. Only the top 150 players can make a living from playing tennis. So when a lot of players get to 16, 17, 18, they realize how tough it's going to be. If they don't have the financial support to try and go pro, college sport in the US is a great plan B.
Tennis is an individual sport, but you play more like a team at college tournaments in the US. How did you find that experience?
Tennis takes up a lot of time. You're usually traveling all over the world and spending much of your time alone. With college tennis, you get to be part of a team.
Where did all your teammates come from?
We had guys from everywhere. There were two guys from South America, one from India, South Africans, Americans, and Europeans. We all had our own routines and cultures, but my coach did an excellent job. He was good at understanding the different players, how we interacted, and what we all needed. He turned a group of individuals into a unified team. I enjoyed that a lot.
How did you find the recruitment process?
The first thing that stuck out was the amount of paperwork! I appreciated all the help College Scholarships USA gave me with it. I was pleasantly surprised by how professional the process was and how many people from the actual school were involved. I got to talk to the coach, who explained the set-up. That's when I realized that playing at Illinois would be a pretty big deal.
You chose Illinois State University, but bigger schools, like Washington and Penn State, were interested in recruiting you. Why was Illinois a better fit?
It's flattering when big schools are looking at you. But I wanted to play matches. Schools like Penn State can have ten top former international juniors, but only six are playing in competitive games. It would have been nice to play for a big-name school. But at Illinois, I could get into the starting line-up and become a better player.
Illinois isn't the most 'glamorous' location when people think about college sports. Was that something that concerned you at all?
You're right. Most people want to go to the East or West Coast. But I was pretty open-minded, and Illinois was awesome. It gave me an authentic college experience. There was a genuine college town feel and sense of community. I don't think you get that in the major cities.
What were your first impressions after arriving on campus?
I remember feeling excited. The first place I saw was my dorm, where I'd be living for the following year. Everybody was an athlete in my dorm, so the atmosphere was welcoming. I was surrounded by like-minded people who liked to work out and do well in school. I felt included from day one.
Tennis players tend to train longer than other college athletes. How do you find balancing training with your academic commitments?
It was fast-paced. We had morning workouts followed by classes. Then we'd be playing tennis from 2.00 pm to 5.00 pm pretty much every day. Thankfully, we received plenty of support academically. As student-athletes, we had our own academic center with advisers and tutors. I wouldn't have gotten that support anywhere else. They make a schedule that suits you. So even when it's super busy, it still feels manageable and fun.
What does the college tennis season look like?
This is where tennis at college is so cool. Many college sports are only one semester; you're either playing in Spring or Fall. But we played between 6-8 tournaments in the Fall. Then in the Spring, we played as a team in conference competitions. That's when things start getting serious. You play almost every week from January to May.
What are some of your fondest sporting memories?
I liked going to the big schools, like Oklahoma State. They were in the top 25 in the country. And going to away games to play your rivals is always fun. There are always good battles. I loved playing the top guys from the best tennis schools. It's a chance to see where you are as a player. And if you do well enough, these big schools will start looking at you. I saw guys make it to the pros in this way.
How did college tennis improve you as a player?
Playing in competitive matches every weekend toughens you up. It got me match-fit and comfortable performing under pressure. I also developed a lot more mental strength. We were always encouraged to play aggressively, not be passive, and win and lose on our own terms. That made me become a much better player.
You were a success on the court and in the classroom. How did you do it?
I had to remain focused and adapt to a busy schedule. Finding a major I enjoyed was a big help. I knew pretty quickly that I wanted to major in finance. That made it easier to stay motivated. I also scheduled my week every Sunday, so I knew what I had to do every day. Then I followed that plan.
How much time did you spend studying and preparing for lectures?
It's hard to say the exact hours. But it felt like I was using almost every second in between and after practices for studying. Some of my classes were very tough, and I was busy traveling and playing on weekends.
What about the social aspect? Did you find time to have fun?
For sure! That was a very important part of it, and it's why I enjoyed my college time so much. We had a great group of guys on the tennis team. We hung out a lot off the court. If we'd been training extra hard, the coach would give us Friday afternoon off and say, "go have a good time!"
You moved back to Norway to do a master's in business after graduating from Illinois. How did your undergrad degree prepare you for postgraduate study?
They're very different systems. There are more exams here and more independent study. But everything I learned about finance at Illinois put me in a strong position. So I adapted pretty quickly.
You landed your first professional job shortly after finishing business school. How are you finding adult life?
After 13 years of continuous education, it's great. I've been in my current role for over a year now. I feel like my time in the US gave me a solid foundation to transition into the real world.
And are you still playing tennis?
I still enjoy playing a little bit every week, and I play in tournaments when possible. It's been tough during the last year because of COVID, but hopefully I can get going again soon.
Your journey is impressive. What advice do you have for anyone thinking about following in your footsteps?
Do the research before you go, and figure out your level. Then just go for it. College sport is a great experience and such a cool thing to be part of. Plus, it sets you up for life.
It's been a pleasure talking to you, Christoffer. I think your story will inspire lots of young tennis players out there.
Thank you for having me on, and thank you for getting me over there. It's been a real privilege.
Find your perfect program
Use our search to find and compare programs from universities all over the world!
USA

After graduating with a degree in English literature and creative writing, Ashley worked as a bartender, insurance broker, and teacher. He became a full-time freelance writer in 2016. He lives and writes in Manchester, England.
Find a program in these categories