Life as a Sports Scholarship Student in the USA - Charlotte Crisp
You've been on an interesting journey. You started your college adventure at Pearl River Community College in Mississippi and then went to the University of Montevallo. How did it all start?
I knew I wanted to play football, but I didn't necessarily want to go to university. But then I watched Bend it Like Beckham, and I was like, 'that's what I'm going to do!' I said to myself, "I want to meet David Beckham at an airport and play football in America."
Wow, I've never heard that motivation before. But it makes sense. You made it to America but have you ever met David Beckham?
Only at a book signing in London. I tried to play it cool...but I didn't.
You had a choice of a few schools, and you flew over to the States to check them out. How was that experience?
I flew over with my family and visited two schools in the same week. I was super tired when I arrived at Pearl River. Still, it felt so natural to be there. The girls and the session with Coach Bird were great. It sounds cliche, but it just felt right. I didn't get the same vibe at the second school.
Not many international students get a chance to go on a campus tour. Do you think it's valuable to see a campus with your own eyes before committing?
Yeah, massively. You know that feeling when you walk in somewhere and it just feels good? Well, I'm a massive believer in that. It's why I went with College Scholarships over the other agencies. I think seeing the campus helped my parents, too. They were sending their 18-year-old daughter off to college on another continent. That's a massive thing. So we were all very fortunate to visit the school.
Pearl River is a junior college where you do your first two years before moving on to somewhere else to complete your bachelors. Was that part of your decision process when choosing a college?
I'm sure it was. It fits with the rest of my life. I'm good at being in one place for a short time, then going off in search of another challenge. So it worked out perfectly for me. Although near the end, I did wish it was a four-year course. But only because I was having so much fun, both on and off the field.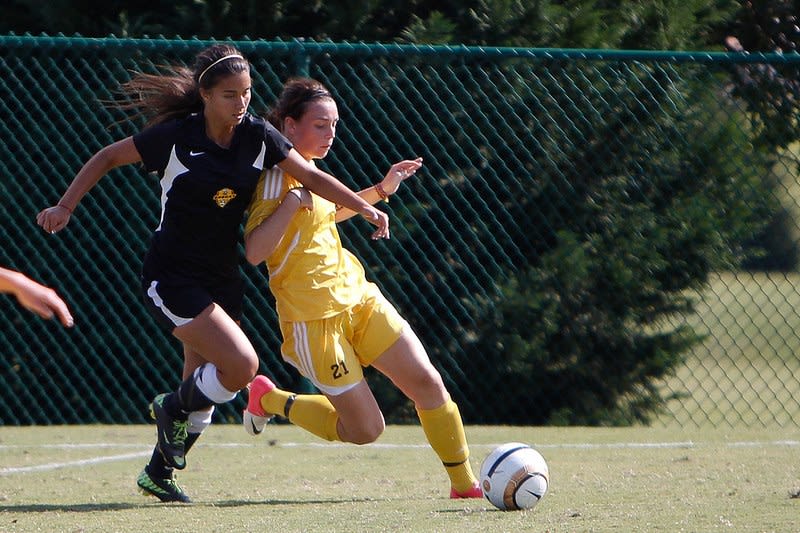 What else made your time at Pearl River so special?
Being amongst people that shared the same passion and interest and who wanted to train. I'd grown up without many females playing football around me So being in an environment where everyone loved football was amazing. And I loved the professional lifestyle of being a college athlete.
So tell us a bit more about your footballing background. What level did you play at home?
I played for a team called Wimbledon growing up. It was a good level. We won a few leagues. I'd call myself a good player who works hard, rather than a natural talent. And my parents hired a PT [personal trainer], so I had lots of football-specific training.
What was it like transitioning from playing in England to playing at college level in the USA?
It's like going from a standing start to 100mph in a few seconds. It's so intense: the training sessions, the summer heat, the weight lifting, zero alcohol, and you have to perform in the classroom. If you don't get the grades, you don't play. You're going to be in the study hall instead. You have to put the work in, hustle and grind. It's tough, but people will notice. And you'll get rewarded. I became an all-state player in my second year -- not because I was the best or most technically gifted player, but because I worked hard and always showed my passion.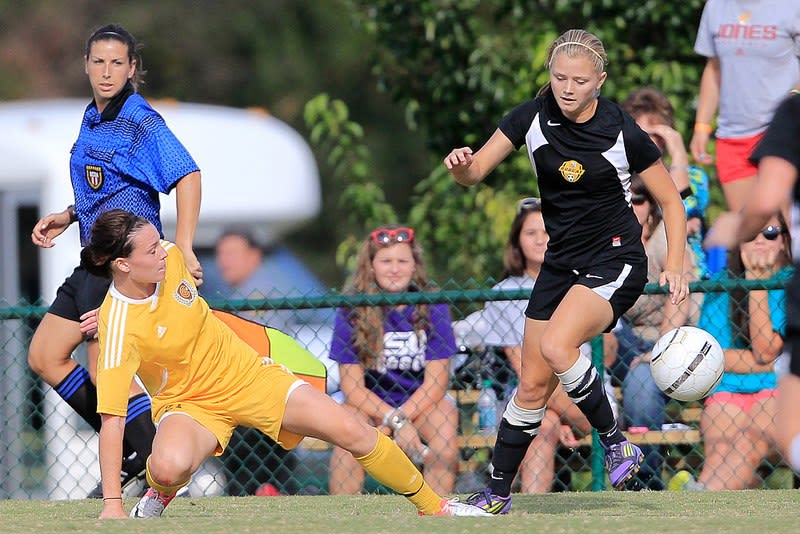 Mississippi is a long way from England. Did you experience any culture shocks?
Definitely, but they were good shocks. Things are different at universities in England, especially during your first year. You go out, get drunk, and just turn up to lectures. You can't do that as a college athlete in the US. You're always held accountable. And everybody is super competitive. They want to be the best player and get the best grades. I loved this side of it. It brought out an edge in me which I felt I'd lost back in England.
And how did you find the academic side of things?
I liked the fact you could change your degree. I ended up doing kinesiology. It was the closest thing I could find to sports science. I have no doubt it helped me get the job I have today. So no regrets!
So your time at Pearl River came to an end, then you got another scholarship to complete a bachelor's degree at The University Of Montevallo in Alabama. What challenges did changing schools bring?
You have to prove yourself all over again. You're treated like a freshman again. Then my fitness levels dropped badly while I was there. It hit my confidence badly, and I had to stop playing. A year went by, then I had a blood test back in London and found out I was severely anemic. I took some time out to recover. Then came back in my second year and bossed the pre-season. I went on to become captain of the team.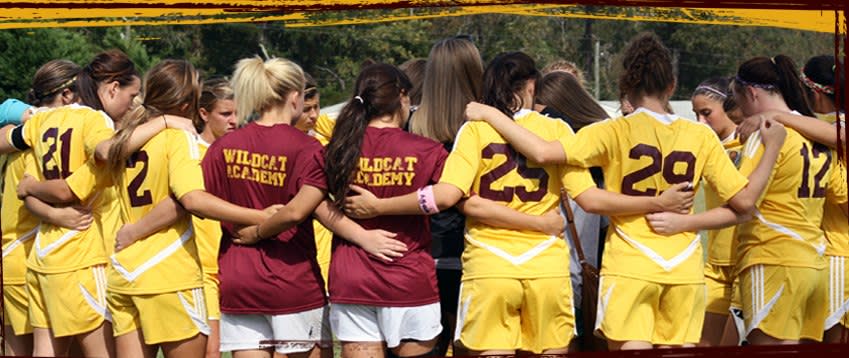 What did it feel like when you finally got your degree? Was it a big moment for you?
I was relieved and proud. I had a degree. I'd left college as the captain of a sports team. It made all the hard work and tough times worth it.
Tell us about your life now. You work as a PT at London's top gym, Equinox, and you're creating your own training platform. Is that right?
Yes. Equinox has been fantastic. I've been there for a few years now. And with all my experience, I want to create a high-quality training platform that's affordable for everyone.
Was this always part of your plan?
I was a football coach as a teenager and always thought I'd do PT'ing on the side. But after my degree and my personal health problems, I realized being a PT is about more than just training. It's about mental strength, healthy habit building, your whole lifestyle and outlook.. As soon as I took the course, I knew I wanted to be a PT full-time. I love it. It doesn't feel like a job.
So do you use what you learned about kinesiology at college in your job?
Definitely. The degree helped me understand how the body works. And I'm learning more all the time. There's so much outstanding research happening now, especially around women's sport. I'm interested in women's nutrition and training around their menstrual cycles. I'm focusing on that now.
Looking back, what advice would you give to your 18-year-old self or anyone else thinking about studying on a sports scholarship in the States?
It won't be easy. Go with an agency and use all the support they offer. Be confident, remind yourself when you choose this life, and work hard. Get help if you need it. And, most importantly, enjoy it and embrace it. You've got a great opportunity, so take it.
That's excellent advice. I think your story will inspire lots of people. Thanks for taking the time out to speak with us today.
Thank you for having me. It's been fun!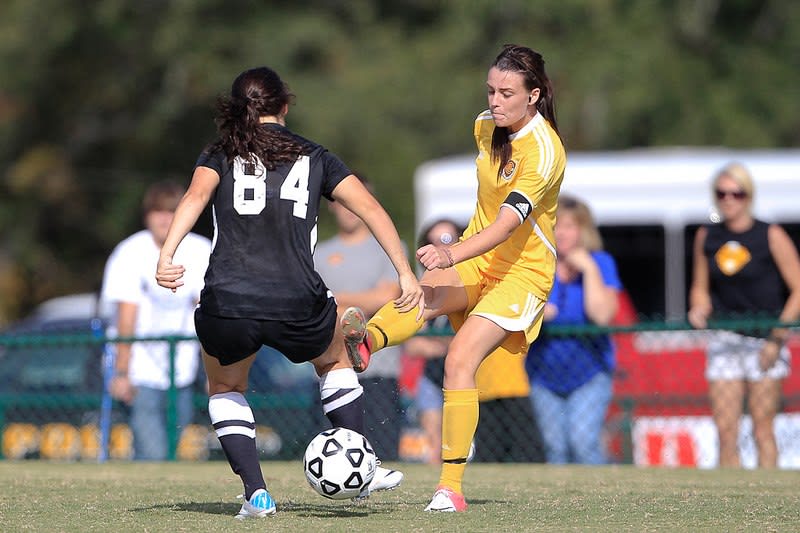 Find your perfect program
Use our search to find and compare programs from universities all over the world!
USA

After graduating with a degree in English literature and creative writing, Ashley worked as a bartender, insurance broker, and teacher. He became a full-time freelance writer in 2016. He lives and writes in Manchester, England.
Find a program in these categories