How You Can Save Money on Textbooks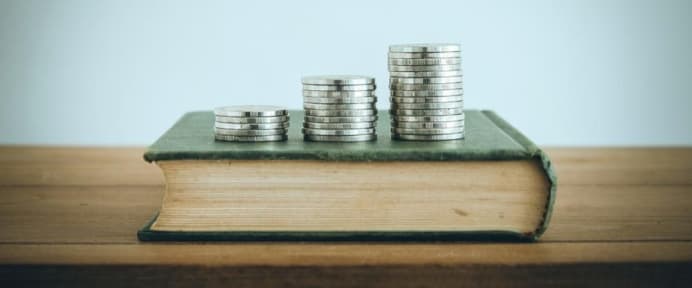 Welcome to the start of a new semester! With every new start comes a set of new expenses: housing, clothes, tuition, fees, supplies, and of course, textbooks. Looking for a way to save some money?
From online sellers, scholarship money, and libraries, there is a plethora of creative ways you can save money while getting the books and resources you need.
Let's take a look at seven strategies you can try.
1. Avoid the bookstore as much as possible
Ironically, you should probably avoid the bookstore if you are looking to save money. If the bookstore is local and you want to support it, go for it, but know that you will be probably be spending more money than you would otherwise.
Why is the bookstore more expensive? Markup, marketing, and transportation. You pay for all of it. The one exception? Professors who sell course packets through the bookstore do so through an agreement with the university and the bookstore. Chances are the bookstore is the only place you will be able to buy those anyway.
Buy used books online
Buying used books online is one of your safer bets to save a few dollars, but here too, you need to be careful. Do some online shopping comparisons and see what you find. When you find a title you need, make sure you look at all the purchase options, including used. In addition to price, check for the book's condition. Most online booksellers will tell you if the book has writing or highlighter marks in it or a cracked spine.
Rent books
If you do not plan on keeping your textbooks after the semester, renting may be a great option for you. Just be sure to check shipping costs -- sometimes it's not worth it. Another catch? Late fees. You need to return the book on its due date or face steep fines that may negate your savings.
Where can you rent books? Many of the same places that sell them. Click on the "rent" tab, or read all the options when you find the textbook you need.
Quick word of caution: if your textbook is a new edition, you might not be able to find it. Don't rent an older edition -- rent the one that you need. If you can, find out the textbook's ISBN number. Make sure the numbers match on the website.
Purchase eBooks
If you like reading on a screen or e-reader, you may want to consider purchasing the eBook version of your textbook unless your professor advises against it.
Benefits? No shipping, no printing, and it is environmentally friendly. Make sure you check the terms and conditions for your eBook, though. There may be printing limitations, expiration dates, and other restrictions.
Check the school's library
The key here is getting the books when you need them. If you are taking courses with books that have a lot of contemporary fiction and non-fiction, with some planning, you may be able to secure what you need from your university's library.
Sell back when possible
This choice offers great economy if you have the cash upfront to buy your books. While you will not get back the cost you paid, at the end of the semester, you will have the choice of keeping those books that you may want for the future, and selling back the ones that you no longer need. You will wind up paying less than the cost of renting in them.
Do your research on this one. Online retailers do book buybacks as do physical ones. Your timing matters, too. You may earn more back on your investment if you sell back right before another semester begins.
Also, check shipping fees!
Apply for a scholarship
Yes! There are scholarships for textbooks! Barnes and Noble, the bookstore giant, offers scholarships which pay for your textbooks, especially on campuses that contract them to run their bookstores. They are not the only ones, though.
Check out some of those online retailers, too. They offer scholarship money and some offer to pay your university directly.
Learn more about earning your bachelor's degree.
Find a program in these categories