How You Can Make The Most of Your Time As An International Student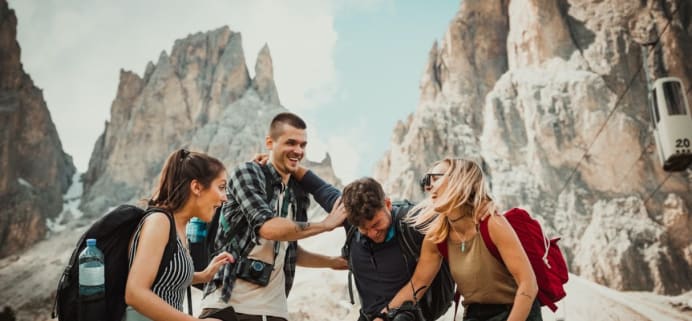 Many students around the world dream of studying abroad. Pursuing a degree in a foreign country doesn't only give students the possibility to reach some of the best universities in the world -- it also gives them the experience of living in a different country, learning a different culture, and being part of a diverse community of international students. If studying in another country is your goal, here are the best tips on how to make the most of your experience abroad…
Start planning early
Studying abroad takes an extensive amount of planning, but you can rest assured: it's worth it. The earlier you can start the planning process, the better. You will have to research programs, contact universities and program departments, shortlist your best options -- and that's just what you need before you start preparing the actual application.
When you decide to invest in a degree abroad, one of the most valuable things you can have is time, so start planning at least two or three semesters before your intended enrollment date. This way, you can rest easy knowing you will have plenty of time to plan every step carefully and not have to rush into anything at the last minute.
Research as much as you can
There is no such thing as too much information when you decide to study abroad. To have a successful and stress-free experience, you need to stay on top of program requirements, documentation, deadlines, budgeting, immigration policies, and many other worries that come with the life of an international student. Once you've shortlisted your favorite programs, read as much as you can on the university website and contact the university staff if you still have any questions regarding the program, application process, housing, or any other important detail.
Another great way to find out more about the program you're interested in is to find alumni on LinkedIn and contact them to ask about the classes, faculty, and general campus life. Getting a student's perspective can ultimately help you make a fully informed decision.
Check for financial aid
Studying in another country is expensive. There are many costs associated with studying abroad. For example, tuition fees (sometimes higher for international students), application fees, documentation and translation, visas, passports, plane tickets. Once you've landed in your new temporary home country, you will need to cover living expenses such as rent, utilities, food, clothes, health insurance, and other university-related costs.
Luckily, many universities offer generous funding packages to their incoming students, and visiting the financial aid page on their website should be one of your first steps during your research. Don't hesitate to contact your program's department to ask about program-specific funding options -- they can answer all of your questions about the possibilities for you. Also look into governmental and private scholarships - many countries and corporations provide great financial incentives for incoming international students, and there are several scholarships you can apply for if you're eligible.
Embrace challenges
Studying abroad is no easy feat, but it is highly enriching. Pursuing higher education is already challenging, and doing it in a different country -- with a different culture, different language, and away from your home -- brings on an array of extra challenges. But once you overcome every hardship that comes your way, you will come out on the other side a different person. You will grow and learn things about yourself and the world around you. Embrace the challenges and enjoy the lessons studying abroad provides you!
Document everything!
Once you get back home, every little record of your experience abroad will have tremendous value. From the moment you arrive in your new country, document everything: take pictures of your new home, take photos on nights out with your friends, register every moment that feels meaningful. Doing little vlog-style videos is also a great way to document the day-to-day of your experience, and you can save them on your phone or share them with your friends and family back home -- they will love to get a glimpse of your life abroad. You can also start a blog or write a personal journal to keep track of your thoughts and feelings during this exciting and challenging new life.
Plan for your future
During your stay, your university will likely host various events geared towards student professional development, and you should try to participate in as many as you can. By attending career fairs, symposiums, conferences, and other events, you will have the chance to connect with other students in your area, researchers, faculty, and even company recruiters and field experts. These connections can lead to valuable opportunities to start your professional life or develop your research with professors interested in your work. Nurture these relationships and allow them to help you move forward with your career.
Enjoy the top education
Once you decide to study abroad, your options become endless. You open yourself to the possibility of studying in some of the very best universities in the world. Stay up-to-date with university rankings such as the QS Rankings and the Times Higher Education to find out which are the best institutes in your area. But remember -- an institution's position on a global ranking isn't the ultimate factor that will dictate the quality of your education. You can apply to smaller universities and still have excellent faculty guiding you. In the end, what matters the most is how well the program fits with your goals and how dedicated you will be to your studies.
Learn new languages
One of the best benefits of studying abroad is becoming fluent in a new language. Being multilingual isn't just a way to make friends from different countries and have an easier time when you travel abroad -- they are also valuable tools on your resume. Being fluent in more than one language can give you the necessary edge when applying to a new job or help you get a promotion on your current one. Many universities offer students various language courses on campus, and they are a great way to learn quickly and meet new international friends who can practice with you.
Travel around the world
When you're studying abroad, you will get the chance of your life to get to know the beautiful places that surround you. While your coursework should always remain your top priority, you can still take advantage of long weekends and summer breaks to travel around and be a tourist! For example, if you're studying in Europe, you can easily take a train and spend a weekend in a neighboring country. Look into your region to know what the best destinations are and plan short trips with your friends! But don't forget to budget accordingly and finish up any upcoming class assignments - you don't want to be on a fun trip thinking about any unfinished papers.
Enjoy the diverse campus
In 2019, the world saw six million students enrolled in an institution outside of their country of origin. The number one destination was the United States, with just over 970.000 incoming international students. In Melbourne, Australia, 40% of the city's population is made up of international students. This means that when you study abroad, you will find a lively and diverse community of students just like you. Take advantage of university events, extracurricular activities, and student clubs to meet new people and become part of this welcoming community.
Have fun!
While you're abroad, focusing on your studies should always be your top priority. But that doesn't mean you can't enjoy yourself! You will have countless opportunities to make new friends and share new experiences. It's a time of your life you will likely savor and miss deeply, so make a point to enjoy your time abroad as much as you can.
Your time abroad will be full of valuable lessons - both inside and outside of your university. You will learn to see the world around you in a different light. "Studying abroad gives you the opportunity to really understand people from different cultural backgrounds and when you make friends, you learn to embrace people's perfections alongside their flaws," says Suci, an Indonesian student who studied in Sweden. Studying abroad is always a unique experience, so enjoy everything to the fullest!
Find your perfect program
Use our search to find and compare programs from universities all over the world!
Bachelorstudies

Thaís graduated with a degree in Language and Literature and is now pursuing her master's while working as an English teacher and freelance writer. She lives in an inland city in São Paulo, Brazil, and enjoys binge-watching TV, game nights with her friends, and learning how to play any musical instrument within reach
Find a program in these categories