How to Choose the Right Degree For Your Future Career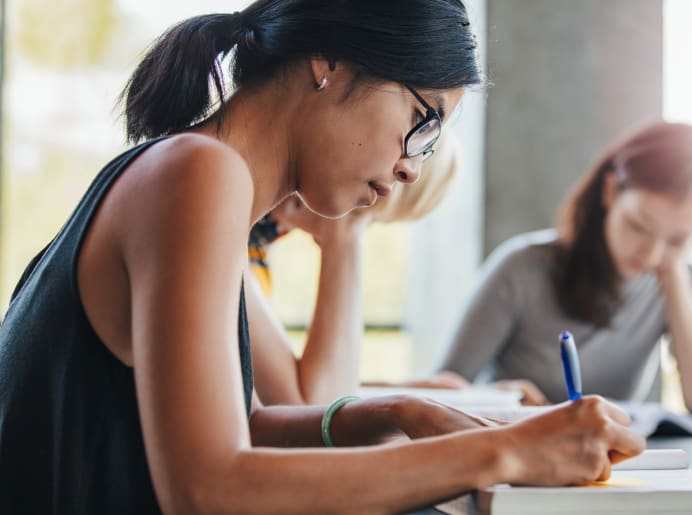 Here's what you need to consider when choosing a degree - and one innovative university, Unicaf, that is embracing the future of higher education learning to help anybody reach their full potential.
How to choose the right degree
Choosing the right program is the first step towards succeeding at college. After all, three to four years is a long time to study something you don't like or care about. So how do you make the right choice? It helps if you've got a long-term career plan. For aspiring lawyers, CEOs, and doctors, choosing an appropriate degree is usually straightforward.
If you haven't decided what path to follow, think about what subjects you're good at, what ideas interest you, and your personal values. If you're a tech person, you'll probably enjoy studying AI, computer science, robotics, or cybersecurity. And if you're passionate about the environment, then a science field or environmental sciences could be for you. Also, many schools now offer degrees in sustainability.
Practical questions
Education should be fun and inspiring. But there are some practical matters to consider, especially when you're paying thousands of dollars in tuition fees. You need to consider long-term returns on your investment. For example, you might have a keen interest in a specific period of history or literature. But majoring in 1940s Appalachian prose writing could limit your future career opportunities. So think about studying something broader instead, like the history of US fiction or English Literature. Other issues to consider are your likely enjoyment of the program, employability, and earning prospects.
Future-proof careers
The global post-Covid recovery will be driven by technical innovation, digital services, sustainable business practice, and new digital currencies, leading to millions of new jobs. There's currently a massive shortage of young people with tech qualifications in all the world's major economies. In total, 70% of the tech industry has reported severe experience and skills shortages. Countries such as the UK and Canada are offering financial incentives and fast-track visa applications to attract the best talent. They need people who can write code, design software, and interpret and manipulate vast amounts of digital data. Moves such as this and the huge boom in new technologies and tech jobs means graduates with the right skills should have little trouble finding well-paid and stimulating roles.
Recession-proof industries
While no job or industry is 100% safe, some jobs are definitely more recession-proof than others. No matter the economic situation, the world will always need lawyers to navigate complex legal issues. The same goes for professionals working in education, social care, human resources, federal or local government, and public safety roles, such as police officers and firefighters.
Due to aging populations in post-industrial nations, frontline nursing is up there with data sciences as one of the most in-demand and recession-proof professions of the next few decades. And when businesses begin to struggle during economic downturns, it's up to the marketing experts and businesspeople to develop new models for success.
Going online
Professor John Domingue believes the "online genie" is out of the bottle, and it won't be going back in again. And the future of distance learning will be about much more than Zoom calls or pre-recorded lectures. Live-streamed classes and interactive lectures are already happening at some of the best schools in the UK, while personal AI assistants and career coaches will soon be coming up with individual learning plans for students.
But the most significant part of online learning and blended university courses is accessibility. A flexible approach to when and how people 'attend' university means more people can study, learn, and gain the qualifications to create better lives.
UNICAF
Launched in 2012, Unicaf is a forward-thinking online and blended learning platform providing a world-class education to young people and professionals.
Unicaf University, Unicaf's partner university, is accredited by the British Accreditation Council in the UK (BAC) and has campuses in 13 African countries, including Malawi, Zimbabwe, Uganda, and Zambia.
Unicaf in partnership with multiple UK and US universities offers recognised degrees designed to help you launch or develop a career in today's fastest-growing sectors and other well-paid and highly respected professions, including business, healthcare, computing, education, and law.
Online programs are delivered through Unicaf's state-of-the-art Virtual Learning Environment (VLE), which is available on all electronic devices down to mobile phones. It provides 24/7 access to study materials and an extensive e-library. The VLE also connects students with tutors and fellow students from 156 countries across the world.
The school's innovative programs include the postgraduate LL.M law degree, which allows people to study and practice law simultaneously. This online degree means you can get the qualifications to take your career to the next level from anywhere in the world. As well as flexible study options, the Master of Laws degree offered through Unicaf lets you pay the tuition fees in monthly installments, so you don't have to save up a considerable amount of money before applying. A Master of Laws opens up career progression opportunities in international and commercial law, IP and technology law, human rights, and socio-economic and ecological policymaking.
Unicaf also offers a Nursing degree in partnership with leading UK university Liverpool John Moores University. Particularly vital amid COVID, students on the program engage in the academic study of nursing, examining key issues in nursing in society, locally, nationally, and globally. Students become rigorous, independent, self-motivated, critical, and analytical in considering the interaction between nursing and healthcare, policy, and societal factors. And they gain vital skills in research, data selection, organisation, evaluation, and analysis, so they are thoroughly prepared for their desired career.
There are also many other excellent UK degrees in business and computing available to students worldwide thanks to Unicaf's partnership with the University of East London. The MBA, for example, gives students an academic underpinning in the core areas of business and management, to help them become the business leaders of tomorrow. And the MSc in Computer Science helps students design and develop large-scale, software systems by developing their knowledge and research skills in IT, computer vision and data analytics. Also, it addresses the legal, social, ethical and professional ramifications of emerging issues in computer science. Program graduates are ready for senior careers in the IT industry.
Since its inception, Unicaf has provided over $100 million worth of scholarships that have enabled thousands of students to transform their lives and careers. They include Kennedy Mwashi. Thanks to a generous Unicaf scholarship, Kennedy was able to study for an MBA while working in a local bank. Kennedy then used his MBA to climb the career ladder to a branch manager role.
Nwamaka Onwubuya is another one of Unicaf's success stories. The recent MBA graduate said, "I always wanted to study at a top university, and I needed the financial support. Unicaf provided that. Unicaf has been my doorway to better opportunities in the future."
Online learning is removing the barriers between young professionals and their career ambitions. So wherever you want to go next, Unicaf will help you get there!
Article written in association with Unicaf.

After graduating with a degree in English literature and creative writing, Ashley worked as a bartender, insurance broker, and teacher. He became a full-time freelance writer in 2016. He lives and writes in Manchester, England.
Find a program in these categories