How Studying Sports Can Help Save the World
Apr 5, 2018
Student Tips

International News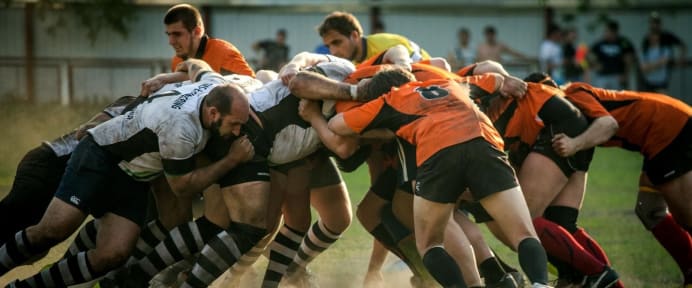 Happy International Day of Sport for Development and Peace!
The UN declared today, April 6, a day to celebrate sports as a vehicle towards peace.
What do sports have to do with peace?
The key concepts? Unity and leadership.
According to the UN, sports are a universal language that promotes "teamwork, fairness, discipline, and respect for the rules of the game…." When you think about the world, you need those elements for success and peace.
Sports have a role in social progress. Let's take a closer look at how studying—and playing—sports can help save the world.
1. Sports are a universal language
Participating, watching, and learning about sports gives millions of people around the world joy — and a way to connect with others and make new friends.
From clubs to teams, groups to pick-up games, sports are accessible for anybody who's interested.
You can just enjoy sports together, and communicate with them.
Your origin, gender, background, religious beliefs, economic status, disability, or extreme ability don't matter when it comes to sports. You can play. You can watch. You can enjoy. You can take comfort in human company.
2. Sports improve social issues
In 2000, Nelson Mandela said, "Sport has the power to change the world. It has the power to inspire. It has the power to unite people in a way that little else does. It speaks to youth in a language they understand. Sport can create hope where once there was only despair."
In late 2017, Lebanon's rugby team, ranked 18th in the world, beat France, ranked six in the world.
In another stunner, Pakistan topped up its international cricket status with a win against Sri Lanka. The win marked a step towards peace with Sri Lanka after the Sri Lankan team was attacked on a bus in Lahore in 2009.
In Saudi Arabia, three sports facilities in Riyadh, Jeddah, and Dammam will "accommodate families" in 2018. Until now, the stadiums were male-only options.
These sporting events show how sports can open discourse—and heal wounds—in a way that politics and legislation can't.
Why?
Sports give us a sense of humanity in a way that politics doesn't.
3. Sports can be a big part of sustainable development
Sports for Development and Peace (SDP) is not a new concept. It's not only about using sports as a way to unite people.
It's about harnessing the power of a multi-billion dollar global industry to support sustainable development.
From public health initiatives to raising awareness of universal rights, donors and corporate sponsors can lend credibility to sustainable development in a way that few others can.
4. Sports unite people
We know that sports unite people. Why not unite to achieve social good?
What other event allows you to connect with complete strangers—in joy or defeat—in solidarity with a team?
Sports unite people across racial, economic, religious, ethnic, geographic, political, gender-based, age-based, lines.
Sports foster connections among people with whom you may have otherwise never interacted.
5. What can you do as a sports student?
Are you studying sports? An athlete? An observer? A fan?
Here's what you need to do to ensure that sports continue to shape the world for good:
Volunteer for a local team as an instructor. Teaching kids and adults of any age the value of sports to their daily lives—and encouraging health and well-being—will be good for you, too.
Join a sports team. If team sports aren't your thing, find a sport you love like running or skiing or hiking and do it as much as you can. Hike with friends. Run with a buddy.
Even better? Learn a new sport. Put yourself a little outside your comfort zone and step up to a challenge.
Helping out with sports charity events is another way to get involved. Help out with a local road race. Count baskets made for charity. Work with kids. Sell tickets.
Whatever you do, know that you're part of a global community and that you have the power to do some good.