How Study Abroad Students and Non-profits are Creating Social Change in India
Mar 19, 2019
Education

Study Abroad

International News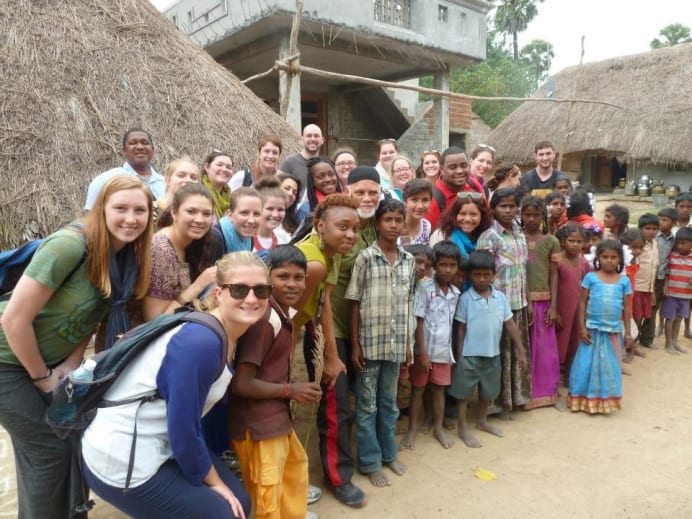 India lays claim to one of the world's fastest-growing, most diverse economies and a large, educated, and skilled workforce. However, it is also one of the world's poorest countries based on income and gross national product per capita. For all of its recent industrial, economic, and technological progress, India still has many challenges -- and opportunities -- ahead. It's this reality that landed the South Asian country a top five spot on US News & World Report's recent roundup of Best Countries to Invest In. It is also what makes India an extraordinary place for a variety of people and organizations working toward change. Poised to play a pivotal role? Students.
India's NGOs are tackling a myriad of social problems -- from food security and access to education, to healthcare and sustainability. Here's a closer look at five areas ripe for change in India, along with how students can be crucial players in this progress.

1. Food
Food is a basic need, and yet due to its rapidly growing population, India constantly struggles with access to food and clean water. According to statistics from the Borgen Project, a nonprofit which addresses poverty and hunger, approximately 15 percent of India is undernourished, with women making up 60 percent of the country's hungry population. As a result, despite being an economic powerhouse, India ranks 97th on the International Food Policy Research Institute's Global Hunger Index. The good news is the situation is improving. In addition to efforts made in alignment with the UN's sustainable development goals, more private organizations are stepping in to provide aid.
One example is that of Akshaya Patra, a marvel in operational efficiency and one of the world's largest midday meal programs, serving nutritious lunch to over 1.76 million children in 15,024 Schools across 12 states of India.
Feeding India is another such organization. It began when founder Ankit Kawatra attended a grand wedding after which copious amounts of extra food went straight into the trash. At just 22, he quit his well-paying job at MNC and devoted himself to the goal of solving India's hunger and food-waste problem. In 2017, Kawatra was chosen by Forbes as one of its 30 Under 30 -- Asia -- Social Entrepreneurs.
2. Business
A 2017 Entrepreneur article called for "a new breed of social entrepreneurs." It asserted, "We need innovative business models to solve some of India's complex social and environmental issues!" A pace-setter in this field is Aurolab. Based in Madurai, India, the lab manufactures a wide range of high-quality ophthalmic consumables such as intraocular lenses, surgical sutures, and blades. Its product development criteria are driven by societal needs for high quality products at affordable prices. All products comply with global norms for quality and are exported to more than 130 countries worldwide.
Another example is that of CNBC and Business Week's Woman Entrepreneur of the Year (2016) Ajaita Shah. As Founder/CEO of Frontier Markets and the President of Frontier Innovations Foundation, her work has helped bring clean energy to families at the base of the pyramid. Shah recently told Mirror Now of ongoing progress in social entrepreneurism, "The Indian government has definitely invested more of their efforts to create opportunities for investment in startup businesses. There are more incubators, accelerators, and funders now focused on startup enterprises and investing in the youth."
3. Sustainability
As the population grows and resources dwindle, unsustainable patterns of production and consumption can be seen all over the globe. And while India has been heralded by the World Economic Forum for being a world leader in terms of conscious consumption and sustainable choices, there's still work to be done.
The Foundation for Ecological Security is one such leader in India trying to bridge two visions of managing natural resources, that of a holistic socio-ecological systems approach with that of the Commons Paradigm (if it belongs to the Commons or to everybody, then nobody will care), which together could have far-reaching impact on world views on development.
4. Health
A growing body of NGOs are revolutionizing the face of India's healthcare sector. One such organization is the highly acclaimed World Health Partners (WHP), a pioneer in telemedicine that focuses on preventing the onset of illnesses and ensuring simple illnesses don't get serious. This approach succeeds when communities are able to access its services within walkable distance. In its decade of existence, WHP's programs have treated over 26 million patients in India and Kenya. In January 2019 a consortium led by WHP was awarded a five-year, $110 million project to strengthen rural health centers of the government in the southern Indian state of Andhra Pradesh.
Another such organization is The Smile Foundation, dubbed the Smile on Wheels program, is a unique mobile hospital "seeks to address problems of mobility, accessibility and availability of primary healthcare with a special focus on children and women, in urban slums and remote rural areas." Since its inception, the program has provided free healthcare to more than a million children and their families.
5. Education
The Global Education Fund has also chosen India as a country in need of investment in education. Recognizing the challenges faced, the Global Education Fund has created a new approach aimed at supporting education entrepreneurs of early-stage ventures with critical long-term support. It explains, "We invest in smaller, evolving efforts that have not yet matured but have the potential to create lasting change."
Two organizations that have made great strides in this space include Pratham and Educational Initiatives. Pratham, the largest innovative learning organization in India, focuses on high-quality, low-cost, and replicable interventions to address gaps in education across geographies.
Educational Initiatives leverages the twin levers of research and technology to revolutionize how K-12 children learn. They have reached millions of children across different socio-economic strata of society to improve learning outcomes.

At this point, you might be thinking, 'this is great but where do I fit in?' A unique organization called Manodharma is seeking to bridge the gap between these superstar organizations in India and U.S. universities and their study abroad students who are eager to help make a difference in the world.
Twice a year, Manodharma takes groups of faculty from universities across the U.S. to meet face to face with non-profits in their field of study to help them build the personal connections they need to create immersive, transformative study abroad programs for their students.
Manodharma's Faculty Immersion Programs offer a rare opportunity to educators interested in forming academic, research, entrepreneurial practice and service partnerships to connect personally with grassroots organizations in India. Participants engage with leaders of some of India's leading nonprofits, including TED Talk speakers, a Gates Foundation award-winning healthcare program, and internationally-acclaimed social impact organizations, and they emerge with new tools and lessons to carry into the classroom. This first-hand experience is exactly what today's students want from their teaching faculty.
Testament to Manodharma's work is its award-winning India Winterim Program at the University of Iowa (UI). This observational learning program brings together students and faculty with the goal of exposing them to innovations in their field with the backdrop of one of the world's most rapidly developing nations. Professor Emeritus Raj Rajagopal, program founder and UI professor of geographical and sustainability sciences, says, "I'm looking to find who is doing extraordinary things and asking, 'How can we learn from them?' All our programs in India have people struggling in extraordinarily difficult situations. They're trying to overcome those difficulties and make life better. What better model is there from which our students and faculty can learn?"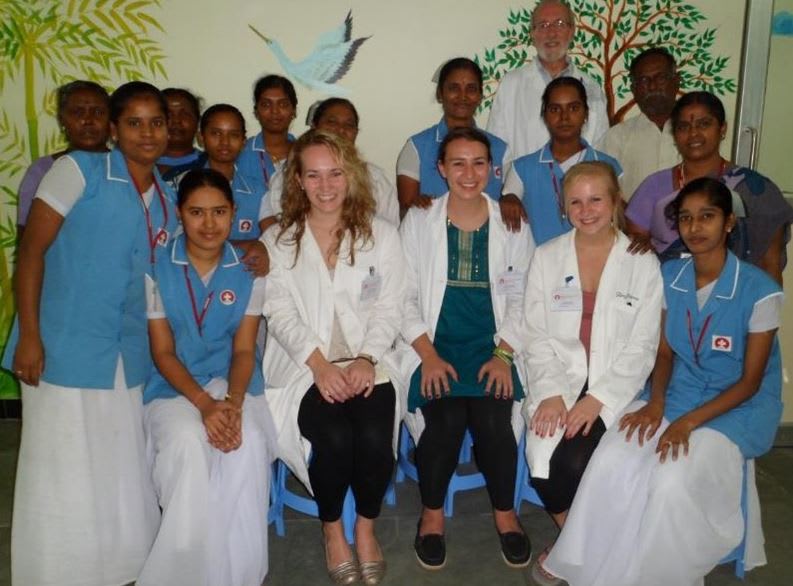 Students and faculty learning from Meenakshi Mission Hospital, Madurai, India - Manodharma

One of the students who participated in this program is UI alumnus Kyle Sieck, who, inspired by the experience, now runs two socially-conscious food companies. He says, "Having the opportunity to participate in the India Winterim Program, during my senior year [2007], was an amazing cultural experience that I will never forget! Observing and interacting with social change organizations on the ground-level was a truly transformative experience. Ten years later I own two social based food businesses in my community -- without the inspiration from Professor Raj and [the India] program, my vision and practical ethics would not be what they are today."
The success of the India Winterim program is what inspired Professor Rajagopal to form Manodharma in order to give other universities the tools necessary to adapt and replicate the program to fit their needs.
Two-time India Winterim alumnus Rodney Maiden, assistant professor at Alabama's Troy University, says, "I understand the transcendent level of knowledge one acquires through their participation in this India study abroad program. Through my collaboration with Satya Special Schools, I was able to establish lifelong relationships and exchange invaluable educational information that was reciprocal in nature. This transformative experience enhanced my critical thinking skills, advanced my multiculturalism skillset exponentially, and changed me as a person."
Maiden also points to the ways India Winterim enhanced his offerings in the classroom, "It affords me the opportunity to share with students, colleagues, peers, family, and friends the authentic educational experiences I acquired. This educational experience is an opportunity I wish I could give to all students, for it is a lifetime event they would never forget," he insists.

"I had never considered India as an option before," says Lauren Katalinich, a former University of Iowa student and now the Marketing and Communications Director for Manodharma. After meeting Manodharma's partners face to face, she was convinced this model of study abroad was worth spreading to other universities. "It's amazing to watch faculty and students create real cross-cultural connections with organizations who are doing pioneering work in their fields. I believe every student deserves to have their eyes opened in this way."
Mitch Kelly, a professor in the College of Education at the UI who has taken students to southern India seven of the last eight years, echoes these sentiments. He says the programs give exposure to "a totally different culture, people and context [and] access to several award-winning partner organizations in India, where people collaboratively work to bring about excellence with human dignity, entrepreneurial ingenuity, and self-less service. Raj has taken enormous care to showcase how they solve their problems, the generosity with which they treat their guests and observe their daily life. This kind of personal introduction by Raj to India to help learn about its culture and meet potential NGO partners will not be available that easily to anybody who is new to India. [The program] has been rated #1 in the world and had close to 1,500 students and faculty [from 2006-2019] see such marvels of India – this number or participation is greater than that of any other university in the world that has an India program."
He says the Winterim Program changed his life and adds that his wife, a professor in physical therapy, has joined, teaching her own courses, and all three of their daughters have also gone on the program.
Right now Manodharma is focusing on faculty and empowering them to create programs at their universities but it's clear their passion is for student transformation. They want to touch hearts, open minds, and imbue aspiring social entrepreneurs with the knowledge, skills, and connections they need to position themselves to make meaningful change. As Kelly says, "Jump on the opportunity…it will transform your life."
Students and faculty practicing classical dance at the Siva Foundation School of Kuchipudi, Chennai - Manodharma


Joanna worked in higher education administration for many years at a leading research institution before becoming a full-time freelance writer. She lives in the beautiful White Mountains region of New Hampshire with her family.
Find a program in these categories