How is Student Life As An International Student in Hawaii?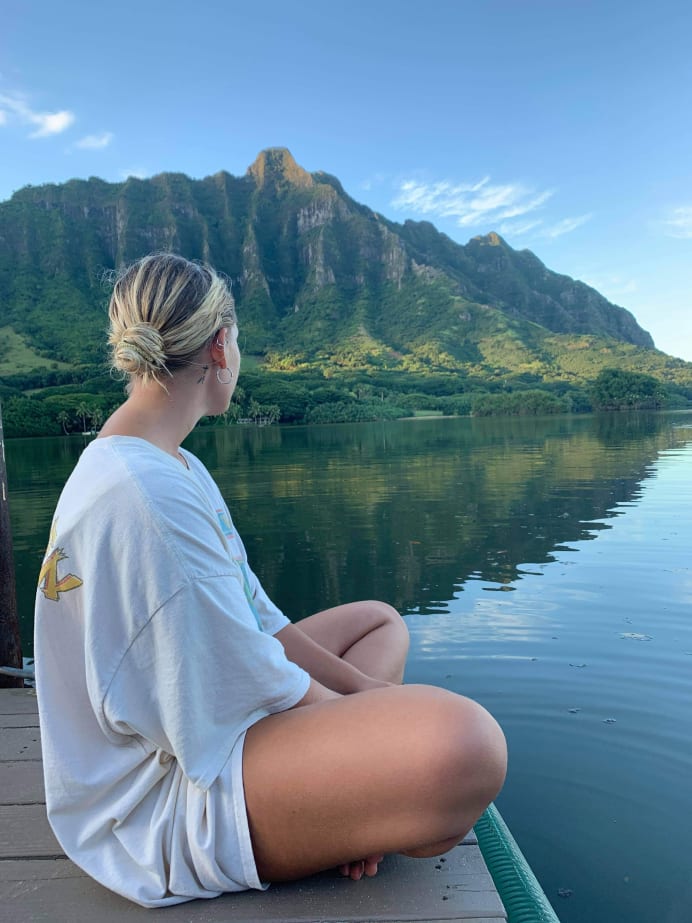 How has it been so far?
It's been amazing. It's a whole different community here, and it's just a different experience that I'm really happy to have been able to have.
Why did you choose this program?
I chose this program because I wasn't sure about what I wanted to study, but I knew I wanted something within traveling, or hospitality, or hotels. So I just researched, and I found this program, and I decided to apply.
Regarding Hawaii, what's your favorite place to visit?
I would recommend getting a car and driving up the north shore, if you live in town like me. It's only like a 40-minute drive, and it's just a whole different...that's what's amazing about this island. It's like four different sides of the island, and all of them are totally different. Up north is where all of the surfers are, and especially in the winter the waves are really big. People come from all over the world to surf. It's just really fun sitting there at the beach, watching everyone surf, and then staying and getting something to eat, then watching the sunset at the beach. I recommend the north shore in general.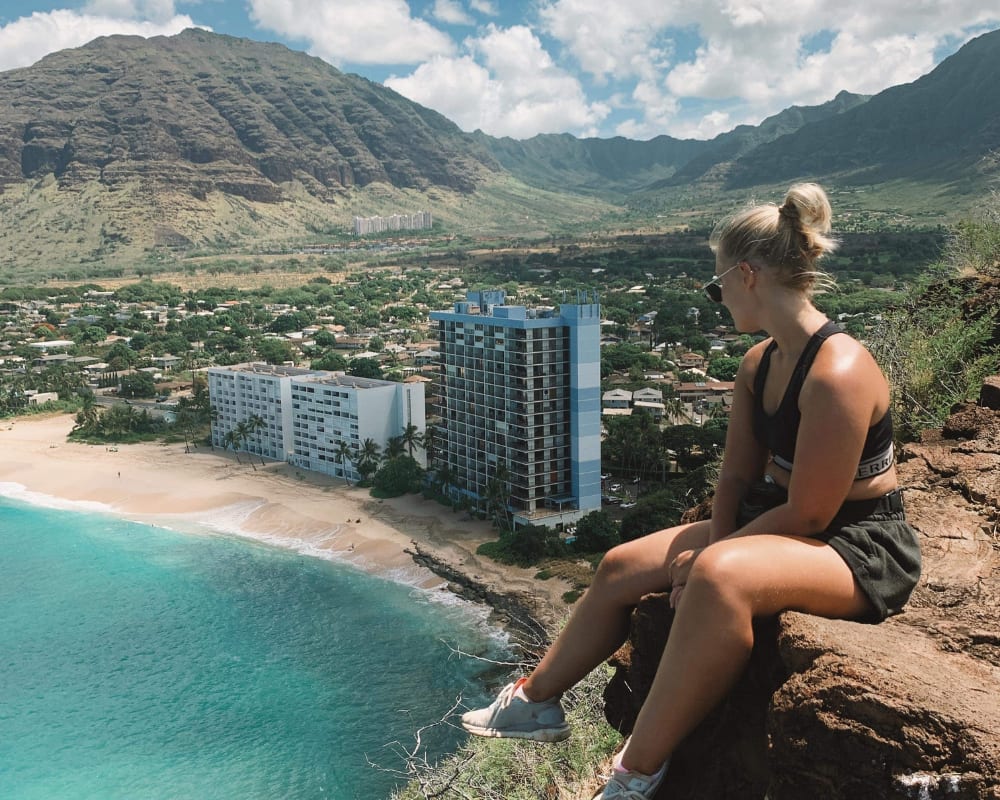 What makes Honolulu, where you live, special to you?
I would say it's so different from other places I've been, because the beach is right there, and, ten meters behind, skyscrapers. So it's everything in one place, and it's a five-minute drive to the mountains as well. So you have everything in one place, which I think is amazing.
Do you have a lot of friends there?
Yes. I would say I'm more in the Scandinavian group of people, with some Americans. There's a lot of exchange students coming here, which we befriend and they leave, so we get like a new group of people every semester. I'm starting to get a good group of Americans I'm hanging out with.
How is it making friends in Hawaii?
It's different compared to Norweigan people. Norwegian people are more closed off, and here everyone is so open. People will just start talking to you on the street, and you just become friends with people at the beach, or wherever.
What's the biggest difference between Norway and Hawaii?
I would say, like with the people like I said, also just like the culture and the food here. I feel like in Norway we have Norweigan food, but it's not like a big part of our culture, like compared to here. They really appreciate family here, and friends become family because everyone that's here doesn't have a lot of family or friends here. Everyone goes out in big groups, or has barbecues, and eats together. I would say seafood is like a big part of the culture here, and they just have a special culture that is so much different than Norwegians'.
Can you describe a typical Hawaiian?
I would just say the people that live here are just really adventurous, they're always doing stuff. They're waking up early, they're going for hikes, they're going to beaches, they're always outside and always with family and friends. They're really chill and cool, and we call it the 'island person', where they're on 'island time', where everything goes slower. It's just a whole different vibe, everyone's so chill. No one's stressing.
Where do you see yourself in three years after your studies?
I would like to be able to stay here, but I would most likely do my OPT ⦋Optional Practical Training⦌ the first year, because you can only work here for one year, then I'm actually thinking about moving to Australia, either going to grad school there or just working; getting a job in hospitality and tourism. That would be the dream.
What's the best thing about being an international student?
I would say that everyone's really interested in you, and everyone is really interested in becoming your friend at school. They're interested in hearing about your country, and culture, and what's the deal about Norway. Actually, a lot of people haven't even heard about Norway. At our school for international students, especially for Norweigan students, there's a big network. I'm in the board of the Norwegian student group here. We have a lot of events, making it easy for people to become friends with people, which is amazing. We're easy for people to become friends with, especially other international students.
What's the biggest difference between a university experience in Norway compared to Hawaii?
What I've gathered from my friends, the classes here are a lot smaller and are maximum, like thirty [students], I would say. Most of my classes are maybe fifteen or seventeen people in the class, which makes it really easy to get to know the professor and get to know each other. I think it's more personal level with the professor and the other students as well.
Do you live in a dormitory or do you have a shared apartment?
I live in a house. When I first got here I started off living in an off-campus dorm, which I liked, I didn't mind sharing a room. I would say I got the experience of a dorm. But then I moved into this house and now I live in a house with six others, and we live in a quiet neighborhood with a ten-minute walk from [vibrant beach neighbourhood] Waikiki.
Which would you recommend for international students as a more cost-effective option; going to a dorm or to share an apartment with friends? Do you have friends living in a dormitory?
I have friends that are, and my roommates also live in the dorms, and then moved into this house. I think in the US it's normal to live one year on campus, but here it's not mandatory. I would say off campus [is best financially]. I only say that because when you live on campus you have to be a part of the meal plan, which is pretty expensive, I would say, and you have to eat there all the time then. I would also suggest, because you're outside all the time and never in your room, I would suggest getting a shared room as well. I just moved into my own room after one and a half years, and I've been sharing a room, which is a really great economic choice, I would say. You save a lot of money on that, and you only sleep there, so it's fine.
How do you feel about COVID-19 and how has it affected your semester?
I would say it's both positive and negative. I wish I was able to go to school, especially now, I'm able to go to school two times a week, which is amazing and I'm really happy about it. At the same time, online school is also kind of cool now, because we get to have it at home, so I can just go to the beach in between classes, which I wouldn't be able to do, and I can just sit there in my bikini and be ready to go, like for school I wouldn't be able to do that. So it's better with the scheduling, I would say. I've been able to be a lot more outside now; I can have my classes at the beach, if I want to. It's amazing with that, but at the same time it's hard being able to concentrate enough to do your schoolwork, but now I think this semester is going to be better now that we're used to it, I would say.
Do you have a scholarship?
All Norweigan students get an $11,000 scholarship a year, so $5,500 cut off our tuition. After that scholarship, the tuition is, I think, $9,250 a semester.
What's a day like for you in Hawaii?
If we have free time and if we aren't doing school, if we wanted to do something early in the morning we would go for a sunrise hike, or would go for a swim with wild dolphins. I think it's really cool that there are wild dolphins you can swim with. Other than that. I usually just go to the beach and just chill there with friends. People come and go, and then we just stay there for a couple of hours, and then go out for lunch. We usually drive places, like drive to the north shore, or one of the other sides. We live in town, and we're here all the time so we really enjoy driving to other places.
I go to the beach and we go for hikes. There's really a lot of beautiful hikes here. The mountains here are amazing, and you can go for waterfall hikes, or hikes for views, or I'm finally getting into surfing with my friends, so we go surfing sometimes. I haven't stood yet, but I'm getting there! We just hang out with friends, and go out to eat. I go out to eat a lot. Basically, it's just like living the life, in the sun outside!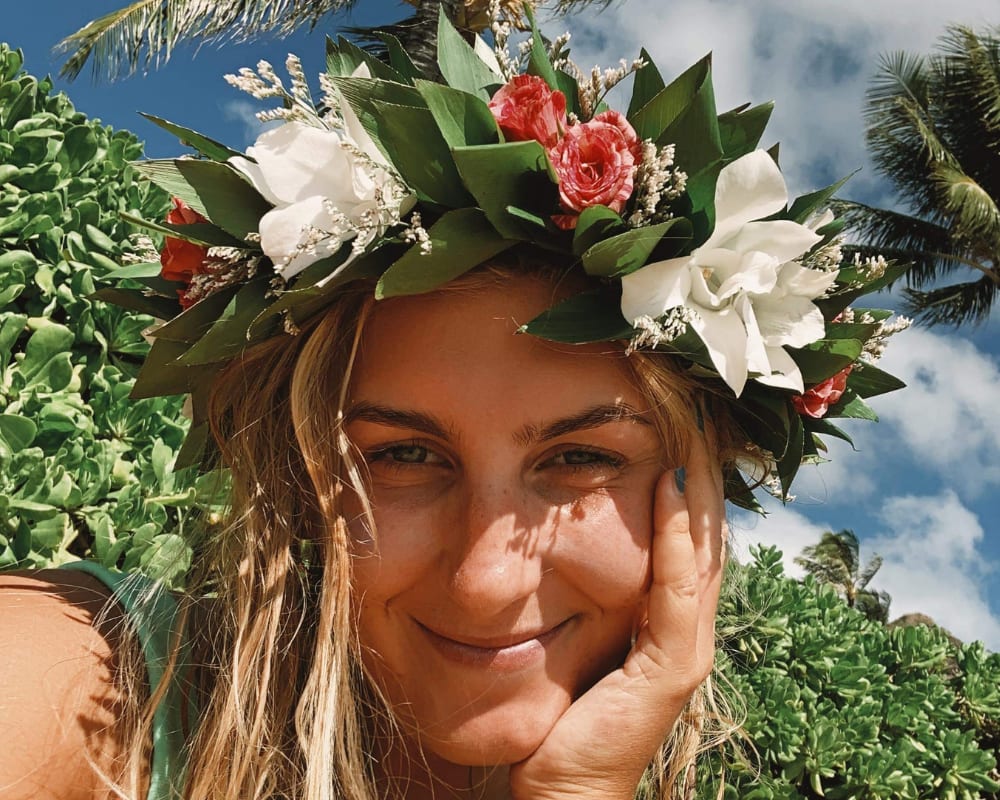 Chelsea is a Student Affairs expatriate, who now works as a freelance writer and editor. She homesteads in a small town in rural Maine, USA. She enjoys hiking, fishing, cooking, reading, all things Laura Ingalls Wilder, spending time with her family, and chasing her black lab puppy, Cash.