How is Student Life as a Football Business Student at Euro 2020?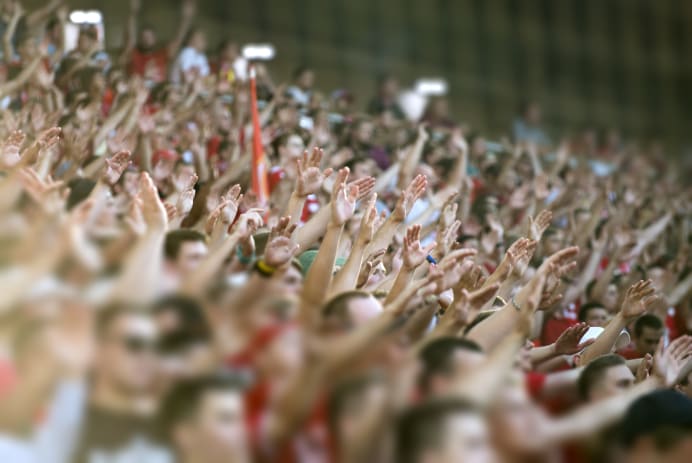 As a BA (Hons) Football Business & Marketing student at the University Campus of Football Business (UCFB), Anna Overton has completed work placements at West Ham United, Watford FC, and Leyton Orient football teams. Keen to expand her work experience and her network, she's now scored a dream position working at the heart of Euro 2020. Here, the UCFB Wembley student gives her thoughts on the tournament and her time at UCFB so far…
What does your role at Euro 2020 involve?
My role as a Euro 2020 London squad team member involves engaging with a vast number of football fans from around the world, who have come to England as part of their Euro 2020 journey. My position will run for the entirety of the tournament, being right in the heart of the electric and no doubt unforgettable atmosphere. As I'm based in and around London City Hall, I will be able to expand my industry connections further whilst being a part of the exciting Euro 2020 adventure in London.
What's it like to be part of such a major tournament?
I feel extremely privileged to play a small part in the delivery of the Euro 2020 tournament. Since the beginning of the tournament there has been an amazing atmosphere in and around Wembley, which I'm so lucky to experience each and every day. I think everyone within the country is hoping that England can perform on the European stage and bring it home!
Wembley is also the heart of your campus! What is it like seeing the Euros played where your seminars and lectures take place?
I feel extremely lucky to be in the position that I am. Every time I'm in Wembley Stadium for an event or I'm watching on TV, I always tell to my friends and family where my lecture rooms are and where my seminars take place. When I first looked around UCFB, I went on a stadium tour which showcased behind the scenes of Wembley Stadium, where the players prepared pre/post game, as well as all of the corporate hospitality areas.
Despite being lucky enough to have Wembley Stadium as my campus and living within the vicinity, the view still never gets old! I really do feel as if I'm living my dreams each day I walk up Wembley Way.
You also work as a Safeguarding Supporter Liaison Officer at West Ham United. Tell us about this role and what it entails.
I first started at West Ham United in October 2019, one month into my first year at UCFB. In simple terms, my job role helps to strategically assist in enhancing communications between West Ham and their supporters on a matchday. This ensures I develop a comprehensive understanding of relevant matters affecting the relationship between the club and their supporters.
Since joining West Ham, I have formed many professional relationships with longstanding employees and professionals at the club. These connections that have been formed have helped me to secure further networking opportunities with a variety of clubs within the London area, and helped me to secure other placements at clubs, such as Watford, at the start of the pandemic back in April 2020 when all work was stripped back.
How does it feel to have fans back at the end of the season of empty stadia?
I'm not ashamed to say that when I took my seat in the West Stand for the last game of the season versus Southampton I got a little emotional. To be back in the stadium with 10,000 supporters, singing their hearts out to 'I'm Forever Blowing Bubbles', I had goosebumps all up my arms and I felt so many emotions.
I felt extreme pride for the team and all of the backroom staff for an incredibly hard season behind closed doors, as well as excitement to actually watch a Premier League game in person. The win and guarantee European football next season topped it all off!
How has your degree at UCFB helped you in these positions?
The majority of jobs I have gained since moving to London have been through the help of UCFB staff as well as key features such as the UCFB's JobTeaser site. Something as simple as going to a one on one Employability & Enrichment meeting with one of the team to build up my LinkedIn profile, and following my lecturers on this platform, led to my internship at Watford and my current Leyton Orient internship following a rigorous interview process.
What would you say to anyone considering studying at UCFB?
There are so many answers I could give to this question but, I will start with why I chose UCFB:
It's not what you know it's who you know;
Studying at the Wembley campus is a key talking point with future employers;
The number of opportunities that are available to you are endless if you are proactive.
Whenever I talk about UCFB to others I always say it's like getting a degree whilst gaining the experience you would if you were in an apprenticeship or full-time job. This is what I personally think makes UCFB unique.
And lastly, who are your favourites to win the Euros?
This is a tough question! My heart and the Englishwoman in me is screaming for England to bring it home! What a year 2021 would be if it happened; a year of history at both ends of the spectrum for sure. However, if I try and take England out of the equation, I think France may just be tipped to win the European Championship.
Find your perfect program
Use our search to find and compare programs from universities all over the world!
UCFB x GIS

Content Manager at Keystone Education Group, living and working in Oslo, Norway. I love helping prospective international students find their dream degree, university, and study destination through articles like these and social media. Outside of work, I enjoy sports, especially football and racket sports, and seeing the world.
Find a program in these categories