How Can You Get the Campus Tour Experience at Home?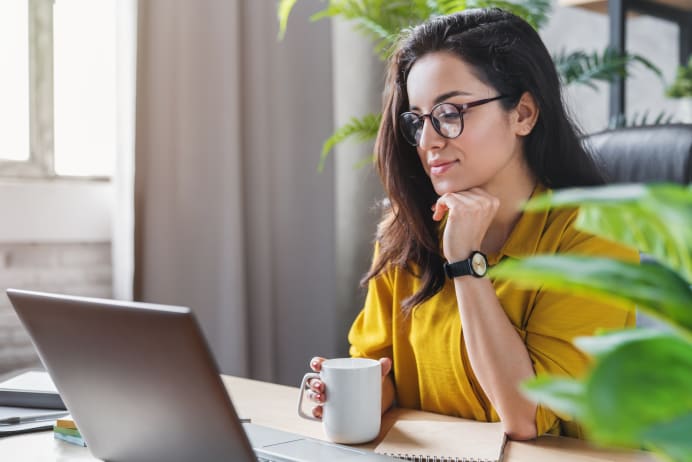 Interactive maps
NuCloud is an innovative software and tech company that builds customizable interactive maps for schools and universities, allowing students to 'tour' a university campus from the safety and comfort of their own home. You can access the maps on desktops, laptops, and mobile devices. The technology is currently being rolled out across schools in the USA and Canada, with many more expected to follow. Peter DeVries, part of the team behind NuCloud. says, "First impressions count. Colleges and universities have mere moments to capture the imagination of prospective students. Seeing a rich, immersive experience on the website, enabling them to 'walk' the campus and imagine the possibilities in a personalized way, drives high engagement and enrollment."
Virtual tour
The University of South Florida (USF) recently launched its virtual, interactive campus tours. Start by downloading and connecting the USF YouVisit App to your phone and VR headset. Then spend an hour seeing what life looks like as a USF student. The virtual tour takes you through the USF Tampa, Petersburg, and Sarasota-Manatee campuses. You can explore the campuses on your own, or sign up for a live, guided virtual tour where you'll get to talk to current USF students.
The virtual tour has featured hotspots, such as the campus library, IT center, and sporting facilities. Campus hotspots include links to videos, photos, student testimonials, and other useful information. You don't need a VR headset to take a tour, but they definitely create a fun and more immersive experience. USF switched to virtual tours to keep prospective students safe amid COVID. The school has resumed limited in-person campus tours, but has no plans to scrap the virtual app. Platforms like this will help USF attract students from a wider pool, giving young people more options and information when deciding on the right college. So, expect more schools to start adopting VR tour platforms and apps soon.
Tips on making the most of your tour
Try to use a device with a big screen or HD quality for your virtual tour. Grainy picture quality or a tiny smartphone screen means you won't get the full experience -- one thing you don't want to do when deciding on a university. Write down a list of questions and places to visit before your tour. Make sure you get a good look at the facilities that will have the biggest impact on your studies or quality of life, like the library, research labs, sporting facilities, or student dorms. Then, note down any observations or questions that come to mind as you tour the campus. You can compare these with your notes from your other virtual tours.
Seeing the bigger picture
If you're thinking about studying abroad, you will want to see more than just the college campuses. Browsing Google Maps will help you get an idea of what your new city will look like, as will Youtube videos and social media posts. Keep an eye out for any student or university Facebook pages, especially ones dedicated to social activities or societies. They are a great way to get a glimpse into what students get up to when they're not cracking books. You can find out about fun or exciting events in the city. Some schools have created 3D and virtual city tours for international students. The Erasmus University Rotterdam has several video tours on its website. They let you see the city from a student's perspective, and visit some of the main sites. You can even go on a virtual bike ride through the streets of Rotterdam. The tours also include short videos from current students explaining the benefits of studying in Rotterdam.
Open house sessions
Ryerson University runs regular virtual open house sessions for aspiring students. These pre-recorded and live interactive sessions let you talk with current students and lecturers. There's also a webinar series focusing on everything you need to know about being a Ryerson University student, including the application process, careers advice, financial support, teaching methods, and extracurricular activities. Each program has created its own open house session outlining the course's details and long-term career opportunities.
Becky Knight attended one of the first nursing open house sessions in November last year. She said, "Online stuff is never as 'good' as meeting and speaking to people in real life. But what schools like Ryerson are doing is the next best thing. The open house was an hour-long. It had loads of great speakers who answered all my questions and gave me a clear picture of what studying nursing is like. It was really beneficial. I think stuff like this should be a permanent thing in the future. It gives students like me more access and options. Like many others, I can't always afford to travel across the country on college tours."
Podcasts
Ryerson also recently launched its first podcast series. Written and presented by the school's liaison team, the L.O. Podcast breaks down an aspect of what it's like to be a university student. It has interviews with students, varsity athletes, and other members of the Ryerson community. Many other schools also do a weekly podcast on important student matters. Not all are written specifically for new or prospective students, but you can still learn plenty of important things about life on campus and the university's values, in order to judge if it is the school for you.
The weekly McGill University podcast features an interview with Dean of Students Chris Buddle. He talks about a range of topics, such as residential life, mental health, community development, and one of the most overlooked issues for new students: imposter syndrome. A common issue for many new students, imposter syndrome refers to that nagging inner voice that says you don't deserve success, or you're not as competent as others believe you to be. Hearing a university dean talk about these critical issues is a good sign you'll always get the support you need during college, which means a better chance of reaching your full potential.
Hang out with your future university friends
Berea College is offering a Transfer Tuesday service that provides a virtual tour tailored to your needs. Transfer Tuesdays include a campus tour followed by a Zoom call with students, lecturers, and career advisers. Wilfred Laurier provides a similar service. Plus, its Ask an Ambassador program lets you book a hang-out session with one of Laurier's 60 student representatives. Alternatively, you can send them a direct message about the school's courses or campus. Each ambassador has an individual profile, so you can find someone who's studying the same subject as you or has similar extracurricular interests.
Not every school will offer all these services. However, they will have at least a few options for students who can't attend physical tours. So make the most of them and always do as much research as possible before making that all-important final decision!
Find your perfect program
Use our search to find and compare programs from universities all over the world!
Bachelorstudies

After graduating with a degree in English literature and creative writing, Ashley worked as a bartender, insurance broker, and teacher. He became a full-time freelance writer in 2016. He lives and writes in Manchester, England.
Find a program in these categories