How are Students Managing with the Return to University?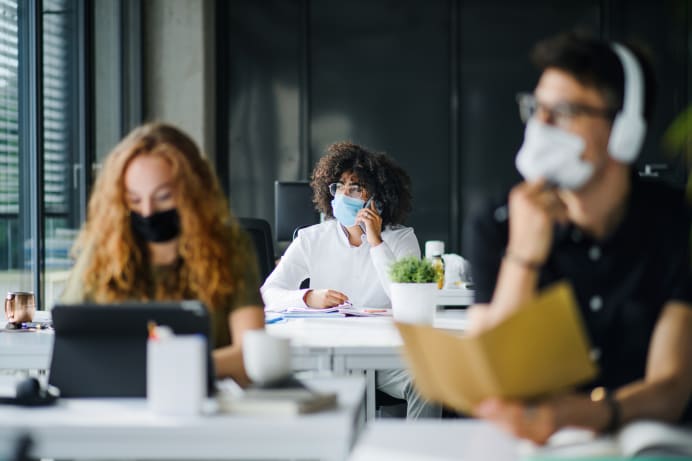 Returning to campus
Many students left campus in the spring amidst great uncertainty. International students were uniquely impacted back in March when lockdowns went into place. That was an overwhelming and uncertain time for many of them, as has been the return to campus due to new, changing rules and regulations.
University of Greenwich student Aurelie Cavaness reveals that, following the UK government's advice and regulations for her return to studying in the UK, things went as smooth as possible. As an American, she was required to undertake a 14-day self-isolation and was pleased with her university's accommodations and services. Overall, she reported the experience was less stressful than she'd anticipated.
Many students who had concerns about returning to campus report having had their fears allayed by the efforts of their universities. Abbi Fister, a first-year student at Wake Forest University in the USA, explains, "I really was happy with how they staggered move-in times. [...] It wasn't crowded, and everyone was following the guidelines as far as I could see. I feel good about the precautions Wake Forest has put in place and feel very safe here right now."
Of course, not all schools returned to in-person classes, while still others continue to try to navigate the best path forward. South Australia also saw international students return to its campuses as part of a national pilot program aimed at determining if and when a national return of all international students would be possible. Federal Trade Minister Simon Birmingham said the initial findings were positive. "We have successfully demonstrated, particularly states like South Australia, that they can return Australians from all corners of the world, safely quarantining them, and provide no exposure to the South Australian community in that process, so the same cautious and careful approach is being brought to bear when it comes to international students."
Meanwhile, Australia's remaining international student population was eagerly hoping the rest of the country would follow South Australia's example. "If I could go back, I definitely would...It's just that it doesn't seem it will be an option any time soon," said Singaporean student Celine Choo.
On new ways of life on campus:
Routine testing, mask-wearing, social distancing, and mandatory health screenings are a fact of life for students at many colleges and universities. Many students, like Seattle University's Eli Gunderman, are happy to be back on campus, but sad to be missing out on other normal aspects of college life. "You can't really go to parties anymore," he told Komo News.
Students have also enjoyed the many benefits of being back, despite heightened protocols. Wake Forest student Shon Howard says, "Being here allows me to meet new people while being socially distanced."
Meanwhile, Northern Illinois University (NIU) community members are split regarding how they feel about attending school during a pandemic. Student Maria Potsi explains, "It's so much different because you can barely see anyone like your friends. I used to see my friends every time going to class walking together and now it's just been me, it doesn't even feel like I'm in school right now."
NIU residence community advisor Sydney Hamill had a more positive outlook on the situation. "You can still have fun with your friends but maybe don't go to parties until this is over, you can still go to someone's apartment and hang out there but make sure that you are safe," she advises.
A similar phenomenon was underway in Canada. At Yukon University, there was a mix of emotions over the fact that most classes were taking place over Zoom. University spokesperson Michael Vernon said, "The biggest thing that's missing, I guess, for us, is the energy. The beginning of term is usually this big rush of energy as all the students come back, and that's not here."
Things were also quieter at universities in the Netherlands, where the majority of classes were kept online. "With the cases now increasing, especially among younger people, not too many professors are especially enthusiastic about standing in a classroom with twenty 20-year-olds who are still going to parties," one associate professor of public policy said.
On managing behavior on campus:
In addition to having a spectrum of return plans in place, different schools have different approaches to punishment. While some have no-tolerance rules, others like Seattle University, say they want to work with students rather than punish them.
One way universities are keeping student behaviors in check is threatening them with suspensions and a return to remote instruction. However, not everyone agrees that this is the way to go. "If students are afraid they're going to get punished, then it's going to make them less likely to disclose that they have been at risk," one expert told MarketWatch.
On adjusting to all-remote learning:
Not all universities returned to campus, however. Many remained remote for the start of fall. Others have already been switched from in-class teaching to remote due to campus outbreaks. However, unlike last spring when universities, faculty, staff and students were caught off guard by the shift, all stakeholders have now had time to prepare and to determine best practices. As a result, hopes are high that things will go more smoothly for remote learners.
Certainly, there's a lot of turmoil in the world right now, and the higher education sector is far from exempt. The good news is the pandemic will not last forever. In the meantime, maintaining a positive outlook can make all the difference when it comes to supporting the best possible experience -- whether you're on campus, remote or hybrid.
University of Greenwich student Cavaness adds, "As of now, accepting change and adapting to the current situation is for the best until things return to normal, I am still very confident that this year in university will be just as amazing as my previous one!"
Find your perfect program
Use our search to find and compare programs from universities all over the world!
Bachelor

Joanna worked in higher education administration for many years at a leading research institution before becoming a full-time freelance writer. She lives in the beautiful White Mountains region of New Hampshire with her family.
Find a program in these categories