Four Reasons Students are Choosing Community Colleges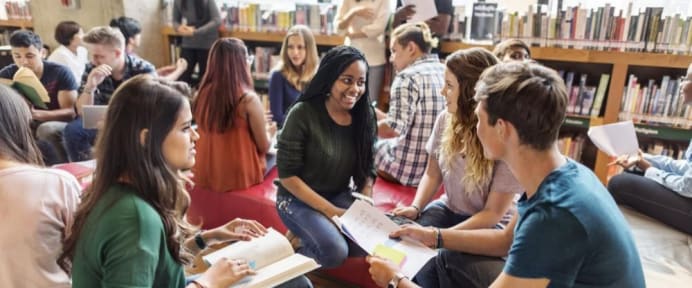 Students have many options when it comes to higher learning. One option that's growing in popularity with many of them? Community college. Also called junior colleges, community colleges are two-year schools which offer inexpensive access to postsecondary education as preparation for going onto a four-year college or university or into the workforce. Wondering whether community college is right for you? Here's a closer look at five reasons to consider this alternative to the traditional four-year degree.
1. They offer unique support for first-generation college students.
While first-generation college students have many exciting things ahead of them, college can be a particularly overwhelming and uncertain time for them. The good news? It doesn't have to be. Research shows that the more institutions understand first-generation student experiences, the better they'll be able to help them navigate the transition.
From smaller classes to financial support services to outreach and retention programs focused on student engagement, many community colleges provide critical safety nets for their students.
2. They're international student-friendly.
While a community college degree may not be the end game for many international students, it can be an invaluable step on the pathway to a four-year degree. Contends U.S. News & World Report, "American community colleges offer international students a cheaper entry point into their higher education pursuits via low tuition rates on freshman and sophomore level classes, often with the added bonus of an easier transition to U.S.-style academics, experts say. Students then transfer to four-year schools to complete their bachelor's degree."
For those looking for a taste of American college life or to hone their English skills before attending a more competitive four-year university, community colleges are also an appealing option.
Lastly, community colleges also offer students the chance to multiply their social networks. "Attending two U.S. colleges – your community college and the place where you will finish your degree – connects you with two sets of professors, students and community groups. That means double the opportunities to get involved and demonstrate your skills and talents," proposes U.S. News & World Report.
3. They're designed to accommodate non-traditional students.
While the higher education landscape is always evolving, conventional four-year schools are mostly geared toward the traditional student profile. However, as more people from a variety of backgrounds are opting to pursue their degrees, they may have different requirements.
Whether you plan to work while attending college or you're a parent, community colleges are organized to accommodate many different needs -- from part-time studies to online and evening classes. In other words, non-traditional students aren't an afterthought or an exception -- they're very much the rule. In fact, a full 80 percent of community college student either work or have family responsibilities.
The takeaway? If work-life balance is a priority for you, community college may be the best way to balance your academic life with family or job obligations.
4. They're much more affordable.
As university tuition fees continue to skyrocket, many students are faced with the unenviable prospect of taking out loans and graduating with crippling debt. By attending two years of community college before transferring to another university, however, students can slash their debt by a significant amount while simultaneously gaining skills that will help them succeed in a four-year degree program.
There's a reason why this route is increasingly popular with students -- a full third of people earning bachelor's degrees in Virginia has taken community college classes, according to U.S. News & World Report. If you want all of the benefits of a four-year degree without the exorbitant cost, community college can help you achieve exactly that.
Worried about the stigma of attending community college? Not only is this viewpoint misguided, but it's also going away: Community colleges have gained major respect in recent years -- not only from students, but also from four-year institutions and employers.
But why take our word for it when you can hear it from a community college graduate who leveraged her 4.0 GPA to transfer to a prestigious and top-ranked four-year university? Amy Miramontes-Franco told PBS.org, "In all honesty, I had this mentality where I had worked so hard, I didn't see myself going to community college because of my negative view of them….Now that I've experienced a community college, my perception is completely different. They're very underestimated."

Joanna worked in higher education administration for many years at a leading research institution before becoming a full-time freelance writer. She lives in the beautiful White Mountains region of New Hampshire with her family.